What does losing the House mean for Trump?

Sky News
07/11/2018
Watch: US midterms: key things we learned (PA)
The Democrats have seized control of the House of Representatives in the US midterm elections.
What does it mean for Donald Trump's plans? 
The wall
© Reuters Demonstrators hold up placards during a protest against the border wall in New Mexico Within weeks of being elected, Donald Trump issued an executive order directing a wall to be built along the Mexico-US border. The plan was beset with problems from the outset.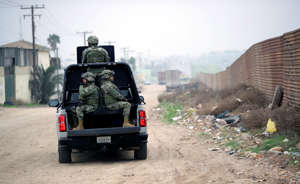 © AP Mr Trump's plan to get Mexico to pay for it was rapidly rebuffed. Many commentators expressed disbelief he would be able to deliver because it would require the purchase of thousands of hectares of land in state and private hands. An internal report estimated it would cost at least $21bn. That is money that would have to be approved by Congress. 
With a Democrat led House of Representatives, he has no chance.
Healthcare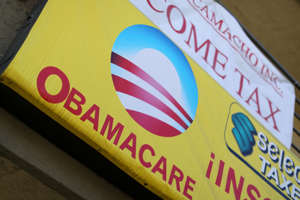 © Reuters One of Donald Trump's key policy statements while he was campaigning for the presidency was that he would repeal Obamacare, the Democrats' health insurance scheme for the millions of Americans without cover, much-derided by Republicans.
Called the Patient Protection and Affordable Care Act, Mr Trump said he wanted to replace it with the American Health Care Act, which would "have insurance for everybody".
Related: 'Two can play that game': Trump threatens Democrats after losing House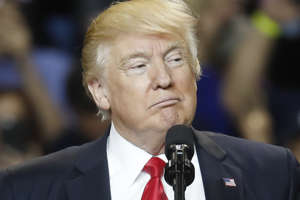 But Obamacare is proving successful, with new insurers entering the market for people previously denied access to it, according to the Robert Wood Johnson Foundation, and more than a dozen states seeing an increase in insurer competition.
Download the Microsoft News app for your Android or iPhone device and get news & live updates on the go.
His attempts to repeal it failed to get through the Senate, leaving him no choice but to target various elements of its architecture. He has overturned the original mandate by Barack Obama that set it up and had made changes to the tax system that make it less worth having.
Many Democrats also want reform, but want change which provides more care for people on lower incomes. Now they are in control of the House, any further changes Mr Trump tries to make will be very hard to achieve.

Immigration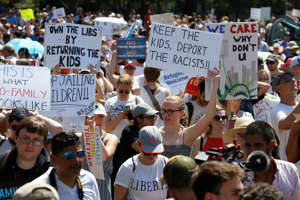 © Reuters Immigration activists hold up signs during rally to protest against the Trump Administration's immigration policy In his first state of the union address in January, Mr Trump outlined his four aims for immigration reform. He said he wanted a path for citizenship for people granted residence under the DREAM Act, increased border security spending, ending a visa systems that encourages diversity, and restricting family based immigration.
Democrats, if they are minded to hinder every aspect of Mr Trump's legislative programme, will halt any increase in funding for border security.
Mr Trump blamed the diversity visa scheme for allowing immigrants to come to the US and commit crime, but defeating it would involve repealing the Immigration Act of 1990 - something the Democratic supporters of the original scheme are likely unwilling to do.
Meanwhile, the family-based immigration system has benefited many immigrants to the US over the years, including Melania Trump. But his attempts to cut the numbers who can come through under the system stalled in Congress earlier this year, along with the attempts to introduce a citizenship path for DREAMers. The Democrats are unlikely to want to resurrect the attempts.
Another element of Mr Trump's plan to tackle immigration - his bid to end birthright citizenship - is also set to be prevented. He is thought to have been told he won't achieve it without Congress support - something that is also unlikely.
NAFTA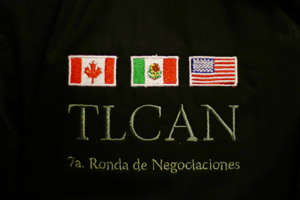 © Reuters A NAFTA logo is seen during NAFTA talks in Mexico City Mr Trump made another campaign pledge to rip up the North American Free Trade Agreement (NAFTA), which allows tariff-free trade between the US, Canada and Mexico.
A series of changes was drawn up and negotiations entered into, but so far the parties are yet to reach agreement. The changes which may be eventually agreed will need congressional approval and whether he gets it will depend on whether he can convince the Democrat House to back them.
Tax cuts and spending cuts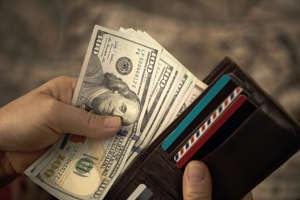 © Getty Last year, Mr Trump made good on his promise to cut taxes with the passing into statute of the Tax Cuts and Jobs Act, slashing corporate tax and cutting income tax for millions of people and businesses. The move was expected to add $2tn a year to the US national debt.
It proved controversial and had to be amended as it was passing through Congress. In October, CNN reported the president said he planned further tax cuts, saying it was not for businesses it was "for the middle".
Any further tax cut would have to go through Congress and considering the difficulties he experienced last time, it seems unlikely he wouldn't face further problems getting any subsequent legislation as well.
Indeed, as part of their campaign pledges, the Democrats have already indicated they would try to raise the corporate tax rate, change capital gains, and possibly repeal a new cap for state and local taxes. They are also likely to fight his plans to cut Cabinet department budgets by 5%.
Infrastructure
© Getty American Flag and Golden Gate Bridge (Photo by Gideon Mendel/Corbis via Getty Images) The president's pledge to boost infrastructure spending - offering $200bn to encourage states, cities and firms to fix the nation's crumbling dams, roads, bridges, airports and other essential linkages - is one area where a possible compromise could be struck.
Nancy Pelosi, the Democrat Representative who could end up being the leader of the House, has said she wants to see infrastructure funding included in her party's legislative programme. According to their Better Deal blueprint, Democrats want a package similar in size to Mr Trump's proposal. But several commentators have said they cannot see Democrats and Republicans cooperating to pass bipartisan bills in such a divisive atmosphere.
Red tape
When Mr Trump arrived in the Oval Office, one of his first acts was to sign Executive Order 13771, which said for every new regulation, two needed to be relaxed or thrown out.
He hoped that it would slash the costs for government agencies and businesses. The consequence has been to force departments to weigh up the benefit and cost of every regulation they seek to enact - many of which are designed to make Americans safer.
Some of the attempts to remove regulations have become bound up in the courts. Also, in many cases, removing a regulation requires fresh legislation.
Earlier this year, The Hill reported that Democrats have said they will use their new control of congressional committees to push back against Mr Trump's removal of standards in areas like energy. It is likely, Democrats will seek to examine in detail any attempts to remove regulation they see as beneficial, not just to society, but that potentially cuts costs itself.
Education and Interior
While Mr Trump hasn't made any high profile pledges about other areas of cabinet responsibility, there has been considerable concern in Democrat circles about the people who have been appointed by him to run the countries schools and federal lands.
According to the Washington Examiner, a large Democratic group in the House will be determined to use its ascendency and presence on the various oversight committees to find out what interior secretary Ryan Zinke and education secretary Betsy DeVos are up to.
Foreign policy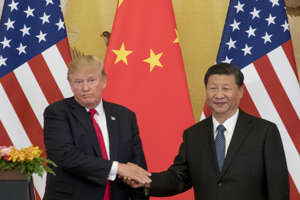 © AP While Congress traditionally had little influence on a president's foreign policy interventions, there have been many cases where the commander-in-chief has required cash that only they can provide.
Analysts say that a president who has been weakened by his inability to get anything through the House of Representatives, will pursue a new agenda abroad - as did Barack Obama after the Democrats lost their majority in 2010.
Many of the more extreme ideas that he may try to deliver on, like breaking from the United Nations or the World Trade Organisation, or even cutting off aid to the Palestinians, would require congressional support he is unlikely to receive.
But it may go further than that. Having lost, he could find himself under pressure to roll back on his other key initiatives, like his imposition of tariffs on Chinese imports, especially as countries affected by them will sense his new weakness.
Impeachment?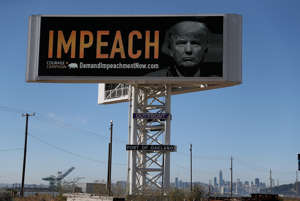 © Getty OAKLAND, CA - SEPTEMBER 25: An electronic billboard next to the San Francisco-Oakland Bay Bridge reads 'IMPEACH' with an image of U.S. President Donald Trump on September 25, 2017 in Oakland, California. The Courage Campaign commissioned an electronic billboard calling for the impeachment of U.S. President Donald Trump alongside Interstate 80 next to the San Francisco-Oakland Bay Bridge. The billboard will remain up until this Sunday. (Photo by Justin Sullivan/Getty Images) Some say it could go even further, threatening Mr Trump's future in the White House as well.
Related: Trump's enemies now in a position to plot his demise
Cordelia Lynch, Sky's US correspondent says:
The conservative legislative agenda could be dead in the water. Republicans will now lose their ability to send new bills to President Donald Trump's desk with their party's votes alone.
In 2010, the Democrats saw Barack Obama's legislative agenda die when they lost the House.
On a practical level this time round, that could mean no Obamacare repeal for Republicans; no major cuts to Medicare, Social Security, food stamps, or welfare; and no more big tax cuts for corporations and the wealthy.
It will be harder for them to block bills pushed by the Democrats too.
It's not just potential legislative gridlock on the horizon. If the bitter climate continues between the parties, rank-and-file Republican lawmakers could see their roles fundamentally shift change from legislating to messaging.
Democrats not only have veto power over new bills now, but the power to subpoena too which would enable them to investigate the Trump administration more aggressively; from the Russia investigation, to sexual assault allegations to the prospect of impeachment - however unlikely that may be. Republicans will need to defend and protect him.
Part of the challenge is that what is seen as good for him is not necessarily what the GOP view as good for the party.
They may have to grin and bear it though because any hurt caused to Donald Trump could damage the prospects for individual Republican candidates in 2020. Expect to see them heavily focus on ensuring Trump stays put in 2020.
It could go another way of course. The president prides himself on deal making and he may well push to get Democrats onside. He is already talking about making deals with them on infrastructure.
He's pulled off plenty of surprises this far. There will inevitably be plenty more ahead.