Conor McGregor and Khabib Nurmagomedov to learn fate on October 24 with Irishman 'likely' to be punished for his role in UFC 229 brawl

Daily Mail
12/10/2018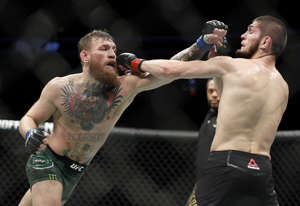 Conor McGregor and Khabib Nurmagomedov will learn if they are to be indefinitely suspended on October 24 following the UFC 229 brawl. 
The Russian triggered the melee by jumping over the cage in Las Vegas last Saturday but his defeated challenger also reacted physically, striking a member of Khabib's team on the fence. 
Video: Michael Rapaport: 'Conor McGregor's done, he's no longer that guy' (Fox Sports)
Executive director of the Nevada State Athletic Commission, Bob Bennett, revealed that both fighters are to be temporarily suspended for 10 days from October 15 until the hearing is completed and McGregor is 'likely' to be punished for his role in the mayhem.
Download the Microsoft News app for your Android or iPhone device and get news & live updates on the go.
The NSAC will hold a vote in just under two weeks to decide on their next course of action pending the results of the ongoing investigation.
Khabib is anticipated to be handed the more severe sanctions after sparking the brawl in T-Mobile Arena. 
But footage subsequently emerged of McGregor attempting to leap the fence and landing a punch of his own on Islam Makhachev, a UFC lightweight and member of Khabib's team. 
The Irishman was then subjected to a shameful attack as another of Khabib's entourage, Zubaira Tukhugov, struck the 'Notorious' from behind.  
UFC president Dana White vowed that neither impostor would fight in the promotion again, prompting Khabib to give an extraordinary ultimatum to the company on Instagram.
© Provided by Associated Newspapers Limited A rematch between the champion (right) and challenger (left) would no doubt break records On Thursday he wrote: 'If you think that I'll keep silent then you are mistaken. You cancelled Zubaira's fight and you want to dismiss him just because he hit Conor. But don't forget that it was Conor who had hit my another Brother FIRST, just check the video.
'If you decide to fire him, you should know that you'll lose me too. We never give up on our brothers in Russia and I will go to the end for my Brother.'
The biggest fight in UFC history caught the headlines for the disastrous aftermath rather than Khabib's emphatic fourth round submission victory. 
There will be enormous pressure on the powers that be to make an example of both men as perception of the sport has unquestionably suffered a huge amount of damage despite the unprecedented levels of exposure.
The NSAC decision on October 24 will be met with huge interest, particularly as the outcome will set a strong precedent and also impact the timeline of any future rematch between the two lightweights.