Conor McGregor to make long awaited UFC return after TWO YEARS away vs Khabib Nurmagomedov on October 6

Daily Mail
04/08/2018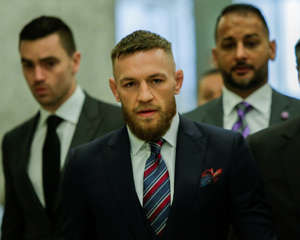 Conor McGregor will return to the Octagon against Khabib Nurmagomedov in Las Vegas in October.
The UFC announced late on Friday night that McGregor and Nurmagomedov will headline UFC 229 on October 6 at T-Mobile Arena in Las Vegas.
Speaking at a press conference to mark the UFC's 25th anniversary, president Dana White fielded questions and then said: 'We have one last thing we want to show you.' A promotional video then played to promote the bout.
It drew rapturous applause from the the watching media and fans, with White adding: 'They're not here unfortunately. But the fight is done, October, Las Vegas, it's on ladies and gentlemen.'
McGregor will return to the Octagon after avoiding prison on assault charges following his attack on a UFC fighter bus in Brooklyn earlier this year.
The charismatic Irishman said the assault was in retaliation to a previous run-in between his team-mate Artem Lobov and Nurmagomedov, who was on the bus at the time of the attack.
The 29-year-old Russian Nurmagomedov later invited McGregor to settle things out in the Octagon and it has now become an exciting reality.  
The fight is tipped to be the biggest in the history of the promotion due to the intense personal rivalry and the fascinating stylistic match-up.
McGregor hasn't fought within UFC since November 12, 2016 against Eddie Alvarez and he will be desperate to light up the sport once again.
Nurmagomedov captured the lightweight title that McGregor was stripped off when he failed to defend the belt. 
Meanwhile, the Notorious stepped away from UFC for a sensational boxing match with American great Floyd Mayweather.
But with just over two months left until the huge fight, McGregor will be working harder than ever before to reclaim his dominance within the sport.