U.S. Open wants 15-year-old Coco Gauff in main draw despite age restrictions, report says

Sporting News
17/07/2019
A special message from MSN:

Sport has the power to change lives. Yet in the UK only 8% of young women and girls are meeting the recommended exercise guidelines and millions are missing out on the transformational rewards of an active lifestyle. We're committed to tackling the under-representation of women's sport and have partnered with giving platform Benevity to raise funds for the charity Women In Sport. You can make a real difference - please donate now.​
U.S. Open officials are doing everything they can to get Cori "Coco" Gauff into next month's tournament. 

Officials are planning to give a wildcard to the 15-year-old sensation that caught everyone's attention when she played at Wimbledon, according to the New York Post, which cited unidentified sources. The only problem is they have to work around the WTA's age restrictions for 15 year olds.
Video: Tennis phenom Coco Gauff 'enjoying the moment' (Reuters)
Explore more issues around women in sport

"We would expect to see Coco in the main draw of the US Open,'' USTA director of communications Chris Widmaier told The Post. "She certainly won the hearts of tennis fans in our country with her Wimbledon performance. It's not every day an athlete of her age becomes water-cooler talk.''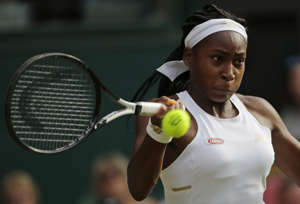 © AP United States' Cori "Coco" Gauff returns to Slovenia's Polona Hercog in a Women's singles match during day five of the Wimbledon Tennis Championships in London, Friday, July 5, 2019. (AP Photo/Ben Curtis) Widmaier added that he believes the Open will be "exempt," while an anonymous WTA spokesperson explained to the Post that they don't believe the governing body will intervene.
​"The US Open, as a Grand Slam, reserves the right to not align with the Age Eligibility Rule and offer a player a Wild Card in excess of her limit per the Age Eligibility Rule,'' WTA spokesperson said.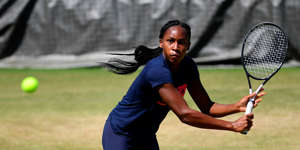 © Getty US player Cori Gauff hits during a session on the practice courts at The All England Tennis Club in Wimbledon, southwest London, on July 4, 2019, on the fourth day of the 2019 Wimbledon Championships tennis tournament. - Coco Gauff, the 15-year-old schoolgirl who stunned five-time champion Venus Williams in the first round, continued her Wimbledon dream debut on Wednesday when she eased into the last 32 and claimed: "I can beat anyone." Next up for Gauff is a last 32 clash against world number 60 Polona Hercog of Slovenia on July 5. (Photo by Daniel LEAL-OLIVAS / AFP) / RESTRICTED TO EDITORIAL USE (Photo credit should read DANIEL LEAL-OLIVAS/AFP/Getty Images) The Post notes that Gauff can only play 10 pro events from when she turns 15 until her 16th birthday under the age-eligibility bylaws. Gauff is still eligible to play 12 more pro tournaments before her birthday on March 13. She's played seven pro tournaments since she turned 15, but received a merit bonus of two extra events. 

Gallery: The inspiring life of 15-year-old Cori 'Coco' Gauff, Wimbledon's teen tennis sensation (Business Insider)
Gauff entered Wimbledon ranked No. 313 in the world and jumped up an impressive 172 spots. She's now No. 141 after making it to the fourth round at the All England Club.
Explore more issues around women in sport and join our fight to empower everyone to experience the lifelong benefits of exercise. Plus, Virgin Active have pledged to match donations raised meaning your money goes further to help even more women and girls get into sport. here.​​