Is Dudley's ferris wheel the 'worst tourist attraction in Britain'?

AOL Travel UK
17/03/2016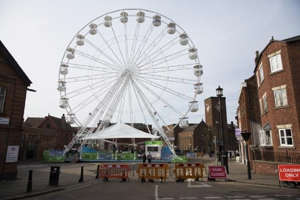 © AOL Travel UK

A ferris wheel that has been erected in Dudley has been branded the "worst tourist attraction in Britain" thanks to the concrete views.
The Free Radio DY Eye Ferris wheel is 114ft high and costs £4.50 for a ride.
Ahead of the opening, Councillor Khurshid Ahmed, cabinet member for planning and economic development, told ITV News: "Since completing the £6.7m regeneration of Dudley town centre, we have hosted events to encourage people to visit and see for themselves how attractive the town centre now looks and we have had wonderful feedback.
"The wheel is an impressive attraction and I hope that it brings even more visitors and shoppers into the town to enjoy the wheel and that it can be something that everyone in the borough can be proud of."
However, a lot of residents are not impressed. According to the Daily Telegraph, student Vincent Parry, 21, said: "You can see the grey concrete buildings perfectly well from the ground, you don't need a birds-eye view of them as well.
"There's a million and one things that needs looking at in the town without money being spent on a giant ferris wheel. It has got to be the worst tourist attraction in Britain."
And, speaking to the Daily Mail, Barry Fletcher, a lorry driver from nearby Coseley, said: "Who would want to spend £4.50 to go and get an elevated view of some old office buildings, an abandoned bingo hall and a shopping centre? We'll be a laughing stock."
But not everyone thinks it's so bad. Mum-of-two Sara Thomas, 23, said: "I think it's great.
"There needs to be more things to do in Dudley. More people would come here if there was."
The £10,000 wheel, which had previously been up in Birmingham, will be in Dudley for one month and operates from 9am to 5pm daily.
19 of the world's weirdest tourist attractions