Things to do with the family at Easter 2023 across Greater Manchester

Manchester Evening News
31/03/2023
The Easter holidays are almost here and that means keeping the kids busy and happy for two weeks.
It's quite a task for parents, but never fear, help is at hand. We've been scouring the area for some of the best Easter events and attractions open to all the family over the holiday period and brought them together below.
There are egg hunts, farm visits and everything in between. We've tried to choose mainly long-running activities taking place across the holidays, but there are some one-off events and some running across the long Easter weekend too.
Read more: M&S fans say Easter treat is 'too cute to eat'
Here's our full round-up of family events in and around Greater Manchester...
Manchester
Science and Industry Museum
A 'gaming extravaganza' is promised at the science museum this spring.
Ultimate gaming experience, Power Up will be open every day throughout the holiday with five decades of games and over a hundred different consoles to enjoy.
Visitors can rediscover classic arcade favourites like Pac-Man or explore the future of gaming through virtual reality experiences. Manchester's links to the gaming industry will also be explored, and visitors can journey through the evolution of games consoles.
Turn It Up: The power of music exhibition is also running, where families can 'play, experiment and make music together in the specially commissioned musical playground'.
General admission tickets to the museum are free but must be booked online. Tickets for Turn It Up and Power Up cost £8 for adults and £6 for children and must also be booked online.
Science and Industry Museum, Liverpool Rd, Manchester, M3 4FP.
Treetop Adventure Golf
There are two 18-hole mini golf courses to enjoy at Treetop Adventure Golf inside The Printworks and if you get there early enough you can play two for the price of one.
The offer applies to anyone playing the Tropical Trail or Explorer courses between 10am and 1pm Monday to Friday and 10am to 12pm on Sunday.
You get a shot at the Bonus 19th Hole for the chance to win a free game and there's a free photo booth to snap a memory of your day to take home.
Treetop has its own cafe area with the Pizza Cabana serving up handmade pizzas.
Treetop Adventure Golf, The Printworks, Dantzic Street, Manchester, M4 2BS.
Z-arts
There's lots of Easter fun at Z-arts this year, including a brand new multi-themed escape room created especially for families and young people.
Z:escape: The Library of Enchantment opens on April 1 and challenges visitors to solve a series of baffling clues, riddles and puzzles to unlock a succession of doors.
Children aged six plus can enjoy the adventure as part of a family group, or children as young as eight can enter the rooms without an adult, as they will be accompanied throughout by a librarian.
There's more happening too, including an adaptation of the fairy tale The Little Red Hen, from Stuff and Nonsense, happening on April 7 and 8.
Billed as 'an energetic adaptation of this much-loved story, featuring a breath-taking combination of brilliant puppetry, live music and unforgettable comedy', it's recommended for ages three to 10.
Tickets, priced £12, can be booked online.
The escape room can be booked on the website too, or by calling 0161 226 1912.
Z-arts, Stretford Road, Hulme, M15 5ZA.
The Crystal Maze Live
There's an Easter addition to The Crystal Maze Live Experience this year in the form of a grumpy Easter Egg.
Alongside games in the Aztec, Industrial, Futuristic and Medieval Zones, guests will be able to visit the stern Easter Egg in his wonderland decked out with pastel eggs and spring blooms.
Once guests locate the Easter Egg deep within the Maze, all they must do in this brand-new game is get the sour-faced egg to crack by telling him a joke.
Anyone succeeding in their chortle challenge will be awarded with a Crystal, ready for their visit to the Crystal Dome.
The Easter event is running from now until April 16 and guests can also get up to 40% off family tickets when booking in advance on the website.
The Crystal Maze, St Johns, Lower Byrom Street, Manchester, M3 4FP.
GMP Museum
Greater Manchester Police Museum has been recognised twice by Visit England as being a 'hidden gem'.
Founded in 1981, the GMP Police Museum is itself located in a former police station and is hosting its popular open days during the school holidays.
Call in between 10.30am and 4pm on April 4, 6, 11 or 13 for some free family fun.
It collects and preserves relevant archive material and acts as an important resource for community engagement.
Open days focus on different units within the police force from the North West Underwater Search and Recovery Unit to the Tactical Dog Unit and the North West Ambulance Service.
GMP Museum, 57A Newton Street, Manchester, M1 1ET.
The Whitworth
The art garden and park will be transformed into a giant outdoor art studio this spring.
As part of the Wild Whitworth and Afrocats partnership, there are three sessions taking place from noon to 3pm on Tuesday, April 4, Wednesday, April 5 and Thursday, April 6.
Inspired by the Althea McNish exhibition currently on display inside the Gallery, families will be invited to create their own nature inspired designs using natural materials outside.
Activities are suitable from babies to teens - there'll be different areas with open ended messy play for the little ones and more guided learning about mixing and making natural paints for the big ones. Visit the Facebook page for more details.
The Whitworth, Oxford Road, Manchester, M15 6ER.
Heaton Park
A Big Egg Hunt is taking place at Heaton Park over Easter weekend.
Visitors can take the egg trail and solve the riddle to receive a prize. Trail maps cost £3 per person (cash only) and can be collected from the reception area at The Stables.
The event is running 10am to 3pm on April 8 and 9.
For little ones the pop-up play area is back at the Courtyard, open daily (weather permitting) between 10am and 3.30pm.
Heaton Park, Middleton Road, Manchester, M25 2SW.
Arndale
There's a sweet treat in store at the Arndale this Easter as it plays host to a Double Bubble Dome packed full of edible milk chocolate bubbles.
Organisers say it will be like something 'straight out of the world of Willy Wonka' as families 'watch as a cascading volcano of edible bubbles arrive for you to bite right out of the air'.
Head along to the spring meadow in Exchange Court to sign-up for free, enter the dome and 'wait for the Bubble Volcano to explode'.
It will be open from 12pm to 5pm on Friday, April 7 and Saturday, April 8. All sessions are walk-in only and each session will welcome up to 6 people.
Arndale, Manchester, M4 3AD.
National Football Museum
Little ones can make their own tiny egg versions of their favourite players at the museum this Easter.
Whether it be Lionel Meggi or Sergio Egguero, you can use the egg cup body to draw your team's football shirt, attach one of the 'replica' egg heads, then add your player's features with googly eyes, craft paper and pens.
This activity is running daily from April 1 to 16 and will be taking place in the Pitch Gallery between 11am and 1pm.
It is included with your admission ticket, adults £11, children £6, which can be booked online.
National Football Museum, Urbis Building, Cathedral Gardens, Todd St, City Centre, Manchester, M4 3BG.
Manchester Museum
Visit Manchester Museum which reopened in February following a huge refurbishment.
The Wild Escape is running throughout the break. Pick up your free Belonging Gallery Art Cart for the free self-led family art activity celebrating UK wildlife.
The drop-in event is available 10am to 5pm April 4 to 15, excluding April 10, and then April 22-23. Visit the website for more details.
Manchester Museum, Oxford Rd, Manchester, M13 9PL.
People's History Museum
There are lots of family-friendly activities to enjoy at People's History Museum over Easter.
A sculpture called The Manchester Argonaut, which features 'bright colours, intricate patterns, statement tattoos and fantastical accessories' is on display to inspire visitors with their own clay creations in Make Your Mark workshops on April 5 and 12.
These are the first of a series of Family Friendly workshops that will take place in every school holiday to explore PHM's exhibitions and collections through craft led activities.
Make Your Mark is a free activity and all materials are provided. The workshop, which will be led by artist Pauline Wood, is designed to be suitable for five to 16 year olds and takes place between 1pm and 3pm on both dates. Book your place on the website.
Banner Bingo will also run throughout the holidays, where visitors can pick up a player's card from the Info Desk and head to the 2023 Banner Exhibition to find the different symbols. And there are other interactive exhibits and games to enjoy, as well as dress-up boxes and the chance to play in the historic Co-op shop or visit suffragette Hannah Mitchell's kitchen.
People's History Museum, Left Bank, Manchester, M3 3ER.
Manchester Art Gallery
There's some Easter themed fun planned at the gallery over the holidays.
Workshops with artists in the Lion's Den take place on April 5, 9, 12, 14 and 15 and families can drop in between 1pm and 3.30pm.
Visit the website for more details.
Manchester Art Gallery, Mosley Street, Manchester, M2 3JL.
Elizabeth Gaskell's House
There's lots to see and do at one of Manchester's most family friendly visitor attractions this Easter.
With the garden full of snowdrops, crocuses and daffodils, it's one of the most picturesque times to visit the home of Victorian author Elizabeth Gaskell and to be inspired by the world that inspired her.
Visitors can explore the whole house, with lots of hands on and fun ways to discover how life would have been in Victorian times. This will include spending time in the Servants' Hall where you'll be able to make a Victorian card or Easter bonnet.
And when you've finished crafting you'll find more to do with the Family Garden Trail and the indoor Cranford Cat trail. Both activities have been developed with younger visitors and their families in mind.
Having only opened last year, the first floor permanent exhibition is already a family favourite. It invites you to experience Elizabeth's life through play thanks to an interactive dressing table, Victorian trunk of dressing up outfits and a game of Top Trumps. From April 2 this will be joined by a brand new exhibition in the temporary exhibition space called A Tale of Manchester Life – Elizabeth Gaskell's Manchester.
Easter activities will be taking place from 11am to 4.30pm on Wednesdays, Thursdays and Sundays from April 2 to 16 (excluding Easter Sunday). Entry is £7 for adults and free for children under 16s, when accompanied by an adult. All family activities are included within the ticket price. Book online.
Elizabeth Gaskell's House, Manchester, M13 9LW.
Salford
RHS Bridgewater
Visitors are promised 'a supersized family adventure' at RHS Garden Bridgewater this Easter.
Families can discover the larger-than-life eggs on a Giant Egg Hunt trail, which is open April 3 to 16.
This year, the eggs have been decorated by local artists Cath Ford and Alastair Price, inspired by designs from pupils at four Salford schools - Moorside Community Primary School, Summerville Primary School, Marlborough Road Academy and St Boniface RC Primary School.
As well as the trail there will be a range of fun, family-friendly activities on offer including live interactive theatre with Cat and Mouse Theatre Company, storytelling from Colour the Clouds, baby and toddler sensory workshops and Easter craft workshops.
Children who successfully find all of the hidden eggs will be rewarded with a free chocolate treat to take home.
Garden admission fees apply. Visit the website for more details.
RHS Garden Bridgewater, Occupation Rd, Worsley, M28 2LJ.
The Lowry
If you fancy a trip to the theatre over the holidays there are two shows that little ones will be sure to enjoy.
Judith Kerr's Mog The Forgetful Cat is being brought to life at the venue, with two performances a day - 11am and 2.30pm - between April 4 and 8.
Join Mog and the Thomas family, on a journey through one year in the life of a really remarkable cat, as she catches a burglar, gatecrashes a cat show, goes to the V.E.T. and gets to eat lots and lots of eggs. For tickets, from £18, book online.
Then from April 11 to 16 - at 11am and 1pm - there's The Very Hungry Caterpillar Show, which features four timeless stories in 'one delightful show'.
As well as the star of the show - the caterpillar of course - it will also feature the popular titles Brown Bear, Brown Bear; 10 Little Rubber Ducks and The Very Lonely Firefly.
Families are invited to 'dive into Eric Carle's bright and colourful world as his beloved stories are transformed from page to stage using a menagerie of 75 lovable puppets and charming music'.
For tickets, from £18, book online.
The Lowry, Pier 8, The Quays, Salford, M50 3AZ.
City Airport
City Airport in Barton is now home to the top deck of a decommissioned British Airways plane and there's a bunny on board.
The Deck 747 EGGstravaganza is running at various times on April 6, 7, 8 and 10, with Easter egg hunts, crafts and more.
Tickets cost from £19.95 and can be booked online.
The Deck 747, Veterans Garage City, Airport, Eccles, M30 7SA.
Salford Museum and Art Gallery
There's lots of Easter fun happening at the museum and gallery over the break.
Activities include crafts such as collage making and Victorian Washday and you can take a step back in time on Lark Hill Place, an atmospheric re-creation of a typical northern street during Victorian times.
On Easter weekend there will be explorer trails to enjoy too.
To book your free ticket and see the full list of events over both weeks, see the website.
Salford Museum and Art Gallery, Peel Park, The Crescent, Salford, M5 4WU.
Ordsall Hall
There's more fun over at Ordsall Hall, which is running fun Tudor related activities and workshops over the Easter Holidays.
Activities include a Wild Escape Trail, Easter bonnet making, Meet the Maid, bug hunts and more.
For more details and to book, visit the website.
Ordsall Hall, Ordsall Lane, Salford, M5 3AN.
Trafford
Spring Escape, The Trafford Centre
A giant outdoor funfair and circus is returning to The Trafford Centre this Easter.
Spring Escape will feature a host of rides enjoyed by families at previous events held outside the Great Hall.
There'll be vintage fairground rides and attractions for all ages, including Starflyer, Rock Rage, Waterballs, Bumper Boats, Waveswinger, Funhouse and a giant inflatable clown.
A real clown, Sandro, will also be making his European debut appearance at Gandeys Circus, which is returning to the site with a new 90-minute show Glitterati.
As well as the fair and circus, there are lots of foodie treats to enjoy including burgers, donuts, crepes, ice creams and more.
Families pay a £2.80 entry fee (£3 on the door) to access the area and rides are either paid for with individual tokens or wristbands, which can be purchased online or from kiosks at the venue. Circus tickets can be bought separately without the need for an entry fee.
Spring Escape opens on April 1 and will run until June 4, opening daily in the school holidays and bank holidays and on weekends during term time. Tickets can be booked online. Gandeys Glitterati will be on from March 31 to April 16. Tickets, from £9.99, can be booked on the website too. There's a limited offer to get £5 off premium seats using the code TR5.
The Trafford Centre, Trafford, M17 8EB.
Trafford Palazzo
An Easter Tea Party event is running at Trafford Palazzo across the holidays.
Inspired by the famous Mad Hatters Tea Party, the 'magical spectacle' kicks off on Saturday, April 1 and will feature various free activities until April 16.
A full schedule of the family friendly events, with the classic fairy tale Alice in Wonderland theme, can be viewed on the website.
It includes The White Rabbit's Hat Making Masterclass, The Mad Hatters Mad Dash which will consist of a treasure hunt around Trafford Palazzo, giant chess and the classic garden game, The Queen's Guards Cornhole.
On April 1, 2 and 14, there will be a live DJ alongside the entertainment, as well as sweet and drinks traders.
A Mad Hatters Easter Parade on April 14 will showcase the most extravagant masterpieces from the hat making masterclass.
The Mad Hatter will parade the malls along with characters including Alice in Wonderland, the Queen of Hearts, The White Rabbit, and the Cheshire Cat, who will meet and greet and be available for photographs.
Trafford Palazzo, Trafford, M17 8AS.
In

flata Nation

An Easter egg hunt which challenges bouncers to find sweet treats and toy bunnies hidden amidst the giant inflatables is taking place at Inflata Nation.

Families can also take advantage of 15% off throughout the Easter break by using the code EASTERMANC when booking online.

The indoor attraction offers slides, climbing walls, giant ball pools and assault courses, with something for all ages and abilities.

It's open 10am to 7pm Monday to Friday during the holidays, and 10am to 7pm on Saturday and Sundays.

One-hour bounce sessions cost £5.99 for under-fours and £10.99 for everyone else.

Inflata Nation Manchester, Textilose Road, Trafford Park, M17 1WA.
Dino Falls Adventure Golf
An Easter egg hunt is taking place at the popular adventure golf attraction.
Take photos of the hidden Easter characters around the course and claim a free chocolate treat in the Starbucks Cafe & Bar at the end of your round.
The hunt is running from April 3 to 14 and family tickets are priced £28. Early birds go cheaper as one child goes free with each paying adult if they play before 10am.
Dino Falls, Old Park Lane, Trafford Park, M17 8PG.
Legoland Discovery Centre Manchester
A new City of Champions event is running at Legoland over the break.
It will feature stunts, builds, secret trails, games and a Miniland Mega Parade.
Visitors can collect exclusive limited edition mission cards for four brand-new mini figures and meet the mini figure team Ricky Rocket Racer, Mech-Max, Go-To Gary and Fearless Fi.
There'll be all the usual fun too including Merlin's Apprentice ride, Kingdom Quest, Mini Land and the 4D cinema.
The event runs from now until July and tickets, costing from £15, can be booked online.
Legoland Discovery Centre Manchester, Trafford, M17 8AS.
Runway Visitor Park
The popular Runway Visitor Park Flight Academy is back this Easter.
Children aged four to 12 can learn about the runway procedure, various airport roles, board an aeroplane and more.
Sessions take place on April 2 to 7, 12 to 14 and 30.
Tickets cost £14 for one adult and one child and can be booked online.
The park is just off the A538 at junction 6 of the M56 motorway. Use the postcode WA15 8XQ.
Trafford Treetops
The treetop adventure outside the Trafford Centre is open daily over the school break.
Tucked away at the side of the Regent Crescent car park at the former Debenhams end of the mall, there are two courses to complete - one higher and longer than the other - and you get to do both within the £14.97 ticket price.
Billed as 'the ultimate test of coordination, balance and determination', you'll need a head for heights to swing, climb and hop your way through the courses.
Minimum age for the course is six, but children under 1.4m (4ft7) must be accompanied by an adult.
To book visit the website here.
Trafford Treetops, The Trafford Centre, Regent Crescent, Trafford Park, M17 8AA.
Imperial War Museum North
Families can get hands on with real artefacts at a chocolate-themed edition of the popular Story Seekers.
What can the humble chocolate bar teach us about the Second World War? Find out how chocolate helped power the nation and discover the strange and innovative ways people worked to satisfy their sweet tooth in times of rationing.
Story Seekers, aimed at children age seven and above, is running daily from April 1 to 16. Drop in between 10am and 4pm.
Other events include the Family Hub, April 1 to 9, focusing on the Second World War's Dig for Victory campaign and on April 4, 6 and 11 there are We Were There family days where you can meet IWM's veterans and eyewitnesses of conflict to 'gain a unique insight into the impact of war on people's lives'.
See the website for more details.
IWMN, Trafford Wharf Rd, Trafford Park, Stretford, M17 1TZ.
Dunham Massey
Dunham Massey's Easter Adventures celebrate pets, animals and springtime nature.
Visitors can see the fallow deer roam in the sunshine, enjoy blossoms and butterflies in the garden, and spot portraits of pets and intriguing historical items in the house.
Follow the outdoor trail to discover stories about pets through history at this special place, and don't forget to collect your chocolate egg.
For further adventure, you can head along to the 'Log Pile' in the North Park where a natural play area can be found, or enjoy some quiet time at the Book Nook in the Orangery.
The event's running from March 31 to April 16. For tickets - from £8.50 adults, £4.25 children - book online.
Dunham Massey, Altrincham, WA14 4SJ.
Stockport
Reddish Vale Farm
An Easter extravaganza with Alice in Wonderland is planned at Reddish Vale between April 1 and 10.
There's a Mad Hatter's Tea Party and photo opportunities with characters and an egg trail or hunt for children, depending on their age.
There's all the usual fun of the farm too including pony grooming, animal feeding and the chance to cuddle rabbits and guinea pigs.
You can take a tractor ride around the nature trail, stopping off to feed the pigs on the way, and there are loads of outdoor activities to enjoy include the beach area and outdoor play area with zip wires.
Tickets cost £17.50 for children, including an Easter egg, or £6 for under ones. Adults pay £14 each. Visit the website to book.
Reddish Vale Farm, Country Park, Reddish Vale Road, Stockport, SK5 7HE.
Lyme Park
There's an Easter trail for families to enjoy at Lyme Park.
Families are encouraged to make their way along the trail and find nature-inspired activities.
It takes place 10.30am to 4.30pm from April 1 to 16 and costs £3, which includes an Easter trail sheet, pencil, bunny ears and a chocolate egg. Usual admission fees apply.
Lyme Park, Disley, Stockport, SK12 2NR.
Bramall Hall
An interactive trail around the hall is taking place over the holidays and families can learn about Easter traditions.
Spot chicks hiding, take part in a craft activity and meet a giant version of one of this holiday's favourite characters.
The event runs from 11am to 4.30pm on Wednesdays, Thursdays and Sundays between April 2 and 16, as well as Friday 14, and tickets, costing £3 for children and £6.50 for adults, can be booked online.
Bramall Hall, Hall Road, Bramhall, Stockport, SK7 3NX.
Merseyway
The shopping centre is hosting three days of free, family-friendly activities including craft sessions, an Easter trail and visits from Milly the Merseyway Rabbit.
Fun begins on Wednesday, April 5, when children of all ages will be able to take part in a fun Easter-themed craft session, where they will be invited to decorate their very own Easter chick or egg, in time for Easter weekend.
On Saturday, April 8, Milly the Merseyway Rabbit makes an appearance to host an exclusive Easter trail around the centre. Families can follow the Easter map to receive treats at selected stores, whilst enjoying performances from Milly, who will be providing visitors with extra chocolate treats.
Finally on Wednesday, April 12, there'll be another craft session where little ones can create a beautiful blossom tree to take home.
Easter activities will take place in the undercover mall outside Specsavers from 11am to 3pm and are free to attend.
Merseyway Shopping Centre, Great Underbank, Stockport, SK1 1PD.
Bolton
Open Air Bounce
A new outdoor inflatable park is opening in time for the school holidays.
Open Air Bounce will feature 14 inflatables including bouncy castles, slides and obstacle courses.
It's open to all ages, but there's a separate under fours area who can either stay in that section or sample the rest of it, either alone or with a parent.
The attraction, at Umberton Farm, in Over Hulton, Bolton, will open daily from April 1 to 16, with three sessions a day, from 10am to 12pm, 1pm to 3pm and 4pm to 6pm.
As well as inflatables there will be fairground rides, a sandpit area with deckchairs and bench seating and refreshments for spectators, or those taking a break from the action.
Tickets cost £9.95 for ages one to four, £12.50 for ages five and above, including adults. Under 12 months go free and adults who aren't bouncing pay £2.50 entry. Book online.
Open Air Bounce, Umberton Farm, Over Hulton, Bolton, BL5 1BP.
Beauty and the Beast
Easter pantos have become quite popular over recent years - oh yes they have - and the Bolton Panto returns for the holidays.
Beauty and the Beast is taking place at The Victoria Hall, with showings from April 1 to 14.
The best bit is tickets are just £5 each so it's accessible for more families.
It promises 'a laugh a minute script for all the family with glittering costumes, beautiful bright sets and toe tapping musical numbers'.
Book your tickets on the website.
The Victoria Hall, Knowsley Street, Bolton, BL1 2AS.
Smithills Open Farm
The popular egg hunt is back at Smithills Open Farm this Easter.
You pay £3 extra to take part on top of usual admission, and that gives entry to the hunt where children can find a plastic egg to swap for an Easter egg or teddy. There'll be some real chocolate and prizes hidden along the way too.
The event runs from April 1 to 10 and tickets must be booked online. Usual farm days continue for the rest of the school holidays without the hunt.
Admission is £9.50 per adult and £8.50 for children aged two to 16. Family ticket £32. Under twos go free.
As part of your day you'll be able to explore the farm and all its animals, including the chance to feed the calves daily at 12pm.
There's a huge play area to enjoy and tractor rides can be booked for £1.50.
Smithills Open Farm, Smithills Dean Road, Bolton, BL1 7NR.
Oldham
Lancaster Park and Animal Farm
There's more farm fun at Lancaster Park and Animal Farm, which is hosting its own Easter event from March 31 to April 16.
No booking is required and you can just pay at the door on the day.
Daily activities include lamb feeding at 9.30am and 2.30pm, animal petting sessions 10am to 12pm and 1pm to 2.30pm, and on Wednesday and Saturday there's tortoise bathing at 1pm.
There's a Caterpillar Barrel Ride to enjoy, weather dependent, mini quads, digger corner, swings, slides, ziplines and more.
Tickets cost £6.50 per person. See the website for more details.
Royton Park / Uppermill Park
Easter Park Parties are planned at both venues over the holidays and promise to be 'bigger and better than before'.
There'll be a selection of inflatables, including small and big bouncy castles, obstacle courses, zorbs, mega inflatable slides, children's fair rides, magic shows and more.
Aimed at children aged two to 11, daily children's entertainment features the Mad Hatter and friends and the Easter Bunny will be making a special appearance to lead an egg hunt and give away some prizes.
Royton's event runs from April 1 to 10, while Uppermill's is April 7 to 16. Both open daily 11am to 5.30pm.
Entry fee is £1. You can go online for special offers - for Royton and Uppermill - or pay on the day.
Royton Park, Millwood Ct, Royton, Oldham, OL2 6WH.
Uppermill Park, Uppermill, Oldham, OL36AP.
Bur

y
East Lancs Railway / Bury Transport Museum
There are all kinds of events running at the railway this Easter.
Events include The Wizarding Adventure on April 6 and 13 - an interactive experience which will see you 'take lessons in the basics of broomsticks, practice your potions, receive instruction in incantation and learn to talk like a tawny owl'.
Your adventure includes a steam train ride from Bury to Rawtenstall and back, a roughly two-hour wizard experience with the madcap magicians, wizard themed activities and plenty of photo opportunities.
On April 7 there's The Dino Adventure, where you can join an 'expedition of explorers on an adventure of Jurassic proportions and get up close and personal with a happy herd of baby dinosaurs'.
Tickets for the experiences cost from £15.50 and can be booked online.
Again the adventure includes a steam train ride from Bury to Rawtenstall and back.
And on Easter weekend, April 9 and 10, that mischievous bob-tailed bunny, Peter Rabbit, is visiting the Bury Transport Museum.
See him at intervals throughout the day and join in the fun with theme park rides, face painters and craft activities.
You can also enjoy a ride along one of the heritage steam or diesel trains through Irwell Valley. Ticket price - adults £16, children £15 - includes a ride on any train services on the day of your visit. Book on the website.
East Lancashire Railway, Bolton Street Station, Bury, BL9 0EY.
Arcade Club Bury
You can play earlier and for longer at the Arcade Club in Bury, which has extended its opening hours for the Easter holidays.
The Ela Mill venue features hundreds of retro and modern machines over four floors and gamers have been flocking there since it opened in 2015.
There's everything from Pac-Man and Space Invaders to Donkey Kong and Sega Rally and kids can play their modern favourites like Fortnite and Rocket League.
It's opening from 11am on Thursdays and Fridays, April 6,7, 13 and 14, closing at 11pm on the Thursdays and midnight on the Fridays. on Easter Sunday and Easter Monday, it's opening 11am to 8pm.
The £9 entry fee is for kids aged five to 15 to play all day long. If adults want to play too it's £17 per adult, or £43 for a family.
For more information, or to book tickets, visit the website.
Arcade Club, Ela Mill, Cork Street, Bury, BL9 7BW.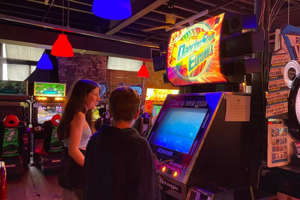 Tameside
Cockfields Farm
An Easter Eggstravaganza is running at the farm from April 3 to 9 and is bigger than ever.
Join the Mega Easter Egg Hunt With Manchester's very own Chick Astley. Find the hidden eggs in the Easter garden and swap them for a chocolatey treat.
Visitors can also watch the brand new 'hilarious' Springing Singing Show with Mooriel and Bwark, head to the Potting Shed to plant their own carrots to grow at home and meet the newborn chicks and ducklings in the handling sessions.
There's also the chance to cuddle the guinea pigs and bunnies in Cuddle Corner and groom the donkeys and pony as well as tractor rides around the farm.
Tickets cost £13 for adults and £18 for children, under ones £3, and can be booked online.
For the rest of the school holidays activities will be on as usual except for the hunt, with general admission £14 for adults and children, £3 under ones.
Cockfields Farm, Ashton, OL6 8AR.
Portland Basin Museum
The museum is a popular attraction for families and it's free to enter.
There are events running on selected dates over the holidays, including Spring is in the Air, between 12pm and 3pm on April 5.
Join 'Julie's Nursery' at the free drop-in activity planting up planters on the wharf and taking a plant home to enjoy. There will also be the opportunity to make wild flower seed bombs and get creative with eggs and natural plant dyes in a celebration of spring.
Then on April 6, it's Make, Do & Play between 11am and 3pm.
Suitable for children of all ages, you can drop in any time throughout the session and have a go at some Easter themed weaving with artist Rachel Wood. It costs £1.30 per child.
While you're at the museum, you can step back in time on the 1920s street, as the sights and sounds of bygone Tameside are brought to life. Take a look in the kitchen and parlour to find out how people used to live.
For more details of events, visit the website.
Portland Basin Museum, Portland Place, Ashton-under-Lyne, OL7 0QA.
Wigan
Haigh Woodland Park
A popular haunt for families, the park is once again hosting a fair this Easter.
It's open from now until September and sits along all the other attractions at the park, including golf, high ropes, adventure play, the art and craft gallery and more. See the Facebook page for updates.
Haigh Woodland Park, School Lane, Wigan, WN2 1PE.
Lancashire Mining Museum
Lancashire Mining Museum occupies some 15 acres of the Astley Green Colliery site and its 98ft high lattice steel headgear can be seen for miles around.
This Easter it's hosting a Teddy Bears Picnic and Easter Trail. The event runs on April 8 and 9 and costs £5 per child, which includes entry for one child and one adult, a prize and a train ride. Additional people £3.
There's lots more to see and explore in the 14 acres of woodland and open areas of the site and it now has its very own train - part of which has been modified for wheelchairs.
For more details, see the Facebook page here.
Lancashire Mining Museum, Astley Green Colliery, Higher Green Lane, Astley, M29 7JB.
Winstanley Park
The park is a family run business just outside the centre of Wigan and is playing host to its first ever Easter egg hunt this year.
Tickets are already selling fast for the event, which will feature an Easter adventure trail, bouncy castles, crafts and more.
Described as 'a woodland adventure that's full of surprises', it promises to be 'unlike any other'. Follow the clues to find all 10 Easter items for your basket, then swap your basket for a chocolate surprise at the end.
Along the way you will find bunnies hanging from trees, hidden eggs on the ground and you may even bump into the Easter Bunny.
Hidden eggs filled with chocolate will also be dotted about the trail for people to find and half way through the trail there will be a rest stop, where the children can play on the bouncy castle and adults can rest for a coffee.
On return to the barn with your full basket, there will be an opportunity to decorate your own Easter decoration and you can finish your day off with a 'decorate an egg' activity and a chocolate treat.
Tickets cost £15 for children and £2.50 for adults and must be booked online. Donkey rides and refreshments are chargeable on the day of the events, which run from April 7 to 10.
Winstanley Park Estate, Wigan, WN3 6DD.
Rochdale
Hollingworth Lake Activity Centre
There's an egg hunt with a difference taking place at Hollingworth Lake as the Easter Egg Paddle Hunt is back.
Set off in a bell boat for a guided paddle hunt around the lake and help seek out hidden Easter treasures.
All hunters will receive an Easter egg for their efforts.
The event takes place on Good Friday and Easter Monday with two slots a day, at 11am and 1pm.
It's suitable for ages four plus and all children must be accompanied by an adult.
For tickets, costing £12 per person, book online.
Other activities are running at the lake over Easter including kayaking, raft building, sailing, windsurfing, bell boat, paddle boarding, Giant SUP and team building activities. See the website for details.
Hollingworth Lake Activity Centre, Lake Bank, Littleborough, OL15 0DQ.
Fireground
The Fireground attraction replaced the Greater Manchester Fire Service Museum in Rochdale's old fire station in 2021 and has been pulling in the visitors ever since.
As well as fully restored fire engines, historic horse-drawn fire carriages and manual hand-operated pumps, there's an immersive Victorian street scene and a scene from the blitz, complete with lighting and sound effects.
An Easter Special event is planned over the holidays, with an egg trail taking place on April 6 and 8.
See the website for more details or check the Facebook page for updates.
Fireground, Maclure Road, Rochdale, OL11 1DN.
Cheshire and elsewhere
Knowsley Safari
A 'cracking day out' for the whole family is promised at Knowsley Safari.
The attraction is hosting a Spots and Stripes Safari Egg Hunt this Easter – with special sweet treats up for grabs for those who complete the quest.
Six giant easter eggs will be hidden around the Foot Safari as part of the event, running from April 1 to 16.
Egg hunters will receive a map and stickers upon arrival to guide them in their search.
Each of the six giant eggs will be spots or striped themed and, by the end of the trail, participants will be 'eggs-pert' in Knowsley Safari's animals' coats – finding out interesting and fun facts such as why tigers have black stripes, and giraffe have distinctive brown spots - and why they're unique to each species.
This activity is included in the usual admission fee to the park, where visitors can also enjoy the Safari Drive, walk the Amur Tiger Trail and see the other animals and shows at the site.
For tickets, from £19.50, visit the website.
Knowsley Safari, Prescot , L34 4AN.
Kenyon Hall Farm
Easter is in full swing at Kenyon Hall Farm where little ones can join in a hunt from now until April 16.
Families can follow the clues to gather the eggs hidden around the farm.
All the kit's provided and all participating children (recommended for ages two to 12) receive a small treat at the end of their hunt.
Tickets cost £3 for children, £2 for adults, with non-participating infants under 12 months going free.
Book online to reserve a spot.
There's lots more to enjoy at the site, including a play area, featuring play frames and its own tractor, with picnic benches dotted around it. There's also a cafe selling food and drinks.
Kenyon Hall, Winwick Lane, Croft, Warrington, WA3 7ED.
Chester Zoo
The Really Wild Egg Trail is taking place at Chester Zoo this Easter.
The trail will see six giant 3D eggs, each belonging to animals you might not expect to come from eggs, hidden around the zoo's 128-acres.
The educational adventure aimed at youngsters is free with zoo admission tickets or a membership and runs from April 1 to 16.
Once explorers have found all six eggs, they can head to the zoo's gift shop to pick up a free Nat Geo kids magazine worth £4.99.
For tickets, from £22.72, book online. Kids two and under go free.
Chester Zoo, Upton-by-Chester, Chester, CH2 1EU.
Tatton Park
There's loads of Easter fun happening at Tatton Park over the holidays and lots of it involves the children's favourite Tiger Who Came to Tea.
A Tiger who Came to Tea Garden Trail launches on April 1 and will run until September, 10am to 6pm.
Pick up a trail pack, put on your tiger mask and explore the tea-party trail in the spring gardens. Join Sophie and the Tiger at the kitchen table and play Easter Garden games together. Trail packs cost £2 each and anyone taking part between April 7 and 10 will be rewarded with a chocolate treat.
The tiger himself will be making appearances at various times over the Easter weekend. You can catch him in the Stableyard. And in the Barn Rooms youngsters can make a tiger bookmark or mask to take home in free craft sessions running between 10am and 4.30pm.
There's also a Mansion Trail running from April to 16, where little ones can discover what's on Sophie's shopping list after the tiger has eaten all the food.
Running from 12.30pm to 4.30pm, the trail will feature dressing up, hands on play, and taking your seat next to the tiger. Again there'll be chocolate for anyone taking part over Easter.
And there's lots more to enjoy too, including a pop-up Easter Market from April 7 to 10 and the chance to learn about sheepdogs in a trail, running April 1 to 16.
Event tickets can be pre-booked with admission. For more details visit the website.
Tatton Park, Knutsford, WA16 6SG.
BeWILDerwood
A fun-packed day out in the woods is promised at the popular BeWILDerwood attraction over the holidays.
There's a whole range of free Easter activities and imaginative fun to be had alongside all the usual outdoor adventures at the site, which is inspired by the magical children's books of the same name by Tom Blofeld.
Just keep an eye out for the Pesky Bunnies of BeWILDerwood who will be hopping into the woods for young explorers and big kids to enjoy.
Activities will include story-telling shows, crafts, face painting and more.
Of course there's an egg hunt too. You can collect a guide at the gates on arrival and follow the Puzzling Park Trail to discover the giant eggs hidden by those bunnies. There is a small prize if you find all the eggs.
It is ideal for families with children between two and 12 years old and is open from 10am until 5pm. Admission prices are based on height and prices range from £13.50 to £21.50. Visit the website to book.
BeWILDerwood Cheshire, Bickley Moss, Whitchurch, Cheshire, SY13 4JF.
Blackpool Pleasure Beach
The Pleasure Beach is getting in the Easter spirit this holidays and will be open daily from April 1.
Over Easter weekend, from April 7 to 10, The Hub will be transformed into 'a magical Easter garden'.
Join Bradley and Bella Beaver as they host a range of fun Easter activities and games. Guests can join in with egg and spoon races, bunny ear games and even Easter egg eating competitions. There will be lots of opportunities for lucky participants to win an Easter egg.
Bradley and Bella will also be joined by their friends Professor Donut, Kandy Floss and Poppy Corn throughout the event, offering more live entertainment.
As well as the Easter activities, there'll be all the usual fun of the Pleasure Beach including the UK's first double launch coaster ICON, the UK's tallest rollercoaster, the Big One, the UK's only Nickelodeon Land and Wallace & Gromit's Thrill-O-Matic.
For tickets, from £27, visit the website.
Blackpool Pleasure Beach, Ocean Blvd, Blackpool, FY4 1EZ.
Totally Roarsome, Arley Hall
An outdoor woodland trail featuring dinosaurs, unicorns, farm animals and more is returning for the Easter break.
Totally Roarsome, at Arley Hall in Cheshire, is aimed at families with primary school children who can complete a quiz as they make their way round the 1.5km track filled with models of all kinds.
The event is running over the weekend of April 1 and 2 and then from April 6 to 10. Tickets, costing £8.95 each (under twos free), can be booked online. Entry price includes a free group photo to take home and there's a free chocolate treat for every child. Visit the website to book.
Arley Hall, Arley, Northwich, CW9 6NA.
Imagine That!
There's lots to enjoy at the kids' science and discovery centre Imagine That! over the holidays.
Families can make science and space part of their Easter fun at the Liverpool attraction.
Science buskers will be out and about in the Bright Sparks science area with some 'fantastic experiments' and young visitors can paint magnets and make space-themed crafts in the Artbeatz area.
There'll be egg hunts and Easter bingo, as well as all the usual fun across four zones, with a real car to paint, role play in the Imagination Village, and huge vats of gooey slime in the Slime Factory.
Easter activities begin April 1 and run daily until April 16. Tickets, £15.95 per child, £12.95 for children under three, and £7.95 per adult, must be booked online. Babies under one go free with a paying sibling.
Imagine That, Faraday Road, Wavertree Technology Park, Liverpool, L13 1EH.
READ NEXT: