48 hours in . . . Boston, an insider guide to the birthplace of modern America

The Telegraph
15/08/2019
© Provided by Telegraph Media Group Limited Bustling Boston is an ever-growing city, but one that remains steeped in history Liberty, lobster and lots of sports
Boston is a bright, bustling modern city, but one steeped in significant history. It might not be the United States' or even Massachusetts' oldest colony – it was settled by the British in 1630 – but it certainly proved significant in igniting the War of Independence in 1775, which ousted British rule, allowing the formation of the United States of America one year later.
Recent victories for the New England Patriots and for the Red Sox have put Boston on a high. Soak in this walkable city, where shiny glass towers oversee 1800s Beaux Arts buildings, by testing out its first-class restaurants, which serve the best local seafood and tasty produce from New England's verdant farmland, and supping on drinks in its sultry speakeasies and bars that specialise in locally distilled spirits and beers. As you make your way round you're sure to find a good dose of history and hubris too. After all, Boston's nickname from the 1800s, the Hub of the Universe, remains a favoured sobriquet.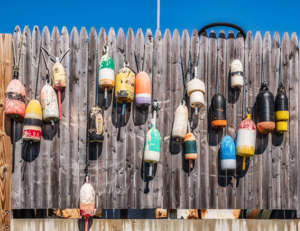 © Getty Hot right now . . .

Linda Laban, our resident expert, offers her top tips on the hottest places to eat and stay and the best things to do this season.
Do
See sartorial lines deliciously blurred in Gender Bending Fashion, the spring exhibit at the Museum of Fine Arts (465 Huntington Avenue; 00 1 617 267 9300). Alongside a glam dinner suit worn by that most famous of non-binary dressers, David Bowie, and one dandified outfit worn by Jimi Hendrix, there's video of silent era superstar Gloria Swanson's 1916 cross-dressing antics in The Danger Girl. The exhibit runs until August 25, 2019.
Eat
Ask for the special Farm to Post menu at Back Bay restaurant Post 390 (406 Stuart Street; 00 1 617 399 0025). This menu changes every six to eight weeks and each rendition highlights a different New England farm, brewery, distillery, vegetable garden, or fishery. The emphasis is very much on locally sourced ingredients and products.
Stay
The Liberty (215 Charles Street; 00 1 617 224 4000) is Boston's most unique hotel, set in the former Victorian era Charles Street Jail, a model prison at the time. That didn't last and the jail became a notorious place, closed for inhumane conditions. Placed on the National Historic Register and then redeveloped, Bostonians now play in its bars and restaurants, which are set around a fabulous towering red brick rotunda complete with jail cell walkways. Just in time for the warm weather season, its outdoor patio bar has bee renovated and revamped with an oyster shucking station, a frosé bar, and a pretty rose wall for posing for your Instagram collection. Double rooms from $279 (£201).
© Provided by Telegraph Media Group Limited The Liberty is Boston's most unique hotel, set in a former Victorian era jail Credit: © Michael Weschler Photography Escape
Head northwest along lovely Route 2 for a stay in bucolic Groton, a posh hamlet dotted with preserved 17th- and 18th-century architecture. Surrounded by conservation land and set in an old barn on a still working farm, the splendid Gibbet Hill Grill (61 Lowell Road; 00 1 978 448 2900) is worth the hour drive northwest of Boston alone. Try: tender falafel with beet yogurt and carrot tabouli, or golden seared scallops with Anson Mills's heirloom faro. Stay at neighbouring Groton Inn (128 Main Street; 00 1 978 448 6600), which was America's oldest inn, reputedly, until it burnt down in 2011. Now rebuilt and replicated, modern updates include cozy fire pits and the bustling Forge and Vine restaurant overlooking the hill. Try: wild mushrooms on toast topped with a sunny side-up egg and creamsicle Pavlova with citrus cream. Double rooms from $169 (£129).
48 hours in . . . Boston
Day one
MORNING
Start the day in style with a light breakfast in the Ritz-Carlton Boston's airy Artisan Bistro (10 Avery Street; 00 1 617 574 7100) in Downtown Crossing. Say, nutty granola with berries and creamy Vermont yoghurt and a Green Monster Smoothie (apple, kale, ginger, avocado). 
© Provided by Telegraph Media Group Limited Take the Freedom Trails Walk Into History Tour and wander through Boston's historic sites, such as the Old State House Credit: ivanastar/ivanastar Walk up Tremont Street to Boston Common, the world's first city park, and head to the Visitors Center, take the Freedom Trails Walk Into History Tour (00 1 617 357 8300), a two and a half mile wander through Boston's historic sites, including the Old State House, the Old North Church, and Old Ironsides, the USS Constitution — Boston has a lot of 'old'. This essential history primer recounts the events leading to the American Revolution and the birth of the Unites States. Complete the historic walk with a wander around Faneuil Hall Marketplace (4 Market Street; 00 1 617 523 1300), Boston's equivalent to Covent Garden.
AFTERNOON
Walk up State Street to Washington and head to the handsome, low-lit Boston Chops Downtown Crossing (52 Temple Place; 00 1 617 982 7130) for a leisurely lunch in a former bank. This revisionist American steakhouse has a waste not, want not whole animal menu. Along with steaks, chops, and animal bits, there's a sumptuous cauliflower steak with whipped feta and maitake mushrooms.
© Provided by Telegraph Media Group Limited The mahogany bar at Yvonne's is magnificent and was once an elbow prop for Boston's movers and shakers, including John F. Kennedy, who is rumored to have brought Marilyn Monroe here Afterwards, stop in at the Brattle Book Store (9 West Street; 00 1 617 542 0210), which dates to 1825 and is, allegedly, America's oldest used bookshop. It still stocks everything from first editions to contemporary novels, and has a bargain section in the outside lot. Stroll across the Common to its pretty little sister park, the Public Garden, to sit and enjoy your new book.
© Provided by Telegraph Media Group Limited Boston Chops is set in a former bank – look out for the giant safe on your way to the basement loos Credit: Sarah Storrer Exit onto Beacon Street and, yes, that is Cheers (84 Beacon Street; 00 1 617 227 9605), the bar that inspired the 1980s sitcom. Nearby you can explore Charles Street's independent businesses: 20th Century Ltd. (73 Charles Street; 00 1 617 742 1031) is an Aladdin's Cave of gleaming jewelry, vintage bags and hats; Ouimillie (133 Charles Street; 00 1 617 982 7962) is stocked with neatly detailed knickknacks curated by a local interior designer; and Paridaez (127 Charles Street; 00 1 617 835 5396) is a New England-made, sustainable material based clothing line.
© Provided by Telegraph Media Group Limited Explore Beacon Hill, with its old red brick houses lined up on narrow hilly streets Credit: © Joe Daniel Price/joe daniel price You'll also want to admire Beacon Hill's 18th- and 19th-century red brick houses, lined up on narrow hilly streets. Amongst this charming picture, Louisburg Square is undoubtedly a centerpiece, with Boston's ritziest addresses. Nearby, cobblestoned Acorn Street is, reputedly, the most photographed street in America.
LATE
Time for a little liquid pick-you-up: do drinks atthe Prudential Tower's Top of the Hub (800 Boylston Street; 00 1 617 536 1715) restaurant on the 52nd floor. It has the same astounding panoramic views as the 50th floor Skywalk observatory, New England's tallest observatory, but with the added bonus of cocktails.
Stay here for dinner and jazz; or, head to Select Oyster Bar (00 1 857 239 8064), just a cross Boylston, where chef and owner Michael Serpa serves up gorgeous seafood – indeed, including fabulously local oysters like Cape Cod's Moon Shoals and Cotuits, and dressed Maine lobster. Book ahead, this popular boîte fills up quickly.
Later, see a show or a Boston Ballet performance at the Boston Opera House (539 Washington Street; 00 1 617 259 3400) in Downtown Crossing, which confusingly enough, doesn't actually showcase opera at all. Cap off the evening by ducking down a mural lined alley to enter speakeasy-styled Yvonne's (2 Winter Place; 00 1 617 267 0047) through a hair salon. Sip Sidecars and other Prohibition-era tipples under low lights and irreverent portraits.  
Day two
© Provided by Telegraph Media Group Limited The Boston Tea Party Ships & Museum offers an 18th-century style tavern and tea room MORNING
Breakfast on superb pastries and the best hot chocolate ever in the cute cottage that houses L.A. Burdick (220 Clarendon Street; 00 1 617 303 0113).
© Provided by Telegraph Media Group Limited The Envoy Hotel's Lookout rooftop bar is one of the hottest spots in town Then strut your stylish stuff on Boston's best shopping street: Newbury, an eight-block stretch of 19th-Century townhouses now filled with boutiques, restaurants, spas, and art galleries. It begins at the Public Garden with designer shops – Chanel, Armani – and ends at Massachusetts Avenue with funkier stores, like Rick Walker's (306 Newbury; 001 617 482 7426), which is presided over by Henry Rizzo, a pet chicken. Buy vintage clobber with a rock and roll edge, and a large selection of western wear. (Fact: Ringo Starr is among its clientele.)
Lunch at Sonsie (327 Newbury Street; 00 1 617 351 2500), a gem of a bistro that's been on the bohemian end of Newbury for a quarter of a century, and for good reason: Try the quinoa and chickpea salad with pickled pumpkin, Armenian string cheese and dates.
AFTERNOON
Walk over to Boylston and take Dalton Street to the Neo-Classical Mary Baker Eddy Library (200 Massachusetts Avenue; 00 1 617 450 7000), which is part of the Christian Science Plaza. Learn about this New Englander who founded a religion that included homeopathy and faith healing. The campus includes the Mother Church and the peaceful Reflecting Pool, but inside the library is the unique three-story Mapparium. Created in 1935, this stained-glass globe is a map of the world as it was then, viewed from a footbridge across its center, giving a look at a very different early 20th-century world from the earth's centre.
© Provided by Telegraph Media Group Limited The gorgeous rooms at XV Beacon have canopied beds and gas fireplaces Hop down to the Seaport District, the 21st-Century development in South Boston that stretches around the southern end of the Boston Harbor, and tour one of its museums: there's the futuristically spectacular Institute of Contemporary Art (100 Northern Avenue; 00 1 617 478 3100); the Boston Tea Party Ships and Museums (306 Congress Street; 00 1 617 955 0667), an immersive documentation of the famous 1773 dumping of tea into the harbor as a protest against taxation; and the USA's oldest Children's Museum (308 Congress Street; 00 1 617 426 6500).
© Provided by Telegraph Media Group Limited The Boston Tea Party Ships & Museum offers an 18th-century style tavern and tea room Credit: DRNY (DRNY (Photographer) - [None]/jimfeng LATE
The Seaport District is Boston's newest nighttime playground: for a quietly splendid evening, take the Harbor Walk to the Boston Harbor Hotel (70 Rowes Wharf; 00 1 617 439 7000) for drinks in the clubby Rowes Wharf Bar, followed by dinner in Meritage – the hotel's superb wine and food pairing restaurant, which offers a tasting experience equal to its stunning water views.  
© Provided by Telegraph Media Group Limited The Lenox Hotel is a family-owned gem which beautifully preserved and thoughtfully modernized However, if a little action packed nightlife is required, head to the glassy One Seaport development, which offers all sorts of fun: try the Scorpion Bar (One Seaport Boulevard; 00 1 617 322 0200), a lively sports bar with good Tex-Mex nosh and the kind of cocktails that smoke – dry ice being the trick.
Adjacent to One Seaport, by Fort Point Channel, the Envoy Hotel'sLookout rooftop bar is one of the hottest spots in town, with fabulous views of Boston's Financial District skyline, including the historic Customs House tower: Enjoy late night drinks while taking in the twinkling cityscape.  
Where to stay . . .
© Provided by Telegraph Media Group Limited Yotel Boston's chic, compact rooms feel like a hip, cruise ship cabin Luxury Living 
XV Beacon has the dual benefit of being in the heart of the old city and, tucked away on a narrow winding street on Beacon Hill, it is restfully apart from it, too. The gorgeous rooms have canopied beds and gas fireplaces with a bedside control for the ultimate in lazy ease. Original Beaux Arts glass cage elevators service the rooms; there's a hot tub on the seasonal roof deck; a complimentary town car to shuttle guests around the immediate Back Bay area; and outstanding service.  
Boutique Bolthole

The Lenox Hotel's lobby isn't the largest in town, but it is certainly among the prettiest, and the cosiest. Dating to 1900, and one of Back Bay's oldest hotels, this family-owned gem is beautifully preserved and thoughtfully modernized. Back Bay's shopping and dining is on the doorstep, and attractions are close by — just ask the friendly concierge. The Lenox offers passes for the city bikes and helmets are available in the basement fitness center. City Table restaurant and the separate City Bar are local haunts. Or, pull up a seat in the Solas Irish Pub and watch Boston in action on bustling Boylston.
Double rooms from $175 (£132). 61 Exeter Street at Boylston; 00 1 617 536 5300
Budget Beauty 
Fittingly, as it's situated in the Seaport, Yotel Boston's chic, compact rooms feel like a hip, cruise ship cabin. It's all very minimalist and Mod, and affordable without sacrificing style. The twelfth-floor Sky Lounge rooftop bar has city skyline views, both old and new, and Fort Point's old brick warehouses — now trendy offices, apartments, and restaurants, the Harborwalk, and the Institute of Contemporary Arts are each a short stroll.
© Provided by Telegraph Media Group Limited What to bring home . . .
The handmade chocolates at L.A. Burdick (220 Clarendon Street; 00 1 617 303 0113) are impossibly perfect confections, and the signature ganache filled mice are adorable. International shipping is available, too.
Shop for Boston-centric or plain eccentric souvenirs at the fun Newbury Comics (348 Newbury Street; 00 1 617 236 4930), which, despite its name, is best known as a record store with fun ephemera.
Olives and Grace (623 Tremont Street; 00 1 617 236 4526) on Newbury is a shop that collects unique items made by local crafters: from Boston Ts to Boston Rocks glasses etched with a map of the city.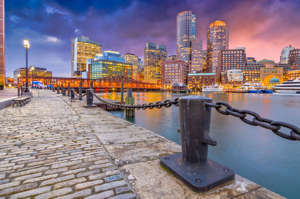 When to go . . .
Boston is a four-season city, but it's cheapest when there's snow on the ground and a bitter wind howling, usually from January to March. That's when the city gets cosy with hot toddies and steaming clam chowder by a fireplace, and the Public Garden is a winter wonderland. Spring sees the city come alive for baseball season and Patriot's Day, a busy time what with the Boston Marathon, too. After the Fourth of July festivities, the city quietens and August, which can be very humid, sees the city empty as everyone heads to Cape Cod and the islands. Autumn attracts leaf peepers heading throughout New England for the colourful foliage display.
Know before you go . . .
Essential Information                         
Important: ESTA
International travellers going to the United States under the Visa Waiver Program (VWP) are now subject to enhanced security requirements. Online completion and approval of ESTA (Electronic System for Travel Authorisation), along with payment of the fee, is mandatory ahead of travel for all Visa Waiver Programme travellers. For full details, be sure to go to the official website at esta.cbp.dhs.gov
British Consulate-General in Boston: (00 1617 245 4500; ukinusa.fco; One Broadway, Cambridge, Massachusetts 02142)
Greater Boston Convention & Visitors Bureau: (Toll free in the USA 888 7332678; bostonusa.com)
The basics

Currency: The USA uses the dollar ($). Notes/bills look similar, and are in denominations of $1, $2, $5, $10, $20, $50 and $100
Telephone code: To phone the UK from Boston, dial 011 44 and then the number - but drop the '0'
Time difference: Boston is on Eastern Standard Time, 5 hours behind Greenwich Mean Time. Daylight savings starts the second Sunday in March and ends the first Sunday of November
Flight time: Transatlantic flights from the UK take about six and a half hours
Emergency services: Ambulance: Emergency 911; Police: Emergency 911
Local laws/etiquette

Taxis expect a 10-15 per cent tip; restaurants expect 15-20 per cent on the total before local tax (6.25 per cent). A few restaurants build in a 20 per cent gratuity; always check your bill.
Author bio
Linda is an English freelance arts and travel writer, who, after a decade of living in Boston, absorbing its history, arts, and culture, still finds new "aha" moments while wandering its historic streets.
Experience Boston with The Telegraph
Telegraph Travel's best hotels and holidays in Boston, tried, tested and recommended by our Boston experts.
Gallery: Where to Find Indoor Fun in Boston and Beyond (Cheapism)
Explore the issues faced by the UK's most vulnerable children and young people this summer and discover what you can do to help.