Kim Kardashian and Kanye West welcome 'perfect' baby No. 4

Wonderwall
10/05/2019
Kim Kardashian and Kanye West are officially parents to four children, having welcomed their latest child via a surrogate.
On Friday, Kim tweeted that their son had arrived.
"He's here and he's perfect!," she tweeted, making no mention of what they've named their newest bundle of joy.
He's here and he's perfect!

— Kim Kardashian West (@KimKardashian) May 10, 2019
According to reports, Kim and Kanye were both at the hospital when the surrogate went into labor on Thursday night.
The surrogate in this case is different than the one they used when they welcomed their daughter Chicago in January 2018.
Gallery: 'I Live for' My Kids: Kanye West's Best Fatherhood Quotes (US Weekly)
Back in January when Kim announced that she and her husband were going to have a fourth child, a source told E! News, "Kim and Kanye have known for awhile and are very excited. They had one male embryo left and are thrilled it has worked out. Kim always wanted four kids and having two boys and two girls feels perfect."
Prior to the birth, Kim's sister, Kourtney Kardashian, revealed that it was only a matter of time until their family expanded by one, telling Ellen DeGeneres on Thursday that Kim's surrogate had gone into labor.
"My mom doesn't even know this but Kim's surrogate went into labor," Kourtney said. "So, she's at the hospital." Kim's mother, Kris Jenner, who was also a guest on the show, shockingly commented, "No! What are we doing here?! C'mon Ellen."
Gallery: Kim Kardashian - The reality TV star's success story in pictures (Photo Services)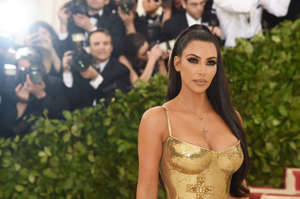 MORE ENTERTAINMENT:
Celebrities react to Peter Baker's firing after 'racist' tweet (Yahoo Entertainment UK)
Jessie J laughs off misspelled tattoo (Wonderwall)
Peter Andre responds to Katie Price's apology (Mirror)
Britney Spears wins restraining order against ex-manager (Cover Media)