Paolo From Friends Reveals The Real Story Behind His Italian Lines

HuffPost UK
15/08/2019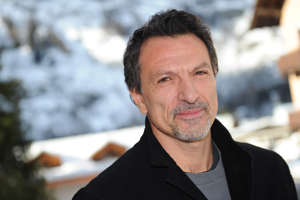 The one where he ad-libbed his lines...
Cosimo Fusco, the Italian actor who played Paolo in Friends, has revealed how he made up what he said in his native language during filming for the first season of the hit 1990s sitcom.
Video: 'Friends' Actor Cosimo Fusco Spills Secret On His Role Paolo (Evening Standard)
The show's producers asked him to improvise, he explained in an interview with the Today show that is now going viral.
"I was a little bit skeptical because my English then wasn't as good as it is now, let's face it," said Cosimo in the segment marking the comedy's 25th anniversary. "But I was told not to speak any English: 'Just say whatever you want in Italian.'"
© NBC Cosimo in character with co-star Jennifer Aniston "When I'm standing by the window with Jennifer and I say, 'Look at the moon, look at the star' and I just say that and it stayed in everyone's mind," he added.
Paolo briefly dated Jennifer Aniston's Rachel Green until he made a pass at Phoebe Buffay (played by Lisa Kudrow) during a massage.
© Warner Bros via friends.wikia.com Joey was the character who went on to end up with his own spin-off, but we think it definitely should have been Frank and Alice. Who honestly wouldn't want to watch a show about a man who marries his home-economics teacher, then raises triplets, that his sister gives birth to, with her? It would have been an Emmys shoo-in. Cosimo revealed still had affection for his character, however, saying he "would love to see him now, after 25 years, how he presents himself".
Gallery:'Friends' stars: Where are they now? (Photo Services)