Forget Crash Diets: These Are the Habits That Will Help You Shed Those Pounds For Good

Popsugar
12/03/2019
If you've ever dropped unwanted pounds only to put them back on within months, you may be understandably discouraged by this whole weight-loss thing. But losing weight and keeping it off is actually relatively simple, if you focus your efforts on developing healthy habits you can sustain long after you've become satisfied with the number on the scale. These changes to your diet and exercise routine — and even your mindset — can put you on the right path, according to experts.
Set realistic goals. Piling on too much too soon — because you want results now — is a sure-fire way to derail your weight-loss goals and knock down your confidence. "The most common mistake I see is people trying to make too many unsustainable changes all at once, and it's less than ideal to go on a diet that severely restricts calories at the same time you start a high-intensity workout routine," Timothy Lyman, an ACE-certified personal trainer and director of training programs at Fleet Feet Pittsburgh, told POPSUGAR. "These results aren't sustainable if you haven't created the right habits and behavioural patterns to start with."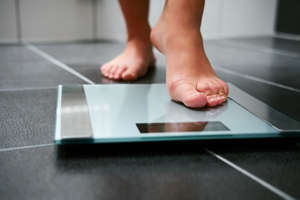 Snack smart. Many dieters try not to snack between meals, but this means you have significant gaps where you're without fuel, Christy Brissette, MS, RD, founder of 80 Twenty Nutrition in Chicago, told POPSUGAR. "I always tell my clients that hunger is the enemy of weight loss," she said. "It's essential that you never let yourself get too hungry, which means eating something every three to four hours or so." Christy suggested reaching for a snack that's 200 calories or less and contains fibre, protein, and fat to help you feel satisfied and keep cravings at bay. A good example: 1/4 cup raw or roasted almonds.
Eat protein throughout the day. Protein helps keep you full and bolsters your metabolism by helping to maintain muscle mass, even as you lose weight, Christy explained. "At every meal and snack, include a protein-rich food," she said. "My favourite options are a palm-sized amount of chicken breast, ground turkey, or fish — or 3/4 cup plain Greek yoghurt, beans, or lentils, or two eggs."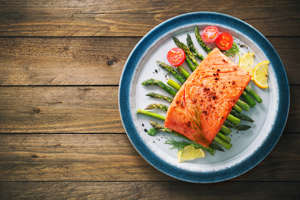 Choose quality carbs. "You don't need to say goodbye to carbs in order to lose weight," Christy said. "You can keep your mood and energy levels up and power through your workouts with slow-release carbs that are lower on the glycemic index, such as sweet potatoes, squash, quinoa, millet, oats, barley, beans and lentils, 100 percent whole-grain bread, berries, and apples." You can have carbs at every meal, but aim for a portion about the size of your fist.
Load up on vegetables. They should take up half your plate at each meal. "Additionally, if you're still hungry, you can't go wrong with eating more non-starchy vegetables, as the high water and fibre content in vegetables adds volume to your stomach, helping you feel full," Christy said.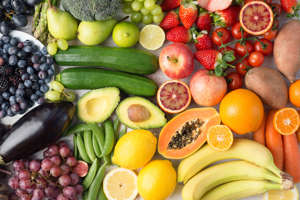 Find a workout you actually enjoy, then do it. "The best exercise for weight loss is whatever exercise you are going to stick with," Timothy said. "Consistency is imperative and an important part of resetting your metabolic rate, which allows you to burn more calories even when you're not working out." It might take some trial and error, but whether it's running, cycling, HIIT, or Zumba, you're bound to find a workout that you'll actually look forward to doing.
Don't beat yourself up. While you don't want to make it a habit, missing the occasional workout won't halt your progress or cause you to put weight back on. "Just because you slept through your alarm and missed the gym on Monday doesn't mean your week is ruined," Timothy said. "Focus on being better today than you were yesterday and better tomorrow than you are today. You aren't always going to be perfect, and that's OK."
Gallery: 40 Nutrition Experts Told Us The Foods You Should Be Eating Every Day [Eat This, Not That!]