Brexit has cost UK economy £66bn so far, study finds

The Independent
04/04/2019
Brexit has cost the British economy £66bn in just under three years, or around £1,000 for every person in the country, a report has found.
As deadlock in Westminster continues, businesses have slashed investment and around 3 per cent has been wiped off GDP, according to Standard & Poor's.
Video: "Brexit: MPs pass emergency law forcing Theresa May to seek further delay to avert no deal by one vote"
A sharp drop in the value of the pound has caused much of the damage by reducing people's purchasing power, S&P said. Weaker sterling has meant imports are more expensive, with rising prices passed on to consumers.
"Household spending would have been considerably stronger - in line with GDP - had the referendum not occurred," S&P said in its report, Countdown To Brexit: What Might Have Been For The UK Economy.
A devalued pound would often be expected to boost Britain's exports as they become cheaper for overseas buyers who hold other currencies.
But UK businesses have enjoyed no significant increase in overseas sales, the analysis found.
Gallery: Brexit: A timeline (Photos)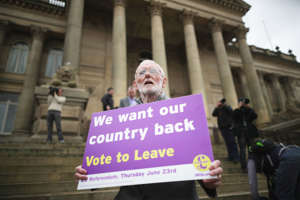 S&P senior economist Boris Glass said: "Uncertainty over the shape and form Brexit will take has increasingly paralysed any forward-looking decision making.
When politicians finally present a clear view of the post-Brexit landscape, there is likely to be a "moderate" improvement in investment but it will take some time to kick in, S&P said.
© Provided by Independent Digital News & Media Limited image The reports authors warn that any improvement will be dampened because, whatever form Brexit takes, British businesses have reorganised to comply with additional regulations.

The latest Brexit impact assessment comes after Goldman Sachs estimated that the UK has foregone £600m of economic growth each week since the referendum.The Bank of England put the figure at £800m.
All three figures contrast with the Leave campaign's claim prior to the referendum that Brexit would result in a £350m-per-week saving for the UK.
MORE FINANCE:

Billionaire vows to give his €1.7bn fortune to charity rather than his kids (Daily Mail)
The Irish language version of Wikipedia is going strong (The Journal)
'Holiday bookings hit by 'unanswered Brexit questions', easyJet warns (Sky News)