Eviction banned for long-term renters

Independent.ie
18/05/2019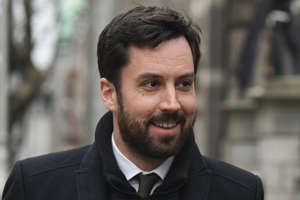 © Artur Widak/NurPhoto Eoghan Murphy, current Fine Gael Minister for Housing, Planning and Local Government, arrives ahead of the centenary commemoration taking place in the Mansion House, to mark the inaugural public meeting of the First Dail Eireann in 1919. On Monday, January 21, 2019, in Dublin, Ireland. (Photo by Artur Widak/NurPhoto via Getty Images) New laws to prevent landlords from evicting long-term tenants without a clear reason will be drawn up by the end of the year. 
Housing Minister Eoghan Murphy plans to introduce "tenancies of indefinite duration" to make it easier for people to "rent for life" if they want.

The insecurity associated with renting in Ireland is regularly cited as a key reason people feel pressured into owning property. But writing in today's Irish Independent, Mr Murphy says: "Currently, a landlord can evict a tenant after six years without reason. That will change."
More than 10,000 people are in emergency accommodation and the number of homes available to rent countrywide is at the lowest level on record.
© Ciara Wilkinson Housing Minister Eoghan Murphy Mr Murphy says: "It is an emergency. But declaring it one does not mean we can just suspend our laws or the Constitution."

It comes as thousands of people are expected to protest in Dublin today over the housing crisis. Many of those set to march in the 'Raise the Roof' protest will be demanding the Government formally declare the housing situation an emergency.
Mr Murphy adds that the Government is "open-minded" on the Sinn Féin proposal that a right to housing be enshrined in the Constitution.
"The best way to do this is to follow the same process as led to the successful Marriage Equality and Repeal referendums.
"The Dáil has agreed to this position, and Fianna Fáil chair the Oireachtas committee responsible for taking it forward," he says.
Earlier this week, Sinn Féin claimed "posh boys and girls" in Fine Gael were devising housing policy but Mr Murphy insists his colleagues "know that many people, young and old, are in an incredibly difficult situation".
Legislation which extends notice periods for evictions is expected to pass through the Oireachtas this week. But some TDs and senators have argued they don't go far enough because after six years so-called "no reason tenancy terminations" will remain legal. Up to that point, a landlord wanting to end a lease must be able to justify it by carrying out renovating or selling the property, or allowing a relative to move in.
Mr Murphy is now looking at extending these stipulations beyond the six-year limit.
"More reforms will come. It is Government policy to introduce tenancies of indefinite duration in further legislation later this year," he said.
The minister added there is a limit to State invention and those marching today need to consider the implications of some of their demands.
"Some today will demand we make it illegal for a landlord to evict a tenant because they intend to sell their property. This is a bad idea, though from noble motivations," he said.
"In the Seanad this week, reference was made to how bedsits were banned with good intentions but how it poured more petrol on the homeless fire. Good intentions on accommodation standards led to bad consequences for adult homelessness.
"If a landlord was not allowed to evict a tenant because they were selling their property, it would involve the new buyer evicting the tenants and result in families evicting families. It doesn't solve the problem, it just displaces it."
Today's rally will be addressed by Fr Peter McVerry and representatives from the Union of Students in Ireland, the National Women's Council, the Irish Congress of Trade Unions, the National Homeless and Housing Coalition and Irish Traveller's Movement. Singers Damien Dempsey, Paddy Casey and Frances Black will also perform outside the GPO.
MORE FINANCE:
No improvement in Irish bank's earnings this year (Independent.ie)
How much does Facebook pay interns? (Vox.com)