New Zealand mosque shooter Brenton Tarrant says attack inspired by Anders Breivik

The Telegraph
15/03/2019
UP NEXT
(Video by: The Independent)
Brenton Tarrant, a 28-year-old  Australian who was a gunman in the New Zealand terror attacks, described himself as an "ordinary white man" who was inspired by Norway mass killer Anders Behring Breivik and wanted to avenge ""thousands of deaths caused by foreign invaders".
Tarrant, who filmed himself attacking a Christchurch mosque in a Facebook Live video, posted a 74-page manifesto in which he claims to be from a "working class, low income family".
He said he was of Scottish, Irish and English stock and moved to New Zealand temporarily to plan and train and then stayed there after deciding to conduct the attack.
© Provided by Telegraph Media Group Limited Brenton Tarrant posted video of himself "I have read the writings of Dylann Roof and many others, but only really took true inspiration from Knight Justiciar Breivik," he wrote.

He said he wanted to avenge the death of Ebba Akerlund, an 11-year-old who was killed in a 2017 terror attack in Stockholm. 
© AP Photo/Mark Baker Forty were killed in a mass shooting at a mosque in the New Zealand city of Christchurch on Friday Scott Morrison, Australia's prime minister, confirmed that an Australian-born man participated in the attack but said the man was not previously known to Australian authorities.

"He is an Australian-born citizen," Mr Morrison said. "That obviously leads to an Australian -based investigation and all of our inquiries here will be absolutely shared and communicated with New Zealand authorities."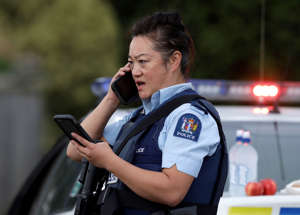 Tarrant is reportedly from Grafton, a town in New South Wales. He worked as a personal trainer at a local fitness centre in 2010 before reportedly travelling overseas.
In photos: New Zealand shootings (Photo Services)