Riot police used to quell protesters in Glasgow as Irish unity march sparks 'significant disorder'

The Independent
31/08/2019
© Provided by Independent Digital News & Media Limited

Smoke bombs were thrown and riot police deployed in Glasgow after a march in favour of Irish unity sparked major clashes.
Supporters of the procession were attacked as hundreds of loyalist counter-demonstrators attempted to block their route through the city's Govan Road area on Friday evening.
Mounted officers, dog patrols and a helicopter were all dispatched, along with the riot units, to what Police Scotland described as "significant disorder".
Chief Superintendent Mark Hargreaves said: "This kind of behaviour by persons demonstrating against the parade is utterly unacceptable.
"It is extremely disappointing to see people acting in this fashion, causing fear and alarm to members of the public as well as putting many people at risk."
He promised a "thorough and robust enquiry" into the disruption.
The march – organised by the James Connolly Republican Flute Band – had started at 6.30pm in Elder Park but it was met by the counter-demonstrators at about 7pm.
A subway station was closed and roads blocked as the trouble escalated but both were reopened by 9.45pm, Glasgow City Council said.
In a statement, the authority called protestors "morons".
Statement in relation to public disorder incident in the Govan area on Friday 30 August 2019: pic.twitter.com/hxW2jBHY8I

— GlasgowSWPolice (@SWGlasgowPolice) 30 August 2019
It said: "The scenes we have seen in Govan – and those we have seen elsewhere in the city on too many occasions in the last year – are unacceptable.
"The council is clear that the law expects it to facilitate public processions; including those that some people oppose or find offensive.
Gallery: Pictures of the week: Aug. 30 (Microsoft Photos)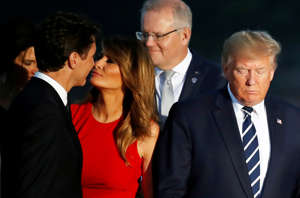 "However, this cannot continue to be at the expense of the overwhelming majority of Glaswegians, who want nothing to do with these marches, or counter-protests."
It added: "The city needs and wants fewer marches. We are prepared to consider any action that will protect communities from morons intent on bringing mayhem to the streets of our city".
MORE NEWS:
No-deal Brexit game plan: Turn a blind eye (Independent.ie)
Billie Eilish 'didn't consent' to naked 'fembot' cover (Sky News)
'I got into terrible trouble': Shane Ross on social media speed bump (The Journal)