'Toxic, Arrogant, Disgraceful': MPs Are Furious After Theresa May Blamed Them For The Brexit Crisis

HuffPost UK
20/03/2019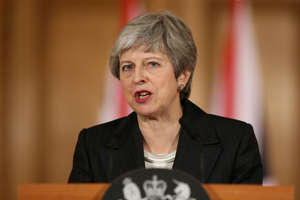 © Reuters Britain's Prime Minister Theresa May makes a statement about Brexit in Downing Street in London, Britain March 20, 2019. Jonathan Brady/Pool via REUTERS Theresa May has triggered a major backlash from MPs after she blamed them for the Brexit crisis.
MPs from across the political spectrum condemned the Prime Minister's "arrogant", "toxic" and "irresponsible" late night address to the nation from inside Downing Street.
With nine days to go until the UK's scheduled departure from the EU, May has requested a three-month delay from Brussels.
To hammer home her plan, she used a lectern address to blame MPs for failing to agree a means to implement the result of the 2016 referendum and said she believes voters just want this stage of the Brexit process to be over.
She told voters: "I am on your side."
Video: Theresa May tells the public: I am on your side over Brexit

But the strategy to pit the public against parliament backfired with elected representatives.
Former Tory minister Sam Gyimah was the most scathing, labelling the address "toxic".
He said: "Resorting to the 'blame game' as the PM is doing is a low blow.
"Democracy loses when a PM who has set herself against the HoC then blames MPs for doing their job.
"Distracts from Art 50 extension, all part of her strategy to run down the clock and rule out other options. Toxic."
Wes Streeting of the Labour Party said May will have to "accept her share of responsibility" should any harm come to MPs following her "incendiary and irresponsible" speech.
He tweeted: "I've thought long and hard before saying this, but @theresa_may knows that MPs across the House are subjected to death threats – some very credible.
"Her speech was incendiary and irresponsible. If any harm comes to any of us, she will have to accept her share of responsibility."
Another Labour MPs, Stella Creasy, said: "You can try to bully parliament and blame other people for your mistakes but you don't frighten me. Britain deserves better."
Labour's Lisa Nandy, who represents a Leave-supporting seat who has signalled she could back May's deal, said: "The Prime Minister's statement was disgraceful.
"Pitting Parliament against the people in the current environment is dangerous and reckless.

"Yesterday her government attacked their civil servants. Now she's attacking the MPs whose votes she needs. It will have cost her support."
Conservative Conor Burns tweeted in response to the speech: "What was actually the point of that?"
Lucy Powell, a Labour member of a group of MPs in support of a "Norway-plus" model for Brexit, denounced the suggestion by May that the members of the Commons have not decided what they want.
She wrote on Twitter that MPs have "never been asked what we want", adding: "We just keep getting asked about the same thing that we've said we don't want!"
Labour MP Steve Reed added: "Well I reckon May's arrogant speech just then will have solidified feelings against her and her wretched deal. This is a confidence matter now. Deal gone, May gone."
Her withdrawal agreement, thrashed out with the EU, has already been voted down by MPs twice and in historic numbers.
Doubts remain whether Speaker John Bercow would even allow a third meaningful vote - dubbed MV3 - if MPs are asked to vote on the same motion. 
Gallery: Brexit timeline: Charting Britain's turbulent exodus from Europe (Deutsche Welle)
NOW READ:
Prisoner on the run after escaping from custody while getting treatment at St James's Hospital, Dublin (Irish Mirror)
Leaked note indicates EU will reject May's plea for Brexit extention (The Independent)
Model breaks down as she is sentenced to 8 years in prison in Pakistan for trying to smuggle £1m of heroin into Ireland (Daily Mail)