What to do if your flight is affected by the 737 MAX ban - are you due compensation?

The Telegraph
12/03/2019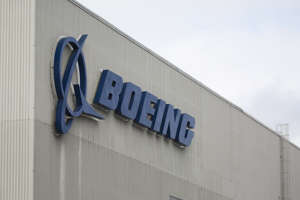 The Civil Aviation Authority (CAA) has banned the 737 MAX, the Boeing aircraft model involved in a fatal crash in Ethiopia on Sunday that left 157 crew and passengers dead, from UK airspace.
It was the same type of plane that plunged into the Java Sea in Indonesia last October in similar circumstances, raising questions over the airworthiness of a jet that has only been in service since 2017.
In a statement released on Tuesday lunchtime, the CAA said it had issued the instructions as "a precautionary measure... to stop any commercial passenger flights from any operator arriving, departing or overflying UK airspace". The directive will remain in place until further notice.
Video: UK grounds all Boeing 737 Max flights (FOX News)
Which airlines fly the plane in the UK?
The below airlines fly 737 MAX 8 aircraft, with the key carriers concerning British travellers likely to be Norwegian and Tui as well as other operators such as Icelandair and Turkish Airlines.
At the time of writing, one Tui 737 MAX was flying into Manchester from Marrakesh and another from Alicante, while both a Turkish Airlines and an Icelandair plane had departed Gatwick.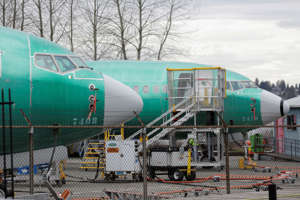 © Reuters Two Boeing 737 MAX 8 aircraft are parked at a Boeing production facility in Renton, Washington, U.S., March 11, 2019. REUTERS/David Ryder Another Turkish Airlines 737 MAX 8 was due into Gatwick just before 4pm.

What should I do if my flight is affected?
Contact your airline. If your flight is cancelled outright, you are entitled to a refund of the cost of the flight or to be rebooked on another.
When a flight with an EU airline or from an EU airport is cancelled at the last minute, the airline must also pay for a hotel if an overnight stay is required and subsistence for all those stranded until a replacement flight is provided. Similar rules and amounts for compensation apply as for delays and there are particular conditions and variations depending on how the circumstances (see caa.co.uk/consumers).
Anyone whose flight was part of a package holiday - most likely with Tui - should be looked after by their tour operator, which is duty-bound to rearrange the flight.

Am I eligible for compensation?
Yes and no. First and foremost, you are entitled to care under EU Regulation 261/2004. Airlines must provide delayed passengers with food and drink appropriate to the time of day (this is often in the form of a voucher) and a means of communicating your situation or a refund of the cost of essential calls.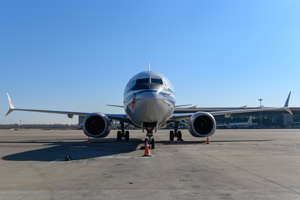 © Getty A Boeing 737 Max airplane is pictured on March 11, 2019 in Beijing, China. China's aviation regulator has ordered domestic airlines to suspend their Boeing 737 Max aircraft, according to Caijing on Monday. (Photo by VCG/VCG via Getty Images) For overnight delays, the airline must provide hotel accommodation and transport to reach it - or to return home. When there's a major disruption, airline staff may not be able to assist in booking hotels. In such cases, you should make your own arrangements and claim the cost back. But don't expect a full refund for an expensive hotel unless there's no alternative. Supporting receipts are essential.

Unfortunately, the grounding of the 737 MAX aircraft is likely to be an "extraordinary circumstance", as defined by EU law, and beyond the control of the airline. They are therefore not bound by law to pay compensation that would otherwise be due for flight delays.
Rory Boland, travel editor at Which?, said that passengers could end up on a 737 MAX in the event of a codeshare flight. 

"Some passengers may be breathing a sigh of relief that the regulator has taken precautionary action to ground Boeing 737 Max planes in the UK but they should be aware that they could still end up on one of these aircraft on their next journey if it involves a transfer in another country," he said.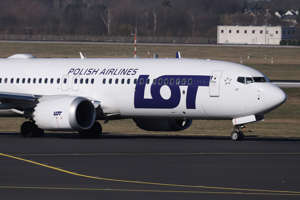 © Getty LOT - Polish Airlines Boeing 737 MAX8 taxiing for take off in Dusseldorf Airport DUS EDDL in Germany, the airline operates this new and modern aircraft the Boeing 737-8 MAX and connects DUS to Warsaw Chopin WAW EPWA airport in Poland. (Photo by Nicolas Economou/NurPhoto via Getty Images) "Given the level of publicity about this issue, UK airlines who have sold tickets with codeshare partners operating these planes should consider informing passengers who might be affected in advance and giving them the option to switch to another route with a different aircraft for free."

This might be possible should you fly with American Airlines in the US, which has a codeshare with British Airways, or flydubai, which has a codeshare with Emirates.
What have the airlines said?
A spokesperson for Tui confirmed that all 737 MAX 8 operating in the UK have been grounded, adding: "Any customers due to fly home today on a 737 MAX 8 from their holiday will be flown back on another aircraft. Customers due to travel in the coming days will also travel on holiday as planned on other aircraft. The safety and wellbeing of our customers and staff has remained our primary concern."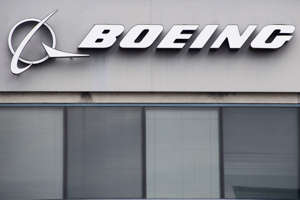 © Getty The Boeing Company logo is seen on a building in Annapolis Junction, Maryland, on March 11, 2019. - Tumbling shares in US aviation giant Boeing on Monday tore a hole in the Dow Jones Industrial Average, sending the benchmark index into the red for a sixth day.About five minutes into the day's trading, Boeing shares were down 11.7 percent at $373.23 following the most recent crash of one of its aircraft in Ethiopia.The Dow fell 153.81 points to 25,319.42, but the broader S&P 500 rose 0.3 percent to 2,758.27 and the tech-heavy Nasdaq was up an even stronger 0.7 percent at 7,474.61.The fatal crash of the Ethiopian Airlines Flight ET302 -- the second involving a Boeing 737 Max 8 in five months -- caused airlines in three countries to ground all flights involving the popular jet and cast fresh safety concerns on the airline. (Photo by Jim WATSON / AFP) (Photo credit should read JIM WATSON/AFP/Getty Images) A spokesperson for Norwegian said it had temporarily suspended flights and apologised to customers "affected by temporary cancellations and delays", adding that it had more than 110 737-800 - the earlier and unaffected version of the aircraft - not affected.

Tomas Hesthammer, Norwegian's acting chief operating officer said: "In response to the temporary suspension of Being 737 MAX operations by multiple aviation authorities we have taken the decision to not operate flights using this aircraft type, until advised otherwise by the relevant aviation authorities. We would like to apologise to customers for any inconvenience caused, however, safety will always remain our top priority."
We will update this page as and when we receive more information from affected airlines.
Gallery: These 12 airlines have the most Boeing 737 MAX aircraft in their fleet (Business Insider)