Popeye at 90: How the spinach-chugging sailor became an American classic

The Independent
15/01/2019
Popeye the Sailor, America's favourite two-fisted sea dog, turns 90 this week.
The archetypal old salt was created by Elzie Crisler Segar and made his first appearance in the cartoonist's Thimble Theatre strip on 17 January 1929, syndicated in newspapers across the States by the King Features company, owned by all-powerful press baron William Randolph Hearst.
Segar, born in Chester, Illinois, in 1894, had started out working with his father as a handyman before playing drums on the vaudeville circuit and working as a silent film projectionist at his hometown opera house.
Download the Microsoft News app for your Android or iPhone device and get news & live updates on the go.
Befriending cartoonist Richard F Outcault in the state capital, Segar was encouraged to submit his own Charlie Chaplin-inspired sketches to The Chicago Herald. He did so and the first was duly printed in March 1916.
Segar subsequently worked for Hearst's Chicago Evening American, creating new characters and sketching baseball's 1919 World Series for the sports pages, the same year gambler Arnold Rothstein is thought to have conspired with White Sox players to fix the championship's outcome.
Watch: Popeye - Greatest Fight Ever [Youtube]
Relocating to New York, Segar began drawing Thimble Theatre and introduced a heroine, Olive Oyl, initially pairing her with the superbly named slacker boyfriend Harold Hamgravy, a get-rich-quick artist.
Popeye first appeared at the end of the Roaring Twenties when Olive's brother, Castor Oyl, chartered a ride out to Dice Island where he hoped to try his luck in the offshore casinos, only to fall foul of local mobsters. The mugging mariner with the corncob pipe proved a hit with readers and Hamgravy was soon ousted from Olive's affections.
Originally the source of Popeye's superhuman strength was not canned spinach, operating on him like a fast-acting steroid, but the magic Whiffle Hen, whose feathers the sailor would rub for luck. The preference for greens, rich in iron, only took over in June 1931.
Was your #NewYearsResolution to eat healthy this year? Take some tips from #Popeye himself! pic.twitter.com/SH1oLMpDIp

— Popeye Official (@PopeyeTweetsk) January 2, 2019
Other long-running characters were introduced during the Depression years, including Swee'Pea the foundling, Alice the Goon and J Wellington Wimpy, a dozy Micawber figure with a penchant for hamburgers, hence the old-fashioned fast food franchise that still bears his name to this day.
Bluto the bully made a one-off appearance in 1932 but only really took off a year later when the Fleischer Brothers began animating the strip for Paramount, bringing Popeye to a wider audience and firmly establishing the spinach dependency. The character's positive influence on demand for the vegetable was immediate and, by March 1937, the agricultural community of Crystal City, Texas, had erected a statue in Popeye's honour.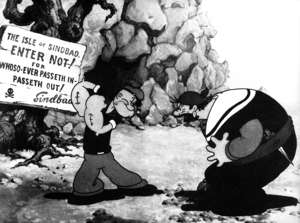 © Getty (Photo by ullstein bild/ullstein bild via Getty Images)

Segar died of leukaemia and liver disease in October 1938, aged just 43, but the formula was already well established. In the hands of other writers and artists like Doc Winner, Tom Sims, Bela Zaboly, Ralph Stein and Bud Sagendorf, Popeye went from strength to strength. Quite literally.
Regularly run as children's cartoons ever since - each episode loaded with bouncy comic violence - the series also provided the basis for an eccentric live-action film from the great Robert Altman in 1980, starring Robin Williams and Shelley Duvall, ideally cast, so far as any two real people could be.
Robin Williams y Shelley Duvall en el set de "Popeye", 1979 pic.twitter.com/JSJORUqMLA

— Imágenes Históricas (@HistoriaEnFotos) January 15, 2019
Sixties counter-culture cartoonist Robert Crumb, Peanuts creator Charles M Schulz and conceptual artist Jeff Koons are among the many admirers of Elzie Crisler Segar's work, Italian dictator Benito Mussolini somewhat less so. 
Il Duce issued a decree on 11 November 1938 banning American cartoons from Italy as a corrupting influence on the nation's youth, but the popularity of Popeye and his "I yam what I yam" philosophy in particular was such the fascist leader found himself with little choice but to row back on the order in the face of overwhelming public pressure.
Related: 13 things to know about Popeye [Microsoft GES]