Lekha Washington on Vikas Bahl: He's one of the least offensive in misogynistic Bollywood

India Today
12-10-2018
Lekha Washington, who has acted in Tamil films like Jayamkondan and Va, has now accused filmmaker Vikas Bahl of crossing the line with her.
In a series of tweets, she said how the Queen director harassed her during her audition for the unreleased Hindi film Peter Gaya Kaam Se.
Know everything about the #MeToo moment in India
Peter Gaya Kaam Se was directed by John Owen and had Rajeev Khandelwal and Isha Talwar. The film was produced by UTV Movies and Vikas was the COO of UTV Spotboy. However, Peter Gaya Kaam didn't see the light of the day.
Lekha claimed that Vikas touched her inappropriately during her audition for the film.
In a series of tweets, she accused Vikas of getting too close for comfort. She took a jibe at him saying that ironically he makes feminist films.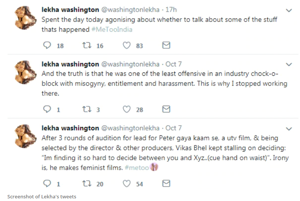 However, she added that Vikas is one of the least offensive in an industry [Bollywood] that is marred by misogyny and entitlement and harassment. And that's the reason she quit working in Bollywood.
She has also hinted in few tweets that she will reveal some of her other bad experiences that she had in Tamil film industry.
Vikas is already facing a huge backlash after a former employee of his production company Phantom Films accused him of sexual assault. Kangana Ranaut has also come forward in support of the victim. Now, the production, which was co-founded by Anurag Kashyap, Vikramaditya Motwane, and Madhu Mantena, has been dissolved.
The Me Too movement has called out many leading celebrities from various fields in India. Chetan Bhagat, Vairamuthu and Alok Nath are some of the popular personalities, who are currently facing allegations of sexual harassment.
Watch: Anurag Kashyap apologises for 'being a man'
(Video by TOI)
More from India Today

India Today