Sridevi Accidentally Drowned, Boney Kapoor's Statement Recorded: 10 Facts

NDTV
27-02-2018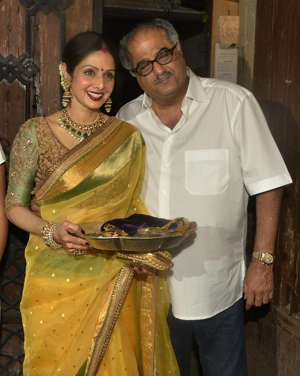 Mumbai: Veteran actor Sridevi had "accidentally" drowned in the bathtub of the hotel where she was staying, the Dubai police said on Monday. As the case was transferred to the "Dubai Public Prosecution" for regular legal procedure, the police called in Sridevi's husband Boney Kapoor for questioning. His statement has been recorded. It is not known when Sridevi's body will be released. Indian envoy in UAE Navdeep Suri has said they are waiting for "clearance". The sudden death of the 54-year-old, initially thought to be cardiac arrest, came as a shock to the film fraternity and fans.
ALSO READ: Contradictory reports on actress's last hours
WATCH: Bollywood mourns death of legendary actress Sridevi
(Provided by Reuters)
Dubai Police called in Boney Kapoor today to the Bur Dubai police station for investigation. The Police took his statement after which he was allowed to go back to his hotel room, reported Press Trust of India, quoting UAE's leading national daily Gulf News.
Sridevi was found unconscious in the bathtub of the Jumeirah Emirates Towers by her husband, director Boney Kapoor, on Saturday evening, media reports said. After a medical team failed to revive her, she was taken to a hospital, where she was declared dead.
The postmortem listed "accidental drowning" as the cause of Sridevi's death. Gulf News reported that according to the report, the actor fell into the bathtub, lost consciousness and drowned. Bobby Naqvi, National Editor of Gulf News, told NDTV that the report also mentioned that there were "traces of alcohol in her blood".
Sridevi's death was initially reported to have been the result of a heart attack. Boney Kapoor's brother Sanjay Kapoor had said they were "completely shocked" since "she had no history of a heart attack".
Sridevi's body will be brought back to Mumbai for the funeral by a chartered jet. Indian envoy Navdeep Suri said officials are working closely with the authorities in UAE to expedite the return, reported PTI. News agency Reuters reported that the embalming of the body is likely to be carried out on Tuesday at Sonapur.
Sridevi, Boney Kapoor and their younger daughter Khushi had gone to Dubai to attend a family wedding. Later, his Boney Kapoor had returned to Mumbai to drop off Khushi and then went back to Dubai as a surprise to his wife, reports said. The couple was to go out for dinner and Sridevi collapsed while getting ready.
In Mumbai, the film fraternity poured into the home of Anil Kapoor - Sridevi's brother-in-law and her co-star in blockbuster hits including Mr India - to pay their respects. The family had announced that Sridevi's body will arrive in Mumbai today. Among the visitors were leading actors Bollywood actors Karisma Kapoor, Madhuri Dixit, Jaya Prada and Tabu, south's actor-politician Kamal Haasan and Telugu superstar Venkatesh.
In a career spanning five decades, Sridevi had worked in 300 films. Starting as a child actor at the age of 4, she had turned into the leading lady of the Tamil, Telugu and Kannada movies before venturing to Bollywood.  She had worked extensively with Kamal Haasan and Rajinikanth, producing a string of critically acclaimed movies.
In male superstar-dominated Bollywood, Sridevi's peppy style and impeccable comic timing brought her the tag of Bollywood's first woman superstar. She was loved by millions for her roles in iconic movies like "Sadma", "Lamhe" "Mr India", "Chandni" and "Himmatwala".
After a 15-year break from movies following her marriage to director Boney Kapoor, Sridevi returned in 2012 with the smash-hit "English Vinglish". She followed it up with the thriller "Mom". She shot for a special appearance in superstar Shah Rukh Khan's upcoming film - "Zero" - which releases in December.