Sridevi funeral LIVE updates: Actor cremated with state honours, husband Boney Kapoor performs last rites

Hindustan Times
28-02-2018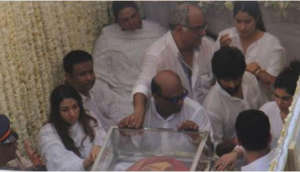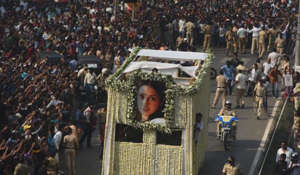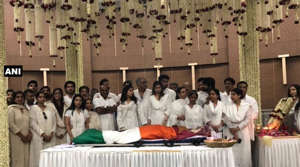 Bollywood actor Sridevi was accorded full state honours as she was cremated at Mumbai's Vile Parle Seva Samaj Crematorium on Wednesday evening with husband Boney Kapoor performing the last rites. Daughter Janhvi and Khushi also accompanied the hearse.
The actor was draped in a Tricolour on her last journey 's and her flower-covered cortege was followed by thousands of mourners who walked all the way from prayer hall in Lokhandwala to the crematorium in Vile Parle, a distance of about 7 km. Her Bollywood colleagues, including Shah Rukh Khan, Katrina Kaif and Vidya Balan, also reached the cremation ground to pay their last respects.
Here are Sridevi funeral live updates: 
6pm: Boney Kapoor performed the last rites of Sridevi. Their daugters -- Khushi and Janhvi Kapoor -- were also a part of the cortege which reached the crematorium late in afternoon. The entire Kapoor family bid the departed actor goodbye. Many of her colleagues were on the verge of breakdown as they paid their respects.
5.40pm: Katrina Kaif also reached the crematorium where Sridevi's last rites are taking place. The Bollywood actor also visited Sridevi's residence last night after her body arrived from Dubai.
5.25pm: The last rites of Sridevi have begun.

5.10pm: To pay their last respects to Sridevi, actor Vidya Balan reached the Vile Parle crematorium with husband Siddharth Roy Kapur. Farhan Akhtar, Dia Mirza, Anil Ambani, Anupam Kher and Arjun Rampal are also among the Bollywood personalities who have reached for the funeral.
5.00pm: Sridevi's daughters Khushi and Janhvi were spotted with their father and cousins on the hearse.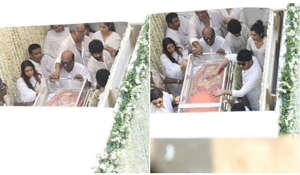 4.56pm: Sridevi to be cremated with state honours: Here are the rules... The Maharashtra government decided to accord state honours to Sridevi. While only the current and former prime ministers, current and former Union ministers and current and former state ministers were entitled to a state funeral, now the state government can decide who will be accorded a state funeral. Based on its discretion, people who have contributed to fields like politics, literature, law, science and cinema can be given a state funeral.
4.38pm: Makers of Anushka Sharma's Pari cancel special screening after Sridevi's death.
3.59pm: Shah Rukh Khan, Prasoon Joshi and Randhir Kapoor have reached the crematorium to pay their final respects to Sridevi.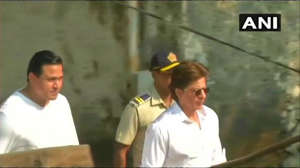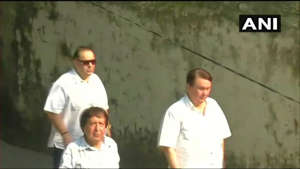 3.53pm: Sridevi's funeral procession has reached the cremation grounds in Vile Parle. Police lathi charged again at the gathered crowd. As people climbed on trees and clambered on gates to get a better look at Sridevi's hearse, her stepson Arjun Kapoor requested people with folded hands to let the funeral procession pass through. Thousands walked along with the hearse all the way to crematorium, a distance of about 7kms.
3.28pm: During Sridevi's funeral procession, thousands of heartbroken fans line the streets and many are seen crying. Here's an aerial view of the procession.
Also watch: Sridevi, Wrapped In National Flag, Begins Final Journey
2.24pm: Thousands follow Sridevi's cortege.
2.12pm: Sridevi begins her last journey. Husband Boney Kapoor and daughters Khushi and Janhvi were spotted by her side before the cortege began. Her body was draped in a Tricolour and she would be cremated with state honours at Vile Parle Seva Samaj Crematorium. Fans were seen breaking down as their golden girl started her last journey.
2.00pm: Police have begun lathi charge to control the crowd.
1.50pm: Sridevi is dressed in her favourite Kanjeevaram red and golden saree for her final journey. Her body has been kept in a glass casket. The procession is scheduled to begin at 2.00pm.
1.30pm: There seems to be crowd of around 7,000 outside Celebration Sports Club. While, there are quite a lot of fans here some seem to be waiting around even after paying their last respects to catch a glimpse of other Bollywood celebrities. The crowd is getting unmanageable for the police and the security personnel. Police and the traffic crew are asking people to not crowd the gates before the body leaves from the club. Around 500 police personnel have been deployed to manage the crowd.
1.25pm: Filmfare has shared pictures of the truck on which Sridevi's mortal remains will be transported to the crematorium in Vile Parle.
Legendary actress #Sridevi's mortal remains will be taken for the funeral in this ornamented truck. pic.twitter.com/zrJwaKM0wj

— Filmfare (@filmfare) February 28, 2018