Movie reviews: Super 30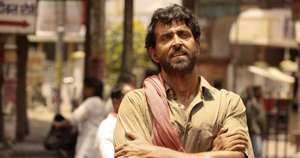 Here's what critics are saying about the film Super 30 featuring Hrithik Roshan, Mrunal Thakur, Pankaj Tripathi and others:
Mathematics whiz and educator Anand Kumar has led a remarkable life, coaching hundreds of underprivileged children past the rigours of the Indian Institute of Technology entrance exams. His story deserves attention, but director Vikas Bahl confoundingly embellishes it into typical filmi fare in Super 30. Hrithik Roshan isn't bad, though his problematic brown face-paint is inconsistent to the point of distraction. The actor plays guilelessness with charm in Super 30 as a Patna boy hungry for the most advanced mathematical equations he can lay his hands on, a boy who hides a smile about a girl shyly behind a gamchha. Read the full review here
The long-gestating Super 30 tells the inspiring story of math genius Anand Kumar, who is attempting to change the lives of meritorious but destitute students, 30 at a time. Despite the rousing tale and fine performances, the film is bogged down by the lengthy run-time and needless doses of drama. Though Hrithik Roshan tries hard to look convincing as Anand Kumar, the brown make-up (the shades of which fluctuate through the film) just does not cut it. Strangely enough, though so much work has gone into giving the actor a darker complexion, nothing is done about his naturally hazel green eyes. Contact lenses, anyone? Hrithik's Bihari accent leaves much to be desired. However, if you can look past these, he delivers an earnest performance. Read the full review here
Trust Vikas Bahl to paint a canvas that's believable. The right colours, the right brush strokes, the right depth. His attention to detail in the milieu he's constructing is spot-on, down to every asbestos sheet fluttering in the wind, the gamchha Anand Kumar muffles his laughter in because he feels socially inadequate to even be ecstatic, and every nook and corner that reeks of Bihar. Yet, because the film is solely spun around one man, everything boils down to him. Hrithik Roshan. Read the full review here.
This 2 hours 40 minutes film is a bit longer to digest, the editor would have done well to keep the length of the film a wee bit shorter. The film's music by Ajay-Atul is not refreshing or soothing either. The song, Jugrafiya gives you a déjà vu of Dhadak's title track. The song introduces Mrunal Thakur, who makes her Bollywood debut and the track establishes her character as Anand's love interest in the film. To her credit, Thakur, though she has little to do in the film, makes an impact. Pankaj Tripathi and CID fame Aditya Srivastava do complete justice to their roles. Read the full review here
Recommended: Read all the latest reviews here
Also watch: Super 30's celebs reaction (Provided by Dailymotion)

Job Resources from LinkedIn