'How can this happen after eight years?': Divyanka Tripathi breaks down on talking about Ssharad Malhotra in this video

DNA
13-05-2020
Divyanka Tripathi is happily married to Vivek Dahiya for almost four years now. But before that, she was in a relationship with her Banoo Main Teri Dulhann co-star Ssharad Malhotra for eight long years.
Also watch: When Divyanka Tripathi slapped a man for touching her inappropriately (Video by The Times of India)

A couple of years back, Divyanka had marked her presence on Zee TV's show JuzzBaat hosted by Rajeev Khandelwal wherein she got emotional while talking about her breakup with Ssharad and what went wrong during their relationship. 

She stated, "I tried everything. Do you know the extent to which I went? I went to the level of superstition. I started meeting strange people and I would ask them, 'Has someone done something on him? How can this happen after eight years?'" 
In pics: Break-ups of TV couples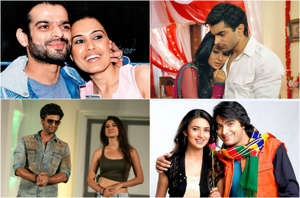 Divyanka further told, "There came a point when I questioned that if you had to do so much just to gain someone's love, was it even love? It is better to stay alone." By getting emotional, the actor went on to share, "It took some time but I understood that it is not meant to be. Superstition is a terrible thing, never get caught up in it. I became stupid."
Check out the video below:
Earlier while talking about Divyanka, Ssharad had told Bombay Times, "There's not much I can say except that it was a beautiful relationship. But when the word 'marriage' popped up, I developed cold feet. It was a long time ago, and I was quite immature. One gradually matures with time and experience. Yes, I have made mistakes. As human beings, we all make mistakes. I realise that now but unfortunately, it's five years down the line. I should have realised it then, but no hard feelings. We have both moved on. She looks very happy, and I wish her the very best."