Revealed: How 56-year-old Tom Cruise stays looking so young (possibly)

The Telegraph
12-10-2018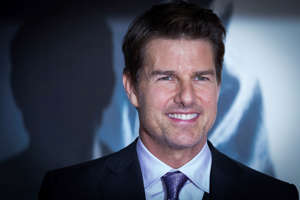 © AP Actor Tom Cruise poses for photographers upon arrival at the premiere of the film 'Mission Impossible Fallout', in London, Friday, July 13, 2018. (Photo by Vianney Le Caer/Invision/AP)

In any sane world, Tom Cruise Mapother IV would not be looking this good. The actor, producer, triple divorcee and father of three should look a bit like Tom Cruise – albeit a slightly melted version, like how John Travolta now looks like John Travolta dredged from a canal. He should have a paunch, walk with at least one limp, and be greying. In short (very short, 5ft 7ins), by now he should look less like a Hollywood action hero and more like Paul Hollywood, bread hero. Because that's the nature of middle age.
At the time of writing, Cruise is 56 years, three months and one week old: two years younger than Prince Andrew, two years older than Nigel Farage, and precisely 2,514 days older than Jacob Rees-Mogg.
And yet just look him. On the set of Top Gun: Maverick – a sequel to the iconic shirtless volleyball film he made 32 years ago – this week, Cruise has been photographed looking as if he's spent the past three decades preserved in amber. Smooth of skin, tight of jean, white of teeth, immaculate of hair. It was unnerving.
Video: Tom Cruise's 8 most jaw-dropping stunts in the Mission: Impossible movies (Insider)
Here are five possible reasons Tom Cruise has defeated the very process of ageing.
The fitness regime of a lunatic
Cruise is roughly the same height as fellow Cuban heel fanatic Simon Cowell, yet you will notice that he looks in marginally finer fettle. To keep himself in the same shape as he was at 25 – weighing around 11 stone, with a 50ins chest, 30ins waist and biceps the size of thighs – he takes a gym everywhere he goes. Literally. It is called 'the pain cave', and can be assembled anywhere.
"Underneath it says, 'Only the motivated may enter'," he revealed last year. As well as the gym sessions, Cruise says he enjoys "Sea-kayaking, caving, fencing, treadmill, weights, rock-climbing, hiking… I jog… I do so many different activities."
A quite scary religious focus 
It's often claimed that religion keeps people healthy, since there is potentially less stress and more discipline involved in a spiritual life. Researchers in the US once found that women who went to church more than once a week had a 33 percent lower risk of dying during the study period than those who never went, for instance. (Other studies have contradicted that).
Cruise is certainly religious. He was raised in a devout Catholic household, then attended a Franciscan seminary in Cincinnati on a scholarship and considered becoming a priest in his teens. According to his first wife, Mimi Rogers, he was also "seriously thinking of becoming a monk" when she turned him onto Scientology in the 1980s. He is now an avid follower of the shadowy cult/religion, and firm friend of its leader, the equally shadowy David Miscavige.
"I think it's a privilege to call yourself a Scientologist, and it's something you have to earn, because a Scientologist does, he or she has the ability to create new and better realities," Cruise once said, in an entirely terrifying interview. Why not give it a try?
A bit of work, maybe?

Scientology may have enabled Cruise to have new and better realities, but has he also got a new and better face? The Cruise mug is now smooth and unlined, but it has been suspiciously puffy in the past – a period that briefly made him look like Sandi Toksvig.
Aside from adult braces, Cruise has never admitted to having had any work done. "I haven't and I never would," he told Playboy in 2012. A few years later, his Jerry Maguire cast mate Cuba Gooding Jr was also asked whether Cruise had gone under the knife.
"Absolutely!" Gooding Jr said. "I don't know what he's had done, but I remember I surprised him at his house one day and he had all of these dots all over his face and I was like, 'You alright?' and he goes, 'I didn't know you were coming,' and I was like, 'I can see why!'"
Being eerily nice

There are a lot of things about Tom Cruise that are weird. (Here's one: he split from all three of his wives – Rogers, Nicole Kidman and Katie Holmes – when they turned 33, and each woman was 11 years younger than the last.) There are also a lot of things that are extremely worrying, as the documentary Going Clear will show you.
But according to almost everybody he's worked with, he's famously, unsettlingly generous, too. He has saved lives, arranged private planes for people in need, never forgets a birthday, teaches people to ride motorbikes, buys everyone gifts, encourages people follow their dreams, and definitely doesn't give lots of money to anyone who'll share a nice story about him. So could that be his elixir of youth: karma?
Tiny little Tom Cruise-sized portions

According to sources in New Zealand, where some of the most recent Mission: Impossible movie was shot, three meals a day are not enough for Cruise. Instead, it was reported that he prefers ' a daily diet of 15 snacks', all prepared by a pair of personal chefs. Nuts and blueberries play their part, while sugar absolutely does not.
"I love sugar, but I can't eat it because when I'm training, I'm doing all these movies – so I send it to everyone," Cruise told James Corden earlier this year, explaining that rather than eat cakes, he posts them to other people for fun.
In other interviews, it has been revealed that Cruise's favourite dishes include everything from sashimi to rigatoni. He also once contributed a recipe for linguine with zesty red clam sauce to a cookbook, and employed Jill Pettijohn, a chef who promotes a raw-food diet. So perhaps eat what you want, but cut it into 15 pieces.
Gobs and gobs and gobs of money
OK, being worth a reported $550m might help too.
Related: 40 Tips For Women Who Want to Lose Weight After 40 (Eat This, Not That!)
Disclaimer: Views expressed in this article are the author's own and MSN does not endorse them in any way. Neither can MSN independently verify any claims made in the article. You should consult your physician before starting any weight loss or health management programme to determine if it is right for your needs.