The Duchess of Cambridge dresses diplomatically in Indian designer Saloni ahead of royal tour

The Telegraph
07-04-2016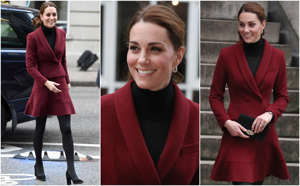 The Duke and Duchess of Cambridge's royal tour of India and Bhutan doesn't officially begin until Sunday when they land in Mumbai, but today the royal pair met young natives from the two countries at Kensington Palace to learn more about the countries they're about to visit.
And, true to form, Kate choose to dress diplomatically for the occasion, by wearing an elegant gown by Saloni, a brand launched in 2006 by India-born designer Saloni Lodha. She is wearing the blue 'Mary Illusion Dot Dress,' which has sheer sleeves, a high collar and a nipped in waist. The dress is no longer in stock but was previously on sale for £498.
This isn't the first time that the Duchess has worn the London-Mumbai based label. Just a few days after it was announced that the Duke and Duchess would be travelling to India, Kate wore a dress by Saloni for a function in London - hinting perhaps that she'll continue to rely on the designer's print and colour-filled designs for the upcoming tour.
On previous royal tours Kate has made a point of dressing diplomatically, wearing pieces by local designers at the same time as showcasing the best of British fashion. For example, she wore a dress by Canadian born designer Erdem Moralioglu to touch down in Montreal, a dress by Australian label Zimmermann whilst on Manley Beach, and on her three-day trip to New York in 2014 she wore two pieces by American designers, a Tory Burch coat and J. Crew jeans.
So what can we expect from her royal tour wardrobe? The Telegraph has learned that the Duchess will take 12-15 outfits for the six days of official visits. "She is in charge of it herself and takes an interest in paying tribute to the host country with nods to their culture and local style on at least a few of the engagements," a royal source revealed. "The important factor on this tour is the heat, so that's an issue that plays a big part in the choice of outfits."
One unexpected addition to the Duchess's tour wardrobe will be a pair of hiking boots, which she'll use when trekking to the Tiger's Nest monastery in Bhutan.
MSN Recommends:
Style File: Kate Middleton