HDFC Bank, Kotak Mahindra Bank, ICICI Bank power Sensex, Nifty's rally; key highlights
The Financial Express
16-05-2019
(Provided by The Times of India)
The Sensex and Nifty ended higher on Thursday, ably assisted by a rally in shares of private lenders HDFC Bank, Kotak Mahindra Bank and ICICI Bank.
Notably, the Sensex ended 279 points up at 37,393.48, while the Nifty closed 100.10 points higher at 11,257.10. HDFC Bank, Kotak Mahindra Bank, ICICI Bank together contributed to more than 70% of the gains in the Nifty. 
HDFC Bank shares closed 1.09% higher at Rs 2,313.80, while Kotak Mahindra Bank ended 1.22% higher at Rs 1,413.85 and ICICI Bank shares closed 1.26% higher at Rs 381.80. Among the major Sensex gainers were Infosys, TCS, ICICI Bank and HDFC Bank. Interestingly, both the key indices rallied in the last hour of trade after trading on a tepid note through most part of the day. 
Bajaj Finance shares closed 3.6% higher to Rs 3,111.80 after company reported a 57% on-year rise in its Q4FY19 consolidated net profit at Rs 1,176 crore against Rs 748 crore in a year ago period. The net interest income (NII) was up 50% at Rs 3,395 crore as compared to Rs 2,265 crore in the comparable period previous year. Shares of India's largest airline by market share IndiGo plunged after media reports of an internal strife between promoters surfaced. IndiGo shares closed 8.8% lower at Rs 1,466.60 on BSE. Coming bank to Sensex majors, Yes Bank shares extended losses and plunged to a 3-year low to Rs 135 after the RBIU yesterday appointed R Gandhi as additional director to the board in a rare move. 
The foreign institutional investors (FIIs) net sold shares worth Rs 1,142.44 crore on Wednesday, while domestic institutional investors (DIIs) purchased equities to the tune of Rs 671.77 crore, provisional data available with stock exchanges showed. Stock markets in China, Japan and Korea ended on a mixed note after US slapped sanctions on Chinese telecom major Huawei. Meanwhile, the domestic currency rupee appreciated by 27 paise to 70.07 against the US dollar intra-day.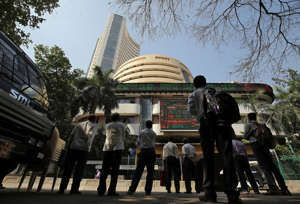 © Reuters