You won't have to worry about petrol and diesel prices for next two months

Business Insider India
12-03-2019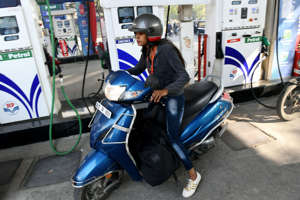 © Getty

The Modi administration is pulling out all the stops ahead of national elections. From full page advertisements touting the success of cabinet ministries to inaugurating war memorials, the government is leaving no stone unturned.

And now, the government is doing its best to keep petrol prices in check. It has told state-owned oil marketing companies - which include the likes of Indian Oil, Bharat Petroleum and Hindustan Petroleum - to keep prices stable in April and May as voting gets underway, according to media reports.
This will go a long way towards keeping consumer sentiment upbeat as India heads to the polls. Any drastic price increases will hurt the government's re-election chances which is why it will keep state-owned retailers on a short leash for the next few months.
In Pics: World's most expensive cities
In fact, the government is reportedly set to adjust the current pricing practice of revising rates everyday in accordance with international prices and instruct state-owned retailers to absorb a portion of the price hikes themselves.
Despite a daily, albeit moderate, rise in international crude oil prices since the beginning of March, retail oil prices stayed the same between March 5th and 8th.
This past weekend, the oil ministers of Saudi Arabia and India met to discuss oil prices and investments. India's oil minister, Dharmendra Pradhan, sought his counterpart Khalid Al-Falih in keeping oil prices under control ahead of elections and stressed the need for uninterrupted supplies of oil to India. 

Shared my concern on the rising oil prices and sought active role to be played by Saudi Arabia for keeping oil prices at reasonable level.

— Dharmendra Pradhan (@dpradhanbjp) March 9, 2019
However, after the elections, fuel prices will likely increase at a higher rate than expected, especially as state-owned oil market companies try and make up for the losses they will have to absorb in the next few months. This was seen in the case of the Karnataka state elections in May last year, when petrol and diesel prices were hiked considerably after being unchanged in the weeks running up to voting.
Also watch: GDP growth at 6.6% in December quarter
(Video provided by NDTV)
Are you on LinkedIn? Follow Microsoft News India and keep up with the latest industry news, career, jobs and tech updates. Connect with us now!