This sleepy Indian town is a mecca of gold jewellery—and a smuggling hotspot

Quartz
07-05-2019
Travelling from the forested region of Wayanad in Kerala towards the northeast of the southern Indian state is breathtakingly scenic. But just before entering the coastal city of Kozhikode, something about the nondescript highway hits with a jolt.
There's an inescapable tinge of yellow that reflects from both sides of the road. It is the small, dusty town of Koduvally, also known as the golden city of Kerala.
With more than 100 gold shops lining a 500-metre stretch of road, Koduvally is home to one of India's densest jewellery hubs and is one of the largest markets for gold in India.
What sets apart Koduvally from Mumbai's Zaveri Bazaar, where the majority of India's gold trade happens, is that the jewellers in the south Indian town focus on individual buyers.
"There are less than 50,000 people in this town. In fact, I call it a village. But there are so many gold shops which have been around for decades," said K Surendran, the owner of Archana Jewellers, who also heads the local gold association in Koduvally. "Most people who come here are looking for jewellery for themselves or their family and not for trading etc."
India's love affair
Indians love gold. So much so that the country is the second-highest importer of the precious metal in the world. Of the 505.8 tonnes of gold imported by countries across the world in July-September 2018, India accounted for over a quarter (134.8 tonnes)—second only to China.
In Pics: Who owns most of the world's gold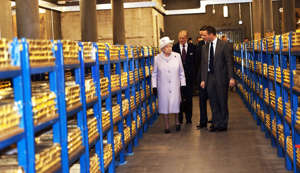 (Slideshow by Lovemoney)
In Indian folklore and ancient legal texts like the Manusmriti, gold ornaments must be worn on important ocassions, which has ensured the yellow metal's popularity here, according to the World Gold Council (WGC).
Hindus even have special days that are considered auspicious for buying gold, such as Akshay Tritiya (which is being celebrated today, May 07), and Dhanteras, which falls in the second half of the year, ahead of Diwali.
Kerala tops the charts in this gold obsession.
The residents of this southern state spend the highest on gold compared to any other place in the country, according to the WGC 2017 report. Unlike some other regions, both the urban and the rural population of Kerala splurge on gold.
Kerala's golden history
Prior to the 20th century, it is believed that there were no jewellery shops in Kerala. Goldsmiths went door-to-door to sell their wares to women as they remained confined to their homes.
Things took a turn nearly 130 years ago when a couple of jewellers took the plunge and set up stores in Koduvally. Gradually, the numbers multiplied and it ended up becoming one of the densest gold markets in the country. Since then things have changed dramatically. Now Kozhikode, nearly 23 kilometers from Koduvally, boasts of a mobile jewellery showroom on a bus.
Over the years, branded jewellers have been wooing buyers in the state with their swanky showrooms, even as the smaller shops continue to flourish.
In fact, these small, local shops are not just sellers. They are involved in gold procurement, manufacturing, design, and purity testing from their tiny facilities, such as the shops in Koduvally, Suredran said. This is a far cry from some of the organised retail shops in metros where ornaments are hauled from large warehouses across the country and the shops merely sell them.
These personalised services offered at the smaller shops are one of the reasons that keep customers loyal to them even in the face of the rising multinationals.
But it has not been all bright and sparkly for Koduvally's jewellers.
Also watch: GST collection for April scales to record high
(Video provided by The Times of India)
Changing face
In recent years, Koduvally has been hogging headlines for all the wrong reasons. It has emerged as a smuggling hub and now accounts for the highest number of smugglers, according to the Directorate of Revenue Intelligence.
Apart from the usual gold biscuits and bars being brought in illegally to the region, traffickers have been innovative and gone as far as ingesting it to circumvent officials.
However, locals are quick to dismiss it saying it is just one major mafia that is ruining the name and the local jewellery shops have no role to play.
Gold businesses in the golden town are also coming of age.
"Earlier Koduvally was the place where people from all the neighbouring district and even slightly far off regions would come to buy gold but now that has changed," explained Surendran. "Earlier two people would start a business and then they would split a few years later. Then one would go and start a new shop in another region. As a result, the market is not as concentrated now as it was before the 2000s."
But these bumps have hardly affected Koduvally's obsession with gold, and may not change things in the future either.
"One has to take into account the population divide in Koduvally, which is nearly 90% Muslims and only 10% Hindus. Now, since a lot of these Muslims also work in the gulf countries where gold is given the same importance, we expect demand to continue growing here," said the owner of another jewellery shop that is over 30 years old, requesting anonymity.