Amritsar train accident: Driver says he was given green signal, Railways says not our fault

India Today
20-10-2018
The driver of the train that mowed down 60 people and injured nearly 72 in Amritsar on Friday has told police officials that he had received a green signal and had no idea that hundreds of people were standing on the track.
The Punjab Police and Railway Police have detained him for questioning at the Ludhiana Railway Station.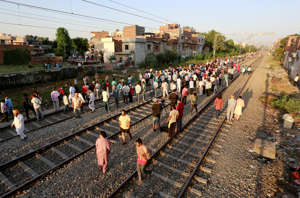 Sources told news agency IANS that the driver has claimed that he was given a green signal and all clear, and that he had no idea that hundreds of people were standing on the tracks when the train crossed the area.

Meanwhile, railway officials are also gathering information on how the linemen posted along the tracks near the Jora Phatak area failed to inform the train driver that nearly 700 people were present near the railway tracks and were watching burning of a Ravan effigy on Dussehra evening.
On the other hand, the Indian Railways has absolved itself of any blame for the accident. Divisional Railway Manager, Fereozpur, Vivek Kumar said, "The Railway is not responsible for the accident. The locopilot had taken steps that were required. This accident took place due to trespassing of railway tracks."
Also Watch: Railways not responsible for Amritsar accident, says top transport official (Provided by NDTV)
A similar line of argument was given by Railway authorities in New Delhi. They have defended themselves saying that the Railway was not informed about the Dusshera event at that spot. They said the local police did not prevent the people from coming on the live and busy railway tracks.
Download the Microsoft News app for your Android or iPhone device and get news & live updates on the go. Follow our Autos section in English and Hindi.
Meanwhile, no action has been taken so far against the people who organised the Ravan effigy burning event near the railway track. It was organised by leaders of the ruling Congress in Punjab, and they have reportedly gone underground.
Chief Minister Captain Amarinder Singh has ordered a probe into the accident.
Union Minister of State for Railways Manoj Sinha visited the accident spot on Friday night. He said the incident is being probed and that the tragedy was unfortunate.
Also See: Devastating bridge disasters around the world (Provided by Star Insider)
More From India Today

India Today