At least 11 dead after thunderstorm hits Uttar Pradesh again

India Today
10-05-2018
At least 11 people have died while many sustained injuries after thunderstorm hit various districts of Western Uttar Pradesh on Wednesday evening.
The Uttar Pradesh Chief Minister Yogi Adityanath, who is campaigning for his party in Karnataka has directed district magistrates across the state to assess the damage caused due to thunderstorm. He has also instructed officials to provide relief to the affected families on immediate basis. The bereaved families and injured will also be provided compensation, according to the statement issued by CM office.
According to data issued by the UP govt, three deaths have been reported from Mathura and four from Etawah district. One person was killed in Agra after a tree fell on his house. One death each have also been reported from Kanpur, Agra and Ferozabad district.
At least 11 people also sustained injuries because of thunderstorm and high velocity winds across the state. Some of them are being treated in government hospitals.
On May 2 severe dust storm and rains lashed in almost 20 districts of Uttar Pradesh. More than 70 people were killed. The unfortunate natural calamity also left more than 80 people injured and killing hundreds of cattles. The maximum casualties and damage was witnessed in Agra district.
IN PICS: Dust storm hits parts of North, East India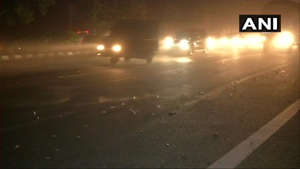 Yogi Adityanath who was in Karnataka that time had cut short his election campaign after being slammed by opposition for not being sensitive over the unfortunate tragedy happening in his own state. The CM visited dust storm affected areas in Agra and Kanpur and distributed relief material to the affected families.
However, the UP govt is still assessing the damage caused due to dust storm hitting Uttar Pradesh once again on Wednesday evening. The districts hit by dust storm witnessed power outage and many trees also got uprooted due to high velocity winds.
WATCH: Rain, winds hit Delhi, cities in North India amid storm alert
(Provided by NDTV)
More From India Today

India Today