EU Parliament asks India, Pak to engage in direct dialogue on Kashmir, resolve issue bilaterally

The Statesman
18-09-2019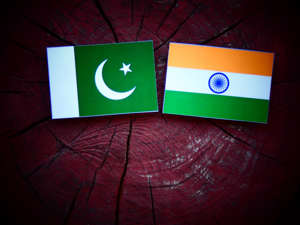 In a huge snub for Pakistan and a diplomatic win for India, the European Parliament on Wednesday called on New Delhi and Islamabad to engage in direct dialogue on Kashmir and resolve the issue bilaterally to ensure a peaceful resolution.
The decision-making body of the European Union (EU) has also warned against any escalation in Kashmir and asked that the interests of Kashmiris be protected along both sides of LoC.
Full coverage: Kashmir turmoil
However, the EU Parliament reportedly backed India saying that "Pakistan is an ambiguous country" and that "Kashmir is a bilateral issue".
Ryszard Czarnecki leader of the European Conservatives Reformists Group, Poland in his address extended his support to India and said that "terrorists come from Pakistan".
Watch: Indian Army thwarts Pakistan's infiltration bid from Hajipir Sector of PoK
(Video by Hindustan Times)
"India is the greatest democracy in the world. We need to look at terrorist acts that took place in India, and Jammu and Kashmir. These terrorists didn't land from the moon. They were coming from the neighbouring country. We should support India," Czarnecki said.
Hitting out at Islamabad, Fulvio Martusciello, leader of the Group of European People's Party (Christian Democrats), Italy, said that "Pakistan is somewhere where terrorists have been able to plan bloody terrorist attacks in Europe".
"Pakistan has threatened to use nuclear arms. Pakistan is somewhere where terrorists have been able to plan bloody terrorist attacks in Europe without mentioning tremendous human rights violation in Pakistan," he said.
The debate was held at Strasbourg, France as the stalemate in Kashmir continued for the 45th consecutive day as normal life remained severely affected in the Valley after the Centre abrogated Article 370 of the Constitution.
This is the second time since 2008 that the European Parliament General Assembly has discussed on Kashmir.
In July 2008, the European Parliament had passed a resolution, calling on India to conduct an "independent and impartial investigation" into the unidentified mass graves discovered in Jammu and Kashmir since 2006.
We're listening! Tell us what you think about Microsoft News
Meanwhile, the UNHRC has urged India to end the lockdown in Kashmir and restore basic communication.
The debate at the EU Parliament comes ahead of the ongoing 42nd meeting of the UNHRC in Geneva, where Pakistan has threatened to introduce a resolution for an urgent debate on J-K. The last date for introducing such a resolution is 19 September.
Meanwhile, India is pulling out all the stops to counter the Pakistani narrative on Jammu and Kashmir at the UN General Assembly meeting on 27 September.
Both Prime Minister Narendra Modi and his Pakistani counterpart Imran Khan are scheduled to speak at the UNGA. With Khan declaring his resolve to highlight Kashmir in his speech, India is gearing up to rebut him point by point, sources have said.
External Affairs Minister S Jaishankar had in August told his interlocutors from the European Union (EU) and Belgium that India is willing to discuss "other outstanding issues" with Pakistan bilaterally in "an atmosphere free of terror and violence".
In Belgium, Jaishankar met President of EU Parliament David Sassoli, EU Commissioner for Humanitarian Aid and Crisis Management Christos Stylianides and EU Representative for Foreign Affairs and Security Federica Mogherini, among others.
He is believed to have told the EU officials that the bifurcation of J-K was aimed at better governance and more development of the region.
Pakistan has been attempting to internationalise the Kashmir issue following the abrogation of Article 370, that gave special status to Jammu and Kashmir.
At the 42nd session of the UN Human Rights Council (UNHRC) on September 10, Pakistan tried to present a false narrative on Kashmir with its Foreign Minister Shah Mehmood Qureshi stating that the Valley had been converted into the "largest prison" with people being denied access to basic amenities following the abrogation of Article 370.
Pakistan had knocked the doors of the UNHRC after it failed to gain global attention on Kashmir issue at the UNSC.
Photos: Jammu and Kashmir situation