Exit polls show majority for NDA. Here's a look at numbers

Hindustan Times
20-05-2019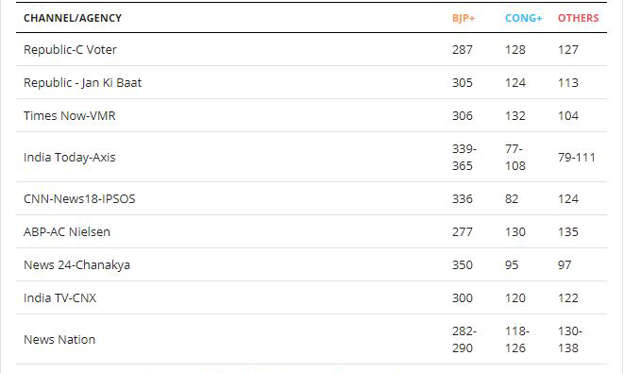 © Hindustan Times
The BJP-led NDA will get a clear majority while its main opponent the UPA will fail to reach the magic mark, exit polls by TV channels have predicted.
The projections show that the BJP would emerge as the single largest party winning a comfortable majority with its allies. The Congress is looking to improve its tally from 44 in 2014, it predicted.
In Uttar Pradesh, where the BJP is contesting against the Samajawadi Party-Bahujan Samaj Party-Rashtriya Lok Dal alliance and the Congress, the party could see its tally coming down. While in Delhi it is predicted to make a clean sweep of 7 Lok Sabha seats.
Is Narendra Modi going to win a second term as PM or will Rahul Gandhi return the Congress to power? Track live results with MSN on May 23. Also get fast, unbiased and comprehensive updates from India's top news sources.
Watch: BJP, allies to cross 300, according to poll of polls (Provided by NDTV)