Gujarat Teen Behind 'Mr Dalit' Campaign Faked The Attack, Police Says

NDTV
07-10-2017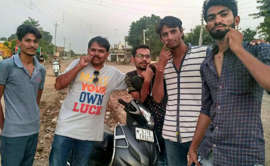 © NDTV Police say Digant Maheria had asked his friends to slash him with a blade for publicity. GANDHINAGAR: After Dalit teen Digant Maheria told the police that he had been slashed with a blade by two men on a motorcycle while returning from school in his village in Gujarat earlier this week, hundreds of Dalit men from neighbouring villages changed their WhatsApp display pictures in protest to photos of a large moustache with Mr Dalit written under it. In a social media campaign, Dalit men posted photos that showed them twirling their moustaches.
The police have now alleged that 17-year-old Digant has admitted he faked the attack "because he wanted media attention". He allegedly asked two school friends to slash him with a blade.
Digant's family had told the police they feared he had been attacked because he was with his cousin Piyush Parmar when he was thrashed last week allegedly by upper caste Rajput men for wearing a moustache. Piyush Parmar is one of two Dalit men in the same village who have alleged that they were beaten up and were told by their upper caste attackers that Dalits cannot have moustaches.  
Protests reached Gujarat capital Gandhinagar after the blade attack on Digant was reported.
"We had registered a complaint and began an investigation. Our suspicion grew when the forensic team visited the spot where the boy claimed to have been stabbed. The team didn't find any blood marks.  Neither did we, on examination of the boys clothes, find them soiled, despite the attack allegedly having taken place in a muddy patch," said a police officer Virendra Yadav.
He alleged that Digant had asked two school friends to slash him with a blade that they asked a 10-year-old boy to buy from a shop nearby. "The friends had at first refused to attack him with a blade and only wanted to hit him with a rod, but later relented,'' Mr Yadav said.
On Sunday, a young Dalit man was killed in a village in Anand district 100 km from Digant's home, allegedly by upper caste Patel men who objected to his watching a Garba outside a temple.
Gujarat had witnessed its most serious protests by Dalits in years last July after four Dalit men were tied to a car and flogged for allegedly killing a cow. It later turned out they were removing the carcass of a cow that had died of natural causes.
The Una flogging, however, exposed the BJP government to attacks from the opposition for failing to protect Dalits, who make up for 7 per cent of the state's electorate..
When BJP president Amit Shah, on a visit to Ahmedabad last month was again asked about the incident, Mr Shah claimed Gujarat was among those states in India that have minimum Dalit atrocities.