Honeypreet mastermind behind Panchkula violence: Police

India Today
05-10-2017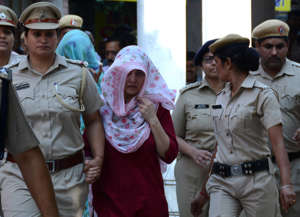 © Getty The investigation into the Panchkula violence has yet again led to a startling revelation. The police has now found out that the conspiracy to stoke violence and whisk away Gurmeet Ram Rahim from police custody was hatched a week before his conviction.
To top it all, it has also been discovered that the mastermind of the conspiracy was none other than Honeypreet Insan who is the second most important person in the controversial religious sect Dera Sacha Sauda.
Complete coverage: Guru Ram Rahim rape case
According to sources from the police, Honeypreet Insan had chaired a meeting in Sirsa on August 17 which was also attended by two close Gurmeet Singh aides Rakesh Kumar Arora and Preetam. While Arora was Gurmeet's private secretary, Preetam worked as a chief security officer. The duo were later arrested by SIT from Sirsa.
(Video by the Times of India)
Sources said that interrogation of Arora and Preetam has revealed other important leads for the police to work. Incidentally, Honeypreet had feigned ignorance in the initial interrogation.
"A meeting was organised in Dera in which the conspiracy to incite violence was hatched. This is a very sensitive issue and we have got important leads from Honeypreet which we cannot share at this time. Honeypreet has said that she is innocent but we will interrogate her ," Police Commissioner, Panchkula A S Chawla said.
Honeypreet Insan arrested by Haryana police:
Honeypreet Insan arrested by Haryana police, says media maligned my image (Pics by Indian Express)
Meanwhile, the Panchkula Police on Wednesday produced Honeypreet in a Panchkula court which has remanded her to six days in police custody. The police during the six-day long probe will seek answers from Honeypreet. She is also likely to be taken to some places where she spent 38 days after Gurmeet Ram Rahim was jailed on August 25.
Honeypreet is among Haryana's most wanted 43 Dera followers who are accused of inciting violence on August 25. After issuing a look out notice against her on September 1, the court had also issued non-bailable warrants against her . She was finally nabbed on Tuesday from near Chandigarh.