"PM Modi Is Corruption": Rahul Gandhi's Scathing Attack At Congress Meet

NDTV
18-03-2018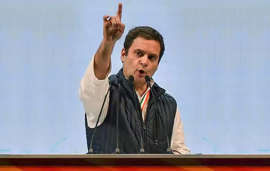 New Delhi: Congress chief Rahul Gandhi launched a scathing attack on the Prime Minister Narendra Modi and his government, pitched for change within the party and laid down what is virtually a vision document ahead of the next year's general elections. He spelled out the priorities of the party on various fronts -- on jobs, education and agriculture. "There are two visions before the world today- American and Chinese. My aim is to present an Indian vision to the world," he said.
Also read on MSN: Rahul Gandhi's mea culpa at Congress event
"We are different from BJP. If we make mistakes, we accept," Mr Gandhi said. Citing the instance of demonetisation, he said had the Congress made the "mistake", "we would have accepted it and and rectified".

© Provided by NDTV 24x7 rahul gandhi

Taking a dig at the Prime Minister over two other names that have become identified with corruption cases -- celebrity jeweller Nirav Modi and Lalit Modi - he said: "The name Modi symbolises the collusion between India's biggest businessmen and the Prime Minister. Modi gives Modi 30,000 crores of your money and in turn, Modi gives Modi money for marketing Modi and fighting elections."
© Provided by NDTV 24x7 congress plenary

Minutes after Mr Gandhi's address, the BJP rallied to launch a furious counterattack. Union defence minister Nirmala Sitharaman said it was the "rhetoric of loser, devoid of substance" and followed it up with a point-by-point rebuttal.
Without referring to Mr Gandhi's speech, Union home minister Rajnath Singh said, "There can be a debate on whether more work has been done or less, but no one can raise a question on the integrity and intention of the government."
Watch video: 
(Video provided by Times of India)
Union minister Prakash Javadekar said Mr Gandhi should apologise for his party's misdeeds first and then attack PM Modi.
"While accusing the Modi government, he forgets that Congress did worst of genocide of Sikhs, they brought censorship in media and are known for all kinds of corruption and scams. He should first apologise for all that," Mr Javadekar said.