The curious case of Honeypreet, Gurmeet Ram Rahim's favourite 'daughter' now in custody

India Today
07-10-2017
© Provided by India Today She's singing a whole new tune now. "I am innocent! My Papa is innocent!" Priyanka Taneja a.k.a. Honeypreet Kaur Insan told India Today Television in an exclusive interview just hours before the Haryana and Punjab police squads tracked her down and arrested her at the Panchkula-Zirakpur state-line outside Chandigarh on the afternoon of October 3.
She had been on the run for 38 days, ever since the Haryana police special investigation team (SIT) posted lookout notices for her, three days after Dera Sacha Sauda adherents indulged in arson and violence following dera chief Gurmeet Ram Rahim Singh's conviction on August 25. The police named Honeypreet among the 43 dera functionaries accused of conspiracy, inciting violence and sedition.
Honeypreet Insan distributed Rs 1.25 crore to spread violence in Panchkula: Haryana Police
Teary-eyed, Honeypreet insists she has committed no wrong. "You've all seen what happened. I accompanied my Papa (Gurmeet Singh) to court. There was so much security. How could I have entered (the court) without permission?" she asked. Close to breaking down several times through the nine-minute conversation, the dera chief's favourite 'daughter' admitted she was "frightened" and in a "deep depression". The seriousness and enormity of her situation, which could well bring jail time, perhaps finally dawning on her, Honeypreet said, "They are accusing me of deshdroh (sedition)!"
But just hours away from being arrested, Honeypreet also retained some of the brazenness she's often been accused of. Asked about some dera followers, including her former husband Vishwas Gupta, accusing her of 'inappropriate' relations with Gurmeet Singh, Honeypreet bristled: "Who are these people? Does anyone even know them? They are nobody!"
It was the kind of bluster she had shown in 2011 too. At the district court in Sirsa with a dowry harassment case against her former husband, his lawyer Pankaj Bhardwaj vividly recalls how "each time her spouse got up to make a statement, she would threateningly glare at him and point at her shoe".
No 'blushing bride', Honeypreet had married Gupta, a grandson of two-time Haryana (Gharounda) MLA Rulia Ram on the asking of the dera chief on February 14, 1999. But it was all apparently part of a sordid 'arrangement', shockingly revealed when Gupta petitioned the high court in October 2011. A third-generation Sacha Sauda adherent, Gupta told the court that his wife, who had been christened 'Honeypreet' and adopted by Gurmeet Singh, was in fact being "sexually exploited by the dera chief". He also alleged that after not being permitted to consummate his marriage for 11 long years, he faced death threats from Gurmeet Singh's henchmen after he saw the guru engaging in sex with his adopted daughter.
Evidently at his wits' end, Gupta told Bhardwaj and later a news conference in Chandigarh, that Honeypreet was the dera chief's constant companion, even sharing hotel rooms with him when travelling out of Sirsa. She was the only one who had living quarters inside Gurmeet Singh's infamous gufa (cave), while everyone else, including mother Naseeb Kaur, wife Harjeet Kaur and his real children lived in separate homes on the extensive Sacha Sauda premises.
Whether bedazzled by the wealth and power at her command, or just smitten by Gurmeet Singh, Honeypreet responded by slapping a dowry harassment case against Gupta and his family. In a police case filed in Sirsa, she alleged her husband had demanded Rs 2 lakh from her family. In the courtroom in Sirsa, she told Gupta's counsel that "he will pay dearly for daring to go against Pitaji".
She remained firmly on the dera chief's side even as the Guptas were hounded with multiple cases filed against both father and son in Rajasthan, Gujarat and even Mumbai. "Forced to live in constant fear, the family was literally reduced to penury with no resources to pursue the legal battles with the dera," says Bhardwaj. They eventually gave up, with a widely publicised apology amid thousands of premis (dera adherents) at Sirsa wherein Gupta and his father publicly withdrew every allegation they had made against Gurmeet Singh. As a settlement, all the cases against Guptas magically disappeared. The settlement however, also required that he agree to divorce by mutual consent. Yes, Honeypreet got to stay where she most wanted to be-by the side of her 'doting daddy'.
Notably, Gupta, who has since remarried and has two children and lives under police protection in Karnal, revived his allegations at a September 22 news conference in Chandigarh, a month after Gurmeet Singh's conviction. Evidently distraught, the ex-husband claimed a persisting life threat: "I am not sure whether I will be alive after this press conference."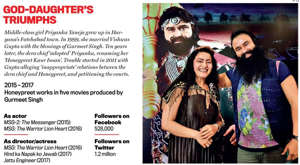 © India Today  

Born in 1980 to middle-class parents in Haryana's Fatehabad town, Priyanka Taneja, by most accounts, was an ordinary young girl. Sunita Madaan, her former class teacher who is now principal of Fatehabad's DAV Centenary Public School, recalls her as being "not very good at studies and just barely scraping through exams". Madaan says no one in the school had any idea that Priyanka had become Honeypreet. "It was only after all the publicity following the dera chief's conviction that we made the connection," she says. The principal dimly remembers that "while she was below average in academics, the girl had a particular fondness for singing and dancing".
In fact, few in Fatehabad seem to have any continuing links with Honeypreet. The last thing local resident Sandeep Singh remembers is a whole lot of excitement back in 1999, when Gurmeet Singh showed up at her (Honeypreet's) wedding: "The whole place was ablaze with decorative lights. It was easily the biggest event this place had witnessed until then," he says. While there is no clarity on exactly when, residents say after the wedding Honeypreet and her family relocated to the dera at Sirsa, where her father opened a small-time tyre retreading workshop.
Complete coverage of Gurmeet Ram Rahim's case
Already among the guru's 'favourites', it was after her divorce that Honeypreet really spread her wings, to the envy of many, taking up permanent residence in Gurmeet Singh's lavishly appointed gufa. Reports quoting police officers who raided the dera premises in Sirsa claim her living quarters had direct and unhindered access to the dera chief's chamber.
A senior official of the Haryana police SIT says Honeypreet's continual proximity to the dera chief gave her unbridled power within the Sacha Sauda. "She was all-in-all," says the official, based on sustained interrogations of top dera functionaries now in custody, including Dhan Singh, legal head of the sect who was responsible for dealing with Gurmeet Singh's lawyers, and Rakesh Kumar Arora a.k.a. 'PA', the dera chief's man Friday.
Police officers who interviewed dera functionaries in Sirsa, including the sect's incumbent chairperson Vipassana, say that Honeypreet was also responsible for driving a wedge between Gurmeet Singh and his son Jasmeet Insan in 2015. By then all-powerful in the dera hierarchy, Honeypreet wanted a merger between Kings Biscuits (a factory Jasmeet started in Sirsa in 2011) and MSG Products, a food retail line launched that year. "Gurmeet Singh sided with Honeypreet forcing the merger, which deprived Jasmeet of Rs 15-20 lakh in monthly earnings," a Sacha Sauda insider told the police, adding that the son wasn't on talking terms with his father after that.
First Pictures Of Honeypreet Inside The Jail
First Pictures Of Honeypreet Inside The Jail Where She Refused To Eat Plain Dal-Roti And Is Given Only A Floor Mat (Pics by Daily Bhaskar)
Honeypreet controlled all the finances, doling out monthly Rs 5 lakh allowances to Gurmeet Singh's real children, a dera hand told the police. "She even gifted her younger brother, Sahil Taneja, an Audi SUV some years ago," a senior SIT officer told india today.
After his conviction on August 25, Gurmeet Singh's family quietly withdrew to his ancestral village, Gurusar Modiya, in Rajasthan's Ganganagar district. And while Honeypreet grabbed eyeballs by engaging the Haryana police in a breathless chase across three states, there hasn't been a peep out of his 'real' family members. Barring, of course, the brief trip his ageing mother Naseeb made to visit Gurmeet Singh in Rohtak's Sunaria jail on September 25.
A lot of what Honeypreet claimed in her nine-minute chat-on-the-run with india today TV appears problematic. Contrary to her teary assertion that she never nursed any Bollywood dreams and wanted to remain behind the scenes, Honeypreet fully shared Gurmeet Singh's penchant for the bling lifestyle of ostentatious, over-the-top clothing, flashy cars and glitzy movies. Starting out in 2015, she has been in all his five movies, even co-directing the last two-Hind ke Napak ko Jawab and Jattu Engineer. Just a few months before his incarceration, Gurmeet Singh had famously bragged that 'Honeypreet has broken Jackie Chan's record by playing 21 different roles' in his now-unlikely-to-be-released sixth movie, Online Gurukul.
Also quite the social media animal, on www.honeypreetinsan.me, her personal web portal, Honeypreet describes herself as a "philanthropist, cine editor, actor and director". She has, believe it or not, over one million followers on Twitter and another 528,000 on Facebook. This hardly sounds like the reticent bystander she now, understandably, wants to be seen as.
The only 'family member' by his side when Gurmeet Singh was convicted of raping two sadhvis on August 25, Honeypreet was subsequently also permitted to accompany him onboard the chartered helicopter that ferried him to Rohtak's Sunaria jail. She even requested permission to stay with the prisoner in his jail cell as his "physiotherapist", but was, expectedly, turned down.
It has been one hell of a chase since then. There's evidence to show that Honeypreet headed back to reach the Dera Sacha Sauda in Sirsa around 3.45 am on August 26. Separating from the rest, she left Sirsa heading out to Hanumangarh, where she stayed with relatives for a night before travelling to Gurusar Modiya on August 28.
While the SIT, headed by Haryana police ADGP P.K. Agarwal, tracked her diligently and came close to nabbing Honeypreet on more than one occasion, she somehow always managed to evade the posse. And for someone who's now posing as a 'damsel in depression', Honeypreet seems to be well versed in the ways of a seasoned absconder.
Consider what the SIT now knows: Accompanied by just one or two persons at any given point and time, Honeypreet ditched the greater luxury of the top-of-the-line Lexus SUVs she was accustomed to in Gurmeet Singh's company, for the relative anonymity of smaller Hyundai and Maruti hatchbacks; smartphones were replaced by cheap Rs 800-1,000 feature phones with the pre-activated, pre-paid SIM cards freely available in Rajasthan (where Sacha Sauda has a significant following).
But like all fugitives, Honeypreet (or someone accompanying her), made the critical error that every good-cop-in-a-chase looks out for. Mobile phones, she was known to be carrying, were briefly switched on in Punjab on October 1. After that, it was only a matter of time.
Honeypreet Insan will now face a trial and possible conviction. On September 18, DGP B.S. Sandhu said a total of 41 people were killed (35 in Panchkula and 6 in Sirsa) in the August 25 violence, besides destruction of property worth crores.
More From India Today

India Today