WATCH | Exclusive image of Honeypreet Insan in Rampura prison

India Today
06-10-2017
Rape convict and Dera Sacha Sauda chief Gurmeet Ram Rahim's foster daughter Honeypreet Insan was arrested by the Haryana Police from near Zirkapur in Punjab on Tuesday. Honeypreet was one among 43 most-wanted people who the police was looking for following the rioting in Panchkula on August 25 after Gurmeet Ram Rahim Singh's sentencing.
Complete Coverage: Guru Ram Rahim rape case
 She had disappeared soon after the Dera Sacha Sauda chief was lodged in the Rohtak Jail. For 38 days, she had played hide and seek with the police with reports suggesting that she had fled to Nepal and other reports saying that she had been spotted in Delhi. Earlier today, Honeypreet was asked a total of 40 questions, which also pertained to her role in the Panchkula violence, besides the failed escape plan.
Apart from refusing to answer 13 specific questions, the answers for 27 questions were either negative or confusing. "Honeypreet has feigned ignorance about the charges levelled against her. She has so far failed to answer the queries. 
Interrogation into the case will continue and if the six-day remand is found to be insufficient, the police can also get the same extended, besides requesting the court to allow her narco test", Panchkula Police Commissioner AS Chawla said.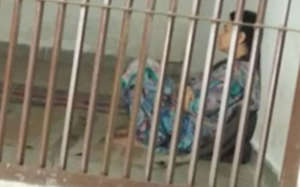 © India Today Exclusive image of Honeypreet Insan in Rampura prison
More From India Today

India Today