How India can benefit from Trump's trade war on China

DailyO
14-07-2018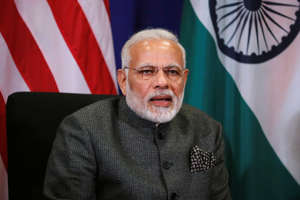 China and the United States are embroiled in a trade war that will shape the geopolitics of the world deep into the twenty-first century. The issue between Washington and Beijing isn't just China's $350 billion (over Rs 24 lakh crore) trade surplus with the US. It is about future global economic supremacy.
Iranian crude
China is a unique global power. It has built its own ecosystem and barred virtually all Western influence. It restricts the operation of foreign companies. It tightly controls the banking sector and stock market. It bans Google, Facebook, YouTube, Instagram and Twitter.
That has helped local social media sites like WeChat and Weibo become domestic giants. Chinese e-commerce platforms like Alibaba have a market value of $500 billion – within striking range of the market value of Apple and Amazon.
The rise of China has been astonishing. It has in less than 20 years built the world's fastest supercomputers, world-class universities and outstanding infrastructure. China's defence budget is the world's second-largest. Its navy is positioned to challenge the US navy not only in the South China Sea but in the entire arc between the Indian and Pacific Oceans.
Also watch: Trade War Sends Ripple Effects Through Oil Market
UP NEXT
(Video provided by Bloomberg)
China, like the US during its expansionary phase in the twentieth century, is a predatory power. The US invaded other countries at will, imposed wars on them and ran the world's economy through the World Bank and the International Monetary Fund. It used the United Nations to legitimise harsh economic sanctions on countries it saw as a threat to its hegemonic world order.
China fully expects to construct a China-led world order by 2049, the 100th anniversary of the formal establishment of the People's Republic of China (PRC). By launching a trade war on China, US President Donald Trump though has signalled America's intent: the US can impose tariffs on Chinese exports worth $500 billion.
In retaliation, China can impose tariffs on US exports worth only $137 billion given the trade imbalance between the two countries. It is estimated that the trade battle will shave one per cent off China's export-led GDP in 2018-19. American GDP is estimated to fall by only 0.2 per cent.
India has stayed largely out of the way of the battle between two countries with which it has a set of multi-dimensional relationships. Iran, not trade, is a deal-breaker with the US. Trump is obsessively anti-Iran. By November 2018, India will need to cut to near-zero its oil imports from Iran or risk certain US sanctions on Indian oil companies.
While Iranian crude can be replaced with Saudi and UAE crude, Chabahar port in southern Iran that India is developing as a counter to China's Gwadar port in Balochistan, could be a victim of US-Iran tensions.
Quick escape
Over the next few days Trump will scythe his way through meetings at NATO headquarters in Brussels, in Brexit-torn Britain and a much-anticipated quasi-summit with Russian President Vladimir Putin in Helsinki. In Brussels, on July 11-12, Trump will hector his NATO allies to take out their cheque books and spend at least 2 per cent of their GDP on defence.
In Britain, he will spend barely 30 hours on July 12-13 to lecture British Prime Minister Theresa May on postBrexit Britain and meet Queen Elizabeth II at Windsor Castle.
Trump will make a quick escape from the stiff formality of royalty for a weekend of golf at his own golf resort in Scotland before flying to Helsinki for the pivotal meeting with Putin on July 16.
President Xi Jinping will be watching all this carefully. He thought he had charmed Trump into being a friendly collaborator in China's rise when he was lavishly hosted by the US president at his Mar-a-Lago retreat in Florida last year. That hope has been dashed by the unprecedented trade war Trump has unleashed on China. Beijing denounced it as "the largest trade war in economic history".
Utilising chances
India's strategic thinkers have traditionally been slow to utilise opportunities geoeconomic events throw up.
One reason why China has adopted a softer line with India in recent months over the disputed border along the line of actual control (LAC) is to wean India out of America's orbit of influence. Though India's economy is one-fifth of China's and one-tenth of America's, both countries know that 20 years from now India will form the third pivot in great power relations.
Britain is a spent force. The European Union is toothless. Russia is ageing. In less than 10 years India will overtake China as the world's most populous nation. Its GDP will still be significantly smaller than China's and America's but larger than Japan's and Germany's as it emerges as the world's third-largest economy. Without strategic planning, India will stumble into the status of a swing global power within a generation.
As the China-US trade war escalates, India must rethink its long-term strategy with both superpowers. US-China relations are moving into a long-term mode of confrontation.
India must be quietly assertive across a range of issues. With the US, concede on Iran but stay firm on defence ties with Russia over the S-400 missile defence system. With China, downplay differences over the Dalai Lama and Taiwan but double down on Beijing's unprincipled support of Pakistani terrorists like Masood Azhar.
While Beijing and Washington contest the future, India must use this window of opportunity to create its own global nous.