Lok Sabha elections 2019- 'Let's see if my chopper can land': PM jabs Mamata before Bengal campaign

Hindustan Times
16-05-2019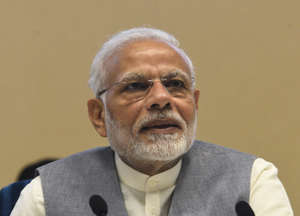 As the politics around the Election Commission's Bengal campaign ban heated up on Thursday, Prime Minister Narendra Modi led his party's frontal attack on Mamata Banerjee and her party, Trinamool Congress, who he has accused of desecrating Bengal's Renaissance icon Ishwar Chandra Vidyasagar statue.
"Going to West Bengal for rally in Dum Dum. Let us see if Didi (Mamata Banerjee) allows it. If she has her way she will not allow helicopter to land," said PM Modi at a rally in Uttar Pradesh's Mau. He also promised to build a new Vidyasagar statue and blamed "Trinamool goons" for vandalising it.
Complete coverage: Elections 2019
The opposition has attacked the Election Commission for its decision to cut short poll campaign in Bengal after violence at Amit Shah's Kolkata rally.
BSP chief Mayawati said the enforcement from Thursday night would help PM Modi finish his rallies in Bengal while Congress said the poll panel has "lost its independence".
Mamata Banerjee thanked leaders of opposition parties, for their support and said people will give the BJP a befitting reply.
A BJP delegation met the Election Commission on Thursday over the violence in Bengal. "We demand that history-sheeters be detained immediately so that fair and violence-free polling is conducted in West Bengal. The Election Commission should be extremely vigilant over the next 48 hours," said Union minister Prakash Javadekar.
On allegations that the poll body's decision to cut short campaigning in Bengal will help PM Modi, Javadekar pointed out that Mamata Banerjee also has rallies scheduled for Thursday.
Watch: PM Modi promises grand Vidyasagar statue amid battle with Trinamool
(Provided by NDTV)