'Assassination attempt' on Zimbabwe's president

Sky News
23-06-2018
Zimbabwe's president has escaped injury after an explosion at a stadium where he was addressing a rally, in what state media are describing as an assassination attempt.
Emmerson Mnangagwa has vowed that the "cowardly act" will not derail next month's historic election - the first since long-time leader Robert Mugabe stepped down.
He said the object had "exploded a few inches away from me, but it is not my time".
One of Zimbabwe's two vice presidents, Kembo Mohadi, suffered a leg injury in the blast, which happened in Bulawayo.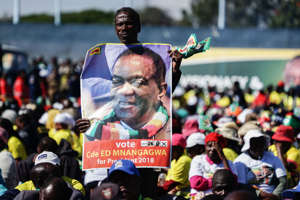 The country's environment minister, deputy speaker of parliament and several security personnel were also among the injured.
Footage posted online showed the president waving to the crowd as he turned to step off the podium and walked into the open-sided VIP tent, where the explosion happened seconds later.
People were seen ducking and screaming as smoke billowed through the stadium - with state television immediately cutting the broadcast.
No groups have come forward to say that they were behind the explosion so far.
Bulawayo is Zimbabwe's second-largest city and is traditionally an opposition stronghold.
The blast happened just hours after a similar attack in Ethiopiaduring a rally for the country's new prime minister. An attacker threw a grenade towards the stage where he was sitting - killing one person and injuring at least 83 others.
Presidential spokesman George Charamba told The Zimbabwe Herald that an investigation had been launched and said there had been "multiple attempts" on Mr Mnangagwa's life over the years.
Mr Mnangagwa later visited those who were injured in the blast at the local hospital.
Speaking hours after the explosion, the president said: "The campaign so far has been conducted in a free and peaceful environment and we will not allow this cowardly act to get in our way as we move towards elections."
The president has joked about the attempts on his life while on the campaign trail.
Mr Mnangagwa came to power in November after former ally Robert Mugabe stepped down under military pressure.
The transfer of power began when Mr Mnangagwa was sacked as Mugabe's deputy and said he had to flee the country immediately as his life was in danger.
The election on 30 July will be the first without Mr Mugabe in the southern African nation since independence in 1980.

The British Embassy tweeted: "There is no place for any form of political violence in Zimbabwe. We want to express our sympathy and concern for all those who have been injured."
The US Embassy also condemned the attack on Twitter and said "political violence in any form is unacceptable" and contrary to the progress needed to move the country forward and "take its place on the global stage".
American officials have said a credible vote is the only way international sanctions can be lifted.
Also Watch: What is Donald Trump's family separation policy?
(Video provided by India Today)