Live blog: India vs Australia, 1st ODI

Hindustan Times
12-01-2019
Catch all the live score and updates from the first ODI match between India and Australia from the Sydney Cricket Ground.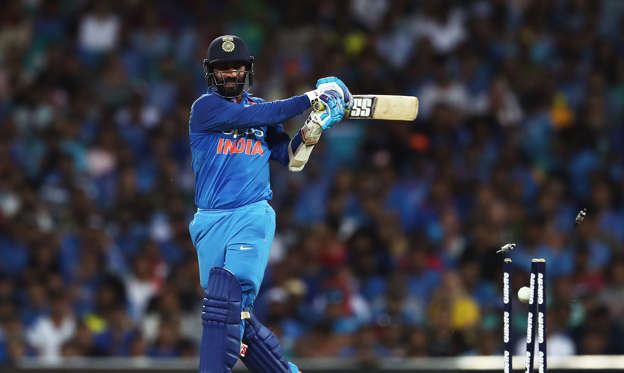 © Getty Images
15:49 hrs IST: Australia win by 34 runs
Mohammed Shami goes for a big heave in the leg side and gets caught by Glenn Maxwell. India lose by 34 runs and Australia record their 1000th victory in international cricket.
15:43 hrs IST: Kuldeep falls, it's all but over for India
It's all but over for India. Kuldeep Yadav presents a simple catch to Usman Khawaja and gets out for 3 runs. Australia need 2 wickets to win the match.
15:39 hrs IST: Khawaja drops Bhuvneshwar
This drop isn't going to cost Australia, but Khawaja will be disappointed with himself. Bhuvneshwar smashes the ball to long-on and the ball jumps out of Khawaja's hands.
15:35 hrs IST: Excellent spell by Jhye Richardson
Jhye Richardson finishes an excellent spell for Australia. The fast bowler picks up figures of 4/26. He took the big wickets of Virat Kohli and Ambati Rayudu at the start of the innings which more or less sealed the deal for the home side.
15:21 hrs IST: Jadeja dismissed
Short ball outside off, Jadeja rises and tries to crunch it over point, does not connect all the well and is caught at deep cover. Rohit is running out of partners, it will only add to the pressure. What a night Jhye Richardson is having
15:07 hrs IST: 100 for Rohit - Stat Attack
· 22nd ODI century, 7th vs Australia, 5th in Australia and 1st at Sydney.
· 4th century for Rohit against Australia in Australia.
· Consecutive 100 for Rohit against Australia.
· 22nd ODI century for Rohit — joint-3rd most by an Indian 
15:03 hrs IST: 100 for Rohit
Full ball angled in, clipped away to square leg for a brace to bring up his century. It has been a measure and stunning innings. India were 4 for 3 and Rohit never gave up. He is now an absolute must if India have to overhaul this target
15:00 hrs IST: Karthik dismissed 

He came down the track, tried to swing the short ball away, inside edge taken and the ball smashes the stumps. India lose a wicket just when they should not have
14:56 hrs IST: Rohit holds the key
3 boundaries in that over from Siddle, and he has banged two boundaries over mid-wicket. He has top hold fort, is the absolute must for India in this chase
14:41 hrs IST: Karthik looking busy
The required run rate has climbed, but it can be managed. Rohit Sharma holds the key and Karthik and the rest of the batsmen have to keep busy and take this innings deep
14:26 hrs IST: Trapped LBW 

Full ball, Dhoni was on the back foot, looked to clip it away, missed the ball and is hit right in front of the stumps. A tired stroke by Dhoni, but this partnership has brought India back on track. Australia get a timely strike, they will be up and about again
14:22 hrs IST: 50 for Dhoni 

Slow innings, but it has been timed well so far. India are back on track in this chase. Gets to the milestone with a languid drive back down the ground past mid-wicket
14:06 hrs IST: Crucial partnership - Stat Attack 

· 4th century stand between Rohit and Dhoni in ODIs and 2nd between them against Australia.
· 1st century stand for 4th wicket by India after 23 innings.
· 1st century stand for 4th wicket by India vs Australia after 11 innings.
· This is the 6th instance of team having 100-run stand for 4th wicket after losing first 3 wickets in single-digit score
13:58 hrs IST: Stat Attack - Rohit 50 

· 38th ODI fifty for Rohit Sharma, 6th vs Australia and 5th in Australia.
· 3rd fifty vs Australia in Australia for Rohit.
· 3rd fifty at Sydney for Rohit.
· 3rd consecutive 50+ score by Rohit in ODIs.
· 4th consecutive 50+ score against Australia for Rohit in ODIs.

13:50 hrs IST: 50 for Rohit 

Full and wide outside off stump, Rohit skews it over point and short third man. The ball skips across for a boundary and this helps Rohit get to his 50. Top innings by the opener, he has to bat deep and take this chase right down to the wire
13:41 hrs IST: Dhoni looks set 

He is still dealing in singles, India cannot afford to lose any wicket right now as both the batsmen have soaked up a lot of deliveries and the required run rate has increased
13:21 hrs IST: Dot...dot...Bang
5 dot balls and then bang goes Rohit. Down the track, not quite close to the pitch of the ball, but the languid swing of the bat sends the ball sailing over deep mid-wicket
13:11 hrs IST: Some pressure released

2 sixes in the last 2 overs and finally India have decided to arrive and do something about the chase. Dhoni steps out and deposits Lyon over his head.
13:04 hrs IST Dhoni is struggling to get going

Lyon wheels away and bowls a maiden. Dhoni is on 6 from 35 balls. The run rate is climbing all the while. Australia building all the pressure, something has to give pretty soon
12:52 hrs IST: Peter Siddle into the attack 

After forever, Peter Siddle is back into the ODI side and now is running in with the white ball in this retro kit. Australia are right on top here
12:38 hrs IST: 10,000 ODI runs for Dhoni 

The seasoned campaigner has just achieved his 10000th run for India in One Day Internationals. He has to dig in and bail India out of this hole
12:25 hrs IST: Rayudu comes and goes
Fast, angled in, Rayudu hit on the pads, beaten for pace. The ball smashes the pads and he reviews, ball tracking says the ball would have taken the stumps. Rayudu departs and takes the review with him. India on the mat
12:21 hrs IST: Kohli goes
Wow, India under the pump, Kohli flicks but finds Marcus Stoinis at short square leg. India's prolific top-order has been ripped open. Under the pump, Rohit is still to get going, Australia right on top. This game has swung dramatically
12:14 hrs IST: Maiden from Jhye Richardson
Great intent from the hosts, good energy on the field and the bowlers have started brilliantly. India under some early pressure. Two great overs at the outset
12:06 hrs IST: Chase begins 

Rohit Sharma and Shikhar Dhawan walk out. Behrendorff with the new ball, he can shape the ball back in. 227th player to play for Australia
12:10 hrs IST: First blow for India
Full ball angled in, Dhawan was in no position for that one, looked to clip it away, hit bang in front of the stumps. Umpire says yes, Australia on the board. The left-hander departs for a golden duck, superb start for the hosts.
11:32 hrs IST: Expensive final over 

Bhuvneshwar got stick in the final over, 18 runs came as Australia jumped to 288 for 5 in their 50 overs. Good flourish in the end by Marcus Stoinis and Glenn Maxwell with a couple of hits. An innings which was held together by Shaun Marsh, Usman Khawaja, and Peter Handscomb gets a rapid finish
11:16 hrs IST: End of a fine innings 

Great innings by Handscomb. He perishes looking to play a stroke per ball, good bowling by Bhuvi, who kept it short and the attempted slice over point has found Shikhar Dhawan at deep cover. Glenn Maxwell enters the scene
11:06 hrs IST: Expensive over 

Finally, Australia erupt. They are more proactive and getting the boundaries away. Handscomb is looking ominous for Virat Kohli's plans. Maxwell is yet to come
10:59 hrs IST: Handscomb on the move
The right-hander is key for Australia, he has scored his 50 and now should look to race ahead. Stoinis, after a low start, has found his groove and will be threatening
10:49 hrs IST: Into the final phase of the innings 

Handscomb is in the 40s, Stoinis warming. Now for the final acceleration phase is on. Fun times ahead. More intent, definitely
10:31 hrs IST: Marsh departs

Nice bowling by Kuldeep, tossed up on off stump, Marsh comes down the track and looks to biff it over mid-wicket, drags it to Shami who runs forward and dives forward to complete a smart catch. India keep chipping away at the wickets
10:20 hrs IST: 50 for Marsh 

His exceptional ODI form continues. Has looked assured all day and now with that slap has brought up his 50. Another important innings, Australia are looking to get a move on
10:16 hrs IST: Handscomb motoring along 

He stays back in his crease, and Bhuvi is feeding him with shortish deliveries which make them easy pickings for him. He has been in good hitting form in the BBL and holds the key to this innings for Australia
10:03 hrs IST: Shami looking sharp
He has been on the money all day and is looking quite sharp. However, Shaun Marsh and Peter Handscomb are moving positively and they need to improve the scoring rate is Australia want to post a score in excess of 300 on this surface
9:48 hrs IST: Pressure of dot balls 

He went for the slog sweep, Jadeja was on the money, missed the blog and was trapped in front. Timely strike for India. Khawaja was looking good. Australia lose their 3rd wicket, a promising stand ends with Shaun Marsh
9:41 hrs IST: Stat Attack: Khawaja 50
· 5th ODI fifty for Khawaja.
· 1st against India.
· 1st in Australia as well.
· 1st fifty after 3 ODI innings for Khawaja
9:34 hrs IST: Khawaja gets to his 50
Good assured innings by the left-hander, he has been in control for a major part of the innings, rotating the strike and keeping the scoreboard moving. He needs to bat deep into the innings
9:27 hrs IST: Rayudu with his off-spin 

An extremely part-time option, the Australians need to recognise the fact that they need to up the scoring rate and this phase should see them quicken up the speed of the scoring rate
9:15 hrs IST: Marsh looking far more confident
The footwork is more assured, either back or forward confidently to negotiate the turn and bounce and then easily tonking boundaries. Looking good for Australia
9:09 hrs IST: Lovely bowling from Kuldeep 

He is tossing the ball up, forcing the batsmen to come towards the pitch and then getting it to dip at the last moment. Australia look tentative at the moment against Kuldeep
9:02 hrs IST: Drinks 

Australia are fighting back after the twin blows. Marsh and Khawaja are looking to milk the spinners and keep the scoreboard moving. We take drinks, India slightly ahead at the moment
8:59 hrs IST: Shami has gone off the field
He was in the middle of a good spell, but has gone off the field with the physio. India do not have a 6th bowling option and they would hope this is nothing serious

8:36 hrs IST: Kuldeep strikes
Well, good move by Kohli. Kuldeep pitches on one off, Carey wants to cut, is too close for comfort, nicks it and Rohit Sharma takes a sharp catch at first slip. India have bossed the powerplay
8:27 hrs IST: Carey looking good 

The young wicket-keeper batsman is looking in good rhythm at the moment and is timing the ball pretty well on either side of the wicket.
8:11 hrs IST: Khaleel is struggling

The young man is not looking in good rhythm at the moment, already 2 no balls in this innings. He has to focus on getting the ball in the right areas to start with
8:03 hrs IST: Bowled him
Length ball, shaping back in, Finch takes the forward stride, but not close to the pitch of the ball and the movement seams back in and knocks over the stumps. Early strike for India

7:54 hrs IST: Probing first over 

Bhuvneshwar has been resting right through the Test series, but has hit his straps perfectly right in the first over. On the money and getting the ball to move after pitching
7:48 hrs IST: Anthems have been belted out
The action is about to commence, the teams look in good nick. Australia with the retro kit are looking sharp indeed. Let the game begin! Bhuvneshwar Kumar with the new ball
7:26 hrs IST: Playing XI 

India (Playing XI): Shikhar Dhawan, Rohit Sharma, Virat Kohli(c), Ambati Rayudu, Dinesh Karthik, MS Dhoni(w), Ravindra Jadeja, Kuldeep Yadav, Bhuvneshwar Kumar, Mohammed Shami, K Khaleel Ahmed

Australia (Playing XI): Aaron Finch(c), Alex Carey(w), Usman Khawaja, Shaun Marsh, Peter Handscomb, Marcus Stoinis, Glenn Maxwell, Nathan Lyon, Peter Siddle, Jhye Richardson, Jason Behrendorff
7:25 hrs IST: Australia bat first
Finch wins the toss and Australia will bat first. Kohli says he would have batted first too.

Virat Kohli: We would have batted first as well but some of the players are inclined towards chasing. It's a brilliant wicket to play on, with shorter boundary on one side. It's going to be an exciting chase as I am always inclined towards chasing. Anyways we have to bowl first now. We are always looking to improve. We need to strike when the big games arrive. When two quality players (Hardik and Rahul) are not featuring, it affects the balance of the side. Jadeja is back in the side, let's see what he's got to offer.
7:14 hrs IST: The bowlers
Early visuals indicate that Khaleel Ahmed, Mohammed Shami, and Bhuvneshwar Kumar will be the seamers and Kuldeep Yadav and Ravindra Jadeja will be the two spinners
6:35 hrs IST: Hello and welcome
The teams have donned the coloured clothing, Australia have wound the clock back and have pulled out the retro kit. Well, they need to perform like teams of the past on the field as well. India have a pretty settled unit and barring the Hardik Pandya-controversy the roles are pretty much set. They look to be the favourites on paper, but when has a cricket match ever been won on paper? Strap yourselves, some enthralling action is about to commence!

More From Hindustan Times

Hindustan Times