Live, India vs Australia, 2nd T20, Guwahati: AUS thrash IND, level series 1-1

Hindustan Times
10-10-2017
Australia thrash India, level series 1-1
Full Scorecard: India vs Australia
22:02 hrs IST: SIXES! Moises, you beauty! He blasts two massive sixes off Kuldeep Yadav and notches up his second T20I fifty. Australia need five off 30 balls.
21:54 hrs IST: In the air but safe! Head attempts the slog sweep but gets a top edge that lands safely behind.
21:49 hrs IST: SIX! Head has latched on to that. He wallops the slog sweep into the stands at wide long on. Australia need 31 off 48.
21:44 hrs IST: FOURS! Kuldeep Yadav is having an off day. Two fours by Henriques and Australia have cut the deficit down even further. Australia are 78/2 in 11 overs.
21:37 hrs IST: Two short balls from Pandya and Travis Head dispatches them to the deep mid wicket fence. This passage of play is hurting India and they are letting go the advantage.
21:32 hrs IST: SIX! Crunch! Henriques looking in great touch as he rocks back and creams a short ball over deep mid wicket for his second six. Head finishes the over with a boundary. 14 runs in Kuldeep's first over. Australia 50/2 after eight overs.
21:29 hrs IST: Great start for Pandya as he gives away just two runs.
21:26 hrs IST: Hardik Pandya is into the attack. It is only a matter of time before India introduce the spin twins. But with dew, seems a bit hard.
21:23 hrs IST: SIX | Crunching shot from Henriques as Bumrah drops it short and the batsman pummells it over the long leg fence.
21:20 hrs IST: Excellent over from Bhuvneshwar, beats Henriques two or three times with late seam movement. Australia are 25/2 in five overs.

21:16 hrs IST: FOURS! Two wonderful fours from Travis Head, one a straight drive and one a flick to square leg, have eased the pressure now. Australia are 24/2 after four overs. Still anyone's game.
21:11 hrs IST: WICKET! The openers are gone. We have a match on our hands. Short ball from Bhuvneshwar and the ball stops on Finch as he slaps the cut shot straight to point. Aaron Finch c Kohli b Bhuvneshwar 8 (8).
21:04 hrs IST: WICKET! Massive wicket this. Short ball from Bumrah and it sticks on the wicket, Warner miscues the slog and Kohli at cover point takes the catch, he flings the ball angrily and lets out expletives. Some things never change. David Warner c Kohli b Bumrah 2 (5).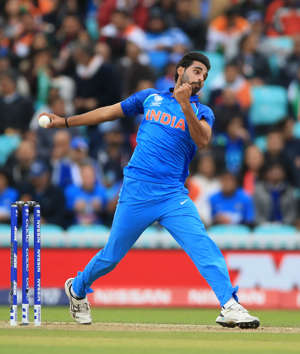 21:01 hrs IST: In the air but safe! Good length ball that climbs up, Warner short-arm jabs pull and it lands safely at mid wicket. Australia 6/0 after the first over.
20:57 hrs IST: Bhuvneshwar Kumar opens the bowling for India and Finch gets going with a three through point.
20:47 hrs IST: India have been bowled out for 118. Is this enough? Dew is already high and Australia's pacers were struggling with grip. Can India maintain their winning streak?
20:43 hrs IST: WICKET! Great way to end the innings. Full ball from Tye and Kuldeep top-edges the slog, Paine settles underneath the catch. Kuldeep Yadav c Paine b Tye 16 (19).
20:41 hrs IST: WICKET! Run-out! Superb work from Paine. Kuldeep Yadav made room and looked to tap it to the off side but gets hit on the body and goes to the keeper, Bumrah looks to pinch a quick single but Paine scores a direct hit. Jasprit Burmah run out Paine 7 (9).
20:37 hrs IST: Edged but FOUR! Bumrah tries to go over mid wicket, gets an edge that evades Paine and goes to the third man fence. India on course to reach 125.
20:33 hrs IST: After 18 overs, India are 104/8. Can they get past 125?
20:30 hrs IST: WICKET! There goes India's chances of getting to 130-140. Full and slow ball outside off, Pandya miscues the lofted shot and Dan Christian the substitute takes the catch at long off. Hardik Pandya c (sub) Christian b Stoinis 25 (23).

20:27 hrs IST: India cross 100. Three overs remain. Can they get a good score? 
20:24 hrs IST: WHAM! Pandya latches on to a short ball and creams the pull shot into the stands at deep mid wicket as India close in on 100. Can they go past 130?
20:21 hrs IST: Subdued knock from Pandya so far. Maybe he will explode in the next four overs. India are 90/7 after 16 overs. Can they get to 135 and above?
20:16 hrs IST: Andrew Tye is struggling to grip the ball. A full toss that goes over the head of Kuldeep is given as a no-ball. In the free-hit, Kuldeep edges a full toss to the third man fence. After 15 overs, India are 85/7.
20:11 hrs IST: Adam Zampa finishes his spell: 4-0-19-2. Can Australia end brilliantly?
20:04 hrs IST: WICKET! India continue to stumble. Short ball and outside off stump, Bhuvneshwar arches back and looks to ramp it over third man but finds the fielder. Poor shot selection. Bhuvneshwar Kumar c Henriques b Bhuvneshwar Kumar 1 (6).
19:57 hrs IST: WICKET! Brilliant from Zampa. Flighted googly and it dips on Jadhav, the batsman looks to hoick it over mid wicket but misses it and the ball crashes into the stumps. Kedar Jadhav b Adam Zampa 27 (27).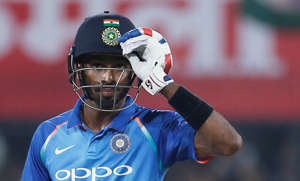 19:56 hrs IST: Pandya has started steadily. With nine overs remaining, he will be the key if India are to reach a score in excess of 150.
19:51 hrs IST: After 10 overs, India are 61/5. Hardik Pandya and Kedar Jadhav are the key.
19:49 hrs IST: WICKET! Dhoni is stumped and Barsapara has been silenced. The former India captain dances down the track but the legbreak turns away and bounces a bit more, the ball goes past Dhoni and he is stumped. MS Dhoni st Paine b Zampa 13 (16).
19:45 hrs IST: India are 54/4 after nine overs. Jadhav and Dhoni hold the key.
19:44 hrs IST: Jadhav is finding the boundary on a regular basis. He has looked in great touch since coming out to bat.
19:38 hrs IST: Dhoni is running the ones and twos aggressively. Behrendorff finishes his spell. 4-0-21-4. Brilliant spell.
19:32 hrs IST: FOUR! Short and wide from Andrew Tye and Jadhav fiercely slams a cut shot to the deep point fence. India are 38/4 after six overs.

19:28 hrs IST: FOUR! Jadhav slams a cut shot over point for an aggressive boundary but India need to be steady. Dhoni and Jadhav hold the key. India 31/4 after five overs.
19:25 hrs IST: WICKET! Brilliant catch by David Warner. Behrendorff gets this full ball to stick on to the wicket and Dhawan ends up chipping it to long off, Warner runs back and steadies himself to take a great catch. The Australian skipper is pumped up. Shikhar Dhawan c Warner b Benrendorff 2 (6).
19:22 hrs IST: Kedar Jadhav breaks the shackles with a brilliant six off Coulter Nile. Good over for India as they hit 11 runs in the fourth over. India 27/3 after four overs.
19:17 hrs IST: After three overs, India are 16/3. Shikhar Dhawan holds the key for the hosts, who are facing a real challenge for the first time.
19:13 hrs IST: WICKET! Behrendorff gets his third. Brilliant bowling. Full ball and in the channel outside off, Manish Pandey has a feel for it and gets a faint edge. Manish Pandey c Paine b Behrendorff 6 (7).
19:11 hrs IST: Good start for Coulter-Nile as he gives away just three runs. But, India have been badly jolted and will need something special from Dhawan.
19:07 hrs IST: WICKET! Behrendorff you legend! Good length ball and it nips back in sharply, Kohli looks to tuck it to the leg side and gets a faint edge on to the pad, the bowler runs forward and takes the catch. Given out caught and bowled. Virat Kohli c and b Jason Behrendorff 0 (2).
19:03 hrs IST: WICKET! Behrendorff has his revenge. Full ball and it nips back in, Rohit plays down the wrong line and is trapped in front, Rohit always has had a problem with the in-cutter. Even in the Champions Trophy, Mohammad Amir had got him with an inswinger. Rohit Sharma LBW Behrendorff 8 (4).
19:01 hrs IST: FOUR! Another full ball from Behrendorff, bit of shape in bur Rohit drills it past mid off for another boundary.
19:00 hrs IST: FOUR! Great start for India. Poor ball from Behrendorff. Full toss wide outside off, Rohit slices it to the deep backward point fence.
18:59 hrs IST: We are all set to rock and roll in Barsapara. Jason Behrendorff will open the bowling. Rohit Sharma on strike and Shikhar Dhawan will open with him.
18:35 hrs IST:
Here are the playing XIs of both sides.
India: Rohit Sharma, Shikhar Dhawan, Virat Kohli(c), Manish Pandey, MS Dhoni(w), Kedar Jadhav, Hardik Pandya, Bhuvneshwar Kumar, Kuldeep Yadav, Yuzvendra Chahal, Jasprit Bumrah
Australia: David Warner(c), Aaron Finch, Glenn Maxwell, Travis Head, Moises Henriques, Marcus Stoinis, Tim Paine(w), Nathan Coulter-Nile, Andrew Tye, Adam Zampa, Jason Behrendorff
18:31 hrs IST: Australia have won the toss and will bowl vs India in Barsapara. Both teams are unchanged as Virat Kohli looks to seal the series.
18:20 hrs IST: We are moments away from the start of the match. India will be gunning for a win on a pitch that has been described as a surface ready to give away plenty of runs.
18:11 hrs IST: Will Australia be able to tackle Kuldeep Yadav and Yuzvendra Chahal in Barsapara? In the whole series, they have not been able to tackle them confidently.
17:55 hrs IST: India have the chance to make it 5-0 against Australia in T20Is in India. Be it 2007, 2013, 2016 and recently in Ranchi, Australia have only suffered defeats.
17:28 hrs IST: An update from Barsapara. It was raining before the start of the match. However, the rain has eased off and the ground-staff are removing the covers. We can expect a start on time.
17:26 hrs IST: While we wait for the match in Barsapara to begin, over in Dubai, Sri Lanka have clinched a memorable 68-run win over Pakistan in the Pink Ball Test to sweep the series 2-0. What an achievement after being 'touwashed' 9-0 by India recently.
16:43 hrs IST: India's winning streak against Australia is the best by any team in Twenty20 Internationals. 16:00 hrs IST: STAT ATTACK - India have won their last seven T20Is against Australia.
Australia seek a reversal of fortunes in the second T20 international in Guwahati's Barsapara Stadium today. Having lost the ODI series 4-1, Australia lost the 1st T20 in Ranchi by nine wickets. Although the match was affected by rain, Virat Kohli's Indian cricket team dished out one more emphatic show that mesmerised the Australians. Tuesday's Twenty20 International match will be first international match in Guwahati after a gap of seven years. Follow live cricket score and live updates of India vs Australia, 2nd T20 here.