Monsoon arriving in Gujarat on Monday predicts IMD

India Today
22-06-2018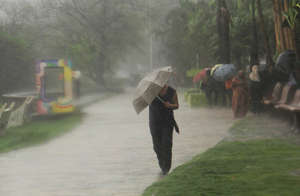 The people of Gujarat may soon find respite from the scorching heat according to the Indian Meteorological Department (IMD). The agency forecasts that the South Gujarat region, Daman and Dadar and Nagar Haveli will be getting heavy rainfall from Monday.
There is also a possibility of light to moderate rain or thundershowers in some regions of South Gujarat, Diu and Saurashtra. Kutch, however, will continue to face a dry spell.
The IMD said that while Ahmedabad will see overcast conditions the maximum temperature will remain around 41°C and there it is unlikely that respite from the heat will be forthcoming.
Monsoons have been delayed in the region, it usually arrives in the state by June 15. According to the state revenue department, this delay has been the longest in several years.
Also Watch: These seven types of selfies will cost you dearly
(Video provided by The Times of India)
More from India Today

India Today