At 36 degreeC, Tuesday was hottest day of year

Hindustan Times
14-03-2018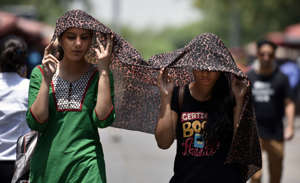 NEW DELHI, March 14 -- Tuesday was the hottest day of the season in Delhi so far, with the maximum temperature during the day shooting up to 36.2 degrees Celsius, seven degrees higher than what is considered normal during this time of the year.
Scientists at the Regional Weather Forecasting Centre (RWFC) in New Delhi said that such high day temperatures are usually encountered in the second half of March or towards the end of the month.
"On Tuesday, the mercury level shot to 36.2 degrees Celsius from 34.4 degrees on Monday. This is the hottest day of the season so far. Such high temperatures are usually not seen in the first half of March," said Kuldeep Srivastava, a senior scientist with RWFC.
In 2017, the hottest day in March was recorded on the last day of the month when the mercury touched 38.8 degrees Celsius. The day temperature on March 22, 2010, shot up to 39.2 degrees, which was the hottest day recorded in March this decade. The highest ever temperature recoded in March was in 1945, when the mercury touched 40.6 degrees. This was also at the end of the month - on March 31.
The minimum temperature on Tuesday was 17.2 degrees Celsius, which was two degrees above normal, scientists said.
The rising mercury level seems to be in tune with the Indian Meteorological Department's warning that the seasonal average temperature between March and May could be more than one degree above normal in several parts of northwest and central India. The IMD's outlook also said that 'normal' to 'above normal' heat wave conditions are likely over core heat wave zone of the country.
Met officials said that low rainfall and snowfall during winter is one of the main reasons for the early onset of rising temperatures across northwest India.
"Usually, during the winter months, western disturbances trigger rain in the plains of northwest India and snow in the hills. This helps to keep a check on the rising temperatures at least up to March as there is moisture in the soil. But this year, we hardly had any such western disturbances," said Srivastava.
While usually at least two-tothree rain-triggering WDs hit Delhi in December, the National Capital encounters another three-to-four such storms in January and February each. But this year, Delhi received only one such storm in each of the winter months.
"A WD is approaching... (and) Delhi would get some strong winds and there could be dust storm and thunderstorm on Wednesday," said an official.
This dust storm would be enough to bring down the day temperature by at least two degrees for a day or two in Delhi, the official said. The mercury is, however, likely to shoot up again once the storm passes.