Haze engulfs Delhi as air pollution logs a big spike

Hindustan Times
25-10-2018
Pollution shot up on Wednesday to a four-month high in Delhi, shrouding the national capital in a haze due to unfavourable weather conditions, including a dip in temperature, low wind speed, and a cloudy sky that combined to trap toxic pollutants in the air, according to experts from various government and private monitoring agencies.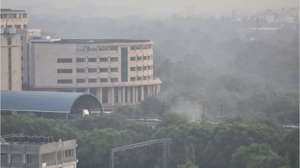 The Central Pollution Control Board's (CPCB) forecasting system and the forecast provided by SAFAR, which comes under the Union ministry of earth sciences, said pollution levels will continue to soar till Thursday, after which situations is likely to become better.
"The level of particulate matter, particularly the natural dust particles, has shot up drastically since Tuesday evening. At 6pm on Wednesday the level of PM10 (coarse dust particles) shot up to 382.5 micograms per cubic metre which is 3.8 times above the daily permissible limit of 100," said a senior CPCB official on condition of anonymity.
The level of PM2.5 ultrafine particles - emitted mostly by vehicles, industries and open garbage burning- also shot up to 172 micograms per cubic metre which is nearly three times higher than the safe limit of 60.
"Such high levels of PM10 concentration were last seen in the second week of June this year, when huge amount of dust gushed into Delhi-NCR because of a dust storm in Rajasthan. On June 14, the level of PM10 in Delhi had shot up to nearly 8.5 times above the permissible standards," said an official of CPCB who asked not to be named.
PM10, at 10 micrograms per cubic metre, is around seven times finer than the human hair and can cause irritation in the nose and eyes. PM2.5, 30 times finer than human hair, can enter deep inside the lungs and cause trouble in patients suffering from bronchial ailments if inhaled over a prolonged period.
Also reach on MSN: Delhi's plan to tackle pollution
(Video provided by Times of India)
Scientists from both CPCB and the Delhi Pollution Control Committee (DPCC) blamed the conditions this week on unfavourable meteorological conditions and not on any external factors such as stubble burning or a storm in west India.

"Wind speed has dropped to less than 5km per hour. To aggravate conditions, they are coming from the east and south bringing in moisture. The sky has become partly cloudy. Because of all these factors, the dust is getting accumulated in the city's air and pollution is rising," said a senior DPCC official who asked not to be named.
Scientists from the India Meteorological Department (IMD) said that wind speed dropped to almost zero around noon. The velocity picked up momentarily during the afternoon, but again dropped to zero at around 5.30 pm. The minimum temperature was 17 degrees Celsius, 1 degree below normal.
The result was that Delhi's average Air Quality Index (AQI) hit 328 on Wednesday - the highest so far this season. On a scale of 0-500, an AQI value between 301 and 400 indicates 'very poor' air quality. By 2pm on Wednesday, several areas in Delhi, including Anand Vihar, Mundaka, Bawana and Rohini, were reeling under 'severe' pollution with AQI levels breaching the 400 mark.
Delhi witnessed a weeklong spell of smog in November 2017, when the AQI shot up to 486, prompting chief minister Arvind Kejriwal to describe Delhi as a "gas chamber", declare a public health emergency, and order that schools be shut.
"Spike in pollution levels is not uncommon in north India when winter is approaching. The frequent change in wind directions, helping moisture to gush in, drop in wind speed and dip in temperature are to be blamed. Once the northwesterly winds picks up speed, pollution levels will drop," said D Saha, former head of the CPCB's air quality laboratory.
The Supreme Court-appointed panel Environment Pollution (Prevention and Control) Authority (EPCA) has already rolled out the Graded Response Action Plan (Grap) for very poor air quality since October 15. Diesel generators have been banned in Delhi till March 2019 and the Badarpur thermal power has also been shut down.
EPCA will meet on Thursday to see if other measures need to be implemented at this stage.
In pics: 22 things you can do to curb air pollution