Mumbai rain: Four dead in 24 hours; trains and traffic hit in city

Hindustan Times
25-06-2018
(Video by NDTV)
A 15-year-old boy was among four people killed in Mumbai city and Thane district after heavy rain since Sunday evening. The rail and road traffic was disrupted during rush hours, officials said on Monday.
The two men were killed after a tree collapsed near Fashion Street in South Mumbai last evening, while the 18-year-old died after he fell into a manhole near Evershine Nagar in Malad (west). Nagendra Nagarjun, an 18-year-old boy, fell into a manhole near Evershine Nagar in Malad (west) and drowned on Monday morning.
He was pulled out and taken to a hospital, where he was declared brought dead. Kiran Ghaywat, 15, died after a portion of a wall of a sewerage treatment plant at Vadolgaon, near Ulhasnagar in Thane district, collapsed on their house late last night.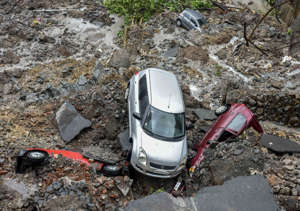 Meanwhile, a wall at an upscale Mumbai complex collapsed this morning in Wadala, crushing at least 15 parked cars after incessant rain. Visuals from 32-storey Lloyds estate in Wadala's Antop Hill showed several cars stuck in debris. No one has been hurt and all residents are safe, a civic official said.
The India Meteorological Department's (IMD) Mumbai office has said heavy rainfall will continue in some parts of the city and its suburbs after similar conditions over the weekend.
Train delays
The rains that have been lashing the city over the weekend caused a delay in services on the Western Railway due to a track failure near Bandra station.
"Local trains are running late by 5-10 minutes due to a technical problem at the Bandra station. Inconvenience is regretted," Sanjay Mishra, divisional railway manager, said on Twitter.
The Western Railway also said trains have been delayed due to low visibility in some areas because of the rains. All mail express trains are expected to reach late at Bandra Terminus, Dadar Terminus and Mumbai Central due to the heavy rain between Virar and Surat.
Waterlogging was reported at Sion station but trains were running on all the three lines, Mainline, Harbour and Trans-harbour, of the Central Railway with a delay of five to seven minutes, Central Railway's spokesperson Sunil Udasi said.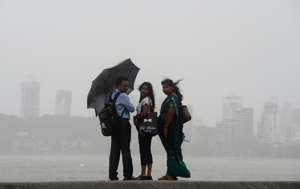 Traffic snarls Severe waterlogging was reported in parts of Goregaon, Andheri, Kandivali, Sion, Malad, Khar, Wadala, Five Gardens, Chembur and Kurla. Waist-deep water was reported at Postal Colony in Chembur and, knee-length waterlogging was witnessed at Vile Parle east near Milan Subway. Traffic was affected at Khar, Malad and Andheri subway due to waterlogging and authorities diverted routes at Sion, Powai, Chembur, Milan Subway and Santacruz.
Parts of Kurla near the Mithi River and Santacruz Chembur Link Road witnessed severe waterlogging for hours. Motorists had to drive through waterlogged roads in Dadar TT, Parel Junction and Mahim. The situation was worst in parts of western suburbs.
The traffic police have made arrangements to ensure smooth traffic, especially during peak hours, in case of heavy rainfalls. Personnel of the department have been instructed to be prepared in case of a waterlogging owing to mega projects such as Metro construction as more than 2,000 constables and 750 wardens were ordered to be out on the roads on Monday. They have also made arrangement on the Western Express Highway, SV Road and Link Road in the western suburbs to ensure smooth flow of traffic.
"Commuters are suggested to keep a check on Twitter and radio channels as we will be communicating about the diversions," said Amitesh Kumar, joint commissioner of police (traffic).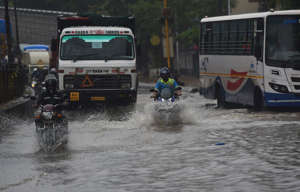 Sunday's showers brought down temperatures even though humidity levels continued to stay high. From June 1 to June 24, Colaba station received 595.3mm of rains and Santacruz station, which is representative of Mumbai, recorded 455.5mm.
The Met department has set 523.1mm as the average rainfall that Mumbai usually records in June.
Thane
The heavy rainfall also affected several areas in Thane, which recorded 229.81mm of rainfall in the last 24 hours. There has been a rainfall of 849.81mm since the last two days as compared to 488.00mm last year during the same period.
The city witnessed waterlogging in various areas like Naupada, Ghantali and Vandana theatre. At least ten trees fell since Sunday and wall collapse was reported on Monday from Raunak Park Society opposite Manomay building. "A 65-feet compound wall collapsed during morning hours on three vehicles damaging a two-wheeler and two four wheelers.
The Regional Disaster Management Cell (RDMC) and fire brigade were on site with one emergency tender and a rescue vehicle. No casualty was reported," Santosh Kadam, in-charge of RDMC, said. Railway officials said local trains between Thane-Karjat-Kasara were delayed by 15-20 minutes. (With agency inputs)