Partly cloudy Thursday morning in Delhi
IANS
15-03-2018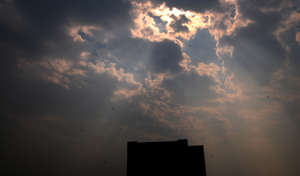 New Delhi: It was a partly cloudy on Thursday morning in the national capital with minimum temperature recorded at 17.2 degrees Celsius, two notches above the seasons average, the Met said.
"Partly cloudy sky with dust storm or thunderstorm is likely towards the afternoon or in the evening. The sky will remain cloudy with no rainfall prediction," an India Meteorological Department (IMD) official said.

The humidity at 8.30 a.m. was 52 per cent.
The day was expected to be warm, with the maximum temperature likely to hover around 36 degrees Celsius.
Wednesday's maximum temperature settled at 34.1 degrees Celsius, five notches above the season's average while minimum temperature was recorded at 17.0 degrees, two notches above the season's average.