At 3.7C, Delhi records coldest Dec in 12 yrs

Hindustan Times
25-12-2018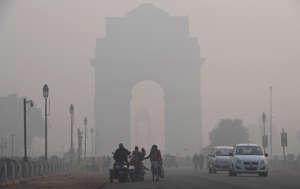 © Getty The national Capital witnessed its coldest December temperature in the past 12 years with mercury sinking to 3.7 degrees Celsius even as a moderate cover of fog surrounded the city, dropping visibility. Rubbing salt into people's wounds, pollution level on Sunday deteriorated to the second worst of the year.
The Central Pollution Control Board (CPCB) data showed the overall air quality index at "severe" level of 446. The highest pollution level was recorded on November 8, a day after Diwali, when the AQI touched 571.
In the past 12 years, the second lowest minimum temperature for the month was recorded on December 29, 2007, at 3.9 degrees Celsius, according to data from the Met department.
The minimum temperature was four notches below the season's average, a Met department official said. The all-time lowest temperature in the national Capital for the month of December was 1.1 degrees Celsius recorded on December 26, 1945.
The morning also witnessed a moderate cover of fog around the city with visibility dropping to 300 metres at Palam and 400 metres at Safdarjung, said the MeT department official.
Relative humidity at 8.30 am was 99 per cent.

The CPCB-led task has advised people to minimise outdoor exposure for the next three to five days and avoid using private vehicles, with Delhi's air quality slipping into the "severe" category on Sunday.
Several areas like Ashok Vihar, Anand Vihar and Wazirpur, among others, inched towards the 'severe plus emergency' category, the data showed.
In NCR, Ghaziabad recorded the worst air quality with an AQI of 473. Faridabad and Noida also recorded 'severe' air quality, the CPCB said.
The India Meteorological Department (IMD) said prolonged period of light winds and low temperature are likely to continue for next three to five days, resulting in poor dispersion of pollutants and the air quality may continue to remain in the 'severe' category for the next two to three days.
Officials said they are closely monitoring the situation and if the pollution conditions persist for 48 hours, then stringent action would be taken. Stringent action includes emergency measures like car rationing and a ban on construction activities.
Watch: 7 killed, several injured as vehicles collide due to fog in Haryana
(Provided by The Times of India)
Mind your step: World's scariest bridges