Oldest ever figurative painting discovered in Borneo cave

The Independent
8/11/2018
The world's earliest-known figurative painting has been identified, hidden in the depths of a nearly inaccessible cave on the island of Borneo.
Depictions of cow-like animals from the site have been dated to around 40,000 years old.
They add to a growing body of evidence that cave art did not all originate in Europe as has long been believed.
It has been known since the 1990s that the caves in the southeast Asian island's East Kalimantan province contain thousands of images, ranging from primitive depictions of animals and humans to hand stencils and intricate motifs.
These artworks have been grouped into different phases, but providing exact dates for them has proved difficult.
Related: The world's most expensive paintings ever sold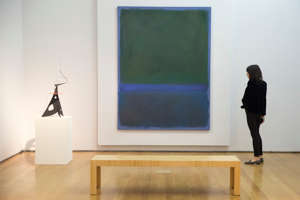 In the millennia that have passed since the markings were scrawled onto the cave walls, a crust of limestone has formed over them.
Scientists found that by scratching off samples of this crust they could establish the most accurate estimates yet for their age using a sophisticated technique known as uranium-series analysis.
"The oldest cave art image we dated is a large painting of an unidentified animal, probably a species of wild cattle still found in the jungles of Borneo – this has a minimum age of around 40,000 years and is now the earliest known figurative artwork," said Professor Maxime Aubert, a researcher at Australia's Griffith University who led the study.
The reddish orange animal paintings primarily resemble the Bornean banteng cattle, but some may also represent animals that have since become extinct.
Hand stencils in the caves were dated to roughly the same time, suggesting that a rich tradition of rock art emerged in the region between around 52,000 and 40,000 years ago. This coincides with the beginnings of cave art in Europe.
The same caves contain another series of paintings created using a dark purple pigment, including "stick-men" human figures in a style known as Datu Saman.
The research team found that these images belonged to an entirely separate phase that emerged between 21,000–20,000 years ago and this matches a similar shift that has been observed in other regions.
"It looks like there was a transition from depicting the animal world to the human world, and it's interesting because I think we have the same thing in Europe… on the opposite side of the world," said Prof Aubert.
The findings were published in the journal Nature.
"Who the ice age artists of Borneo were and what happened to them is a mystery," said team co-leader Dr Pindi Setiawan, an Indonesian archaeologist from the Bandung Institute of Technology.
Dr Setiawan has studied the art since it was first discovered, and helped lead the expeditions to the Kalimantan cave complex.
"The new findings illustrate that the story of how cave art emerged is complex," he added.
Previous research by the same team found similar art in caves on the neighbouring island of Sulawesi and the scientists said their new study suggests the practice spread initially from Borneo before being passed on to other islands and possibly even Australia.
The new discovery comes after scientists revealed in September they had found a fragment of stone in South Africa with 73,000-year-old markings on it.
Although it consisted of no more than a few cross-hatched markings, they described it as the oldest drawing ever found.
Further evidence from Spanish caves have revealed that our species was not along in creating art, as the shell jewellery and crude paintings identified there have been attributed to Neanderthals.
Slideshow: 40,000-year-old cave art may be world's oldest animal drawing