Kit Siang: Najib already 'dead man walking' before GE14

Malay Mail
6/11/2018
KUALA LUMPUR, Nov 6 — DAP's Lim Kit Siang today labelled Datuk Seri Najib Razak as a man who "had died" but is still walking, even before he led Barisan Nasional (BN) to its first ever loss during the May 9 general election.
The Iskandar Puteri MP said Najib was expecting a great victory and of even winning back the parliamentary two-thirds majority, but failed to do so.
"As events proved, the 'dead man' could walk for almost three years, and nearly continued walking for more years, as no one, including Najib himself, had expected Umno and BN to be defeated in the GE14 which was held in the most uneven electoral playing field in the nation's history in favour of Umno-BN.
(Slideshow: 1MDB scandal timeline)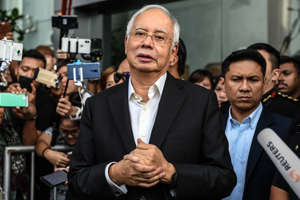 "The 'dead man', however, is still walking. He has said he has no intention to return as prime minister or the president of Umno and BN, saying he is being vocal to fulfil his duties as an elected representative," he said in a statement.
Lim also urged Najib to explain in the Budget 2019 debate next week his alleged "betrayal" of Umno, BN and Malaysia.
The DAP veteran said Najib had done nothing about the 1Malaysia Development Bhd (1MDB) scandal for over three years.
(Also watch: Najib Razak charged with money laundering)
(Video by Time)
Also on MSN: 
Fortune magazine's 2018 world's greatest leaders (Provided by Microsoft GES)