Here's Why Meghan's Baby Shower in New York Raised Royal Eyebrows

Best Life
21/2/2019
Meghan Markle's whirlwind five-day visit to New York City this week—which culminated in Wednesday's baby shower — planned by her sometimes stylist and BFF Jessica Mulroney and celebrated with a small circle of close friends including Amal Clooney—is making headlines on both sides of the pond. The New York Post proclaimed "Preg Meg Is Toast of NYC," while the Daily Mail trumpeted that Markle was staying in "the country's most expensive hotel room" for her first trip to New York since her wedding to Prince Harry.
The seven-months pregnant duchess, who stayed for at least part of her trip at The Mark Hotel, the swanky destination on Manhattan's Upper East Side, drew hordes of photographers and stopped traffic in Manhattan as she made her way around the city this week, with stops at Ralph Lauren's Polo Bar for dinner (with tennis legend Serena Williams) and took in a private tour of the Met Breuer (with her former "Suits" co-star Abigail Spencer).
Back at the Palace, there have been grumblings that all the fuss surrounding the fashionable fête "was all a bit too much" and "not becoming of a royal." Reports that Williams allegedly picked up the steep $200,000 tab for the whole shebang, including the $75,000 per night tab for the penthouse suite, "has really raised quite a few eyebrows," and left other members of the royal household wondering, "Was all that really necessary?"
Related slideshow: Maternity style of Meghan, Duchess of Sussex (Provided by Photo Services)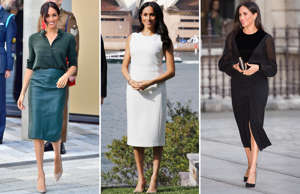 In fairness, baby showers for mothers-to-be are a rite of passage for American women. But now that Meghan (excuse us, the Duchess of Sussex) is a member of the British royal family, it was assumed she'd forego having one—or that, if she did, it would fly under the radar, like her wedding shower (or "Hen Party" as the Brits say), which was a quiet affair held away from the glare of the paparazzi in the countryside at the Soho Farmhouse in Oxfordshire.
"Prince Harry complains about media harassment, while his wife seems to not only encourage the attention but clearly loves it as well," sniffed one insider. "It seems quite odd to have the party in New York when so many of her friends and her mother live in Los Angeles. There are several people here who feel it was clearly a bid for attention and to remind people she is a celebrity in her own right. This sort of thing just isn't done."
While in New York, Meghan clearly seemed more like a Hollywood star than a royal. The duchess wore all black and sported dark sunglasses, and was trailed by Spencer, as the two left The Mark on Tuesday surrounded by a phalanx of royal protection officers in addition to hotel security and officers from the State Department. Oh, and they were en route to lunch at the pricey Cafe Boulud at The Surrey Hotel. "The whole thing is a complete departure from how the royals behave in public," said my source. "It is behavior more befitting a film star than a duchess."
Related slideshow: Stars Turn Out for Duchess Meghan's Baby Shower (Provided by US Weekly)
The insider also said that, at a time when the royals are making a concerted effort to appear more sensitive to public opinion over unnecessary extravagance, the Duchess "participating in such a display was ill-advised."
But there is little chance that Meghan plans to change how she is redefining what it means to be royal. "Harry has given her a wide berth and wants to make his wife happy, particularly during her pregnancy," the insider told me. "He won't see anything wrong with this, and therein lies the problem." 
Diane Clehane is a New York-based journalist and author of Imagining Diana and Diana: The Secrets of Her Style.